Did Q Shaman Intend to 'Capture and Assassinate' Government Officials?
Some of the Capitol rioters were much more dangerous than others.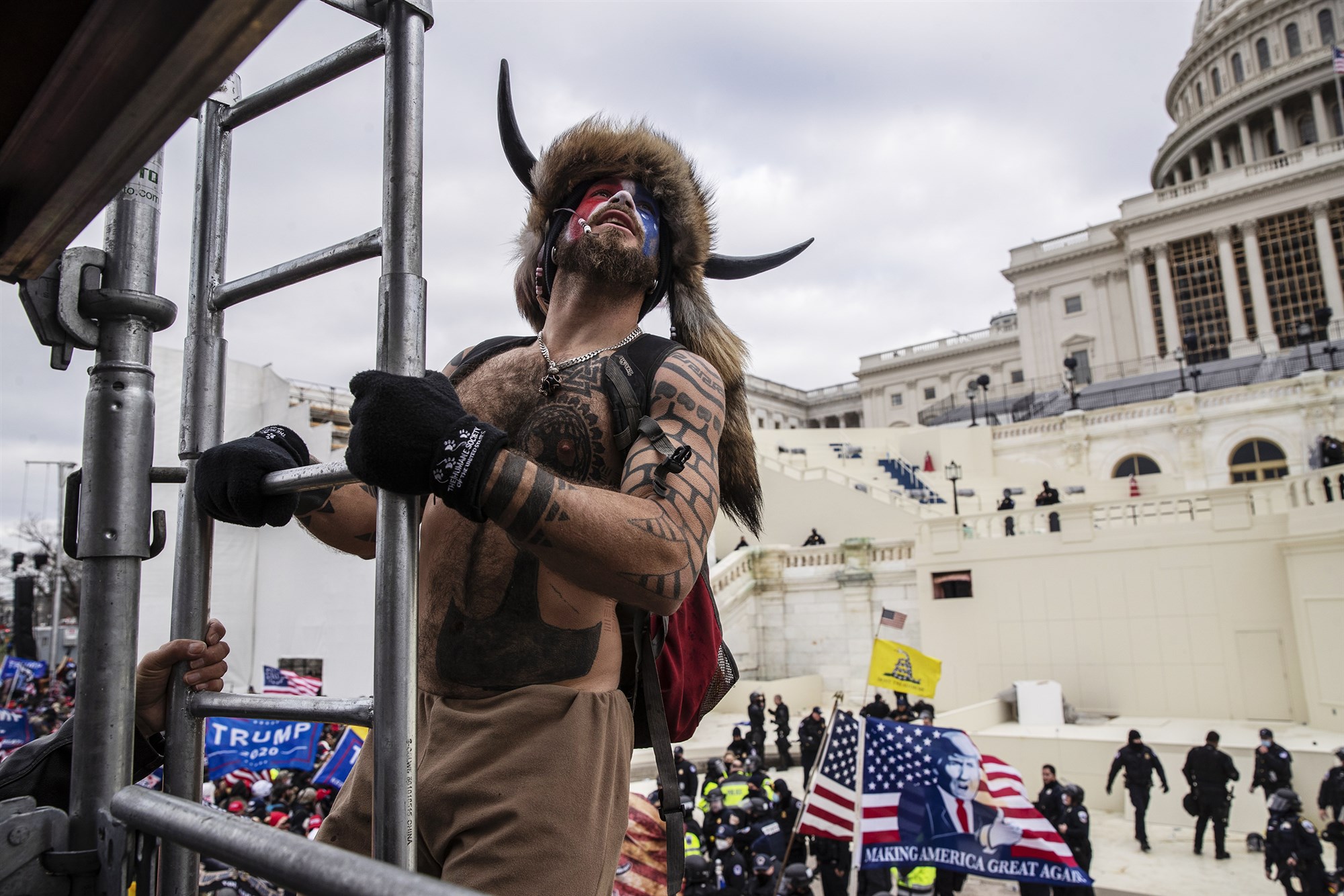 Reuters ("U.S. says Capitol rioters meant to 'capture and assassinate' officials – filing"):
Federal prosecutors offered an ominous new assessment of last week's siege of the U.S. Capitol by President Donald Trump's supporters on Thursday, saying in a court filing that rioters intended "to capture and assassinate elected officials."

Prosecutors offered that view in a filing asking a judge to detain Jacob Chansley, the Arizona man and QAnon conspiracy theorist who was famously photographed wearing horns as he stood at the desk of Vice President Mike Pence in the chamber of the U.S. Senate.

The detention memo, written by Justice Department lawyers in Arizona, goes into greater detail about the FBI's investigation into Chansley, revealing that he left a note for Pence warning that "it's only a matter of time, justice is coming."

"Strong evidence, including Chansley's own words and actions at the Capitol, supports that the intent of the Capitol rioters was to capture and assassinate elected officials in the United States government," prosecutors wrote.

A public defender representing Chansley could not be immediately reached for comment. Chansley is due to appear in federal court on Friday.

The prosecutors' assessment comes as prosecutors and federal agents have begun bringing more serious charges tied to violence at the Capitol, including revealing cases Thursday against one man, retired firefighter Robert Sanford, on charges that he hurled a fire extinguisher at the head of one police officer and another, Peter Stager, of beating a different officer with a pole bearing an American flag.

In Chansley's case, prosecutors said the charges "involve active participation in an insurrection attempting to violently overthrow the United States government," and warned that "the insurrection is still in progress" as law enforcement prepares for more demonstrations in Washington and state capitals.

They also suggested he suffers from drug abuse and mental illness, and told the judge he poses a serious flight risk.

"Chansley has spoken openly about his belief that he is an alien, a higher being, and he is here on Earth to ascend to another reality," they wrote.
A WaPo report ("Rioters wanted to 'capture and assassinate' lawmakers, prosecutors say. A note left by the 'QAnon Shaman' is evidence.") adds:
As federal law enforcement officers sift through evidence tied to the attack on the U.S. Capitol, they have tried to determine what compelled rioters to force their way into the building. Namely, did any of them plan to kill or capture lawmakers or their staffers?

Officials now say they have found clues to that question from one of the mob's most distinctive figures: Jacob Anthony Chansley, the shirtless, tattooed man often referred to as "QAnon Shaman," who stood out in a headdress made of coyote skin and buffalo horns.

[…]

But in a statement to The Washington Post, St. Louis attorney Albert S. Watkins said he had been retained as Chansley's lawyer and called for President Trump to pardon him.

Watkins claimed that Chansley acted in a "peaceful and compliant fashion" toward law enforcement and was cooperating with their investigation. Besides, he argued, the Arizona man only went to the Capitol because he was following Trump's invitation.

"He took seriously the countless messages of President Trump. He believed in President Trump," Watkins said. "Like tens of millions of other Americans, Chansley felt — for the first time in his life — as though his voice was being heard."

[…]

Law enforcement officials have cautioned that there may be a variety of motives among those who stormed the Capitol. An FBI investigation is seeking to determine whether some intended to do more than disrupt the certification of President-elect Joe Biden's victory, The Post reported last week.

One man, for instance, was arrested and accused of carrying a pistol on the Capitol grounds. Others wore tactical gear or brought zip ties, officials said. And another was arrested after his truck was spotted nearby, allegedly with 11 molotov cocktails inside.

Chansley, who called the FBI himself to acknowledge that he was in the riot, told investigators that "he came as a part of a group effort, with other 'patriots' from Arizona, at the request of the President that all 'patriots' come to D.C. on January 6, 2021."

A fixture at far-right events in Arizona for the past two years, he has often professed his support for Trump and QAnon, the baseless online conspiracy theory. His body is heavily tattooed with insignia adopted by white nationalists.

Speaking to The Post last week, he said he was not afraid of arrest.

"I trust in God and I know that I didn't do anything wrong," he said. "And even if I was arrested, wasn't Gandhi arrested a lot? Wasn't Martin Luther King Jr. arrested a lot? Wasn't Jesus arrested? I put my trust in God, not the government."
That Chansley/Angeli is a nut doesn't preclude him also being part of an elaborate, violent plot. But, frankly, I'm skeptical that he's much more than a cosplayer.
Prosecutors are notorious for over-charging in an effort to coerce pleas to charges that would otherwise be difficult to prove in court and Chansley/Angeli almost certainly lacks the resources to engage in a drawn-out legal battle absent pro bono services. Court-appointed attorneys are seldom a match for US Attorneys.
Chansley/Angeli aside, justice requires that we remind ourselves that there were almost certainly "a variety of motives among those who stormed the Capitol." It's clear now that, while some large number of them were simply Trump supporters who had been lathered into a mob, there was some significant element of domestic terrorism—people who came armed with pipes, guns, and explosives to wreak serious havoc and failed for whatever reason. And, probably, some not insignificant number of late arrivers there for the spectacle.
Lawfare has done an excellent job chronicling the charges and possible charges stemming from the events of last Wednesday.
Bryce Klehm, Alan Z. Rozenshtein, and Jacob Schulz explained the next morning"Here's How the Capitol Mob Violated Federal Criminal Law," noting the "cartoonish avalanche of crimes" that were plausibly committed and available for prosecutors to leverage.
Federal criminal law is, to put it mildly, expansive on the subjects relevant to such conduct. There's a whole collection of more narrowly applicable statutes that some participants in the mob appear to have violated. There are reports, for example, of rioters perusing Pelosi's emails—which, if true, could likely constitute a violation of the Computer Fraud and Abuse Act's prohibition against "knowingly access[ing] a computer without authorization." As more becomes public about what happened, there will likely be other examples of these more idiosyncratic violations. For now, we're going to focus on more broadly applicable statutes.

For purposes of federal criminal law, it is useful to group the potential offenses into three categories, starting with the most straightforward and progressing to the most serious, legally consequential and difficult to prove. First, there are property offenses. Second, there are offenses related to disorder. And third, there are anti-government offenses, most notably seditious conspiracy.

If nothing else, the mob clearly violated laws against trespassing on federal facilities and destroying and stealing federal property. Federal law prohibits "depredation against any property of the United States" as well as robbing or attempting to rob "another of any kind or description of personal property belonging to the United States." It also prohibits possessing a firearm in a federal facility "with intent that a firearm or other dangerous weapon be used in the commission of a crime."

Another federal statute makes it a crime to "knowingly enter[] or remain[] in any restricted building or grounds without lawful authority to do so" including "with intent to impede or disrupt the orderly conduct of Government business or official functions." That section also includes offenses in which one "obstructs or impedes ingress or egress from any restricted building or grounds" and "knowingly engages in any act of physical violence against any person or property in any restricted buildings or grounds." The statute's definition of "restricted buildings or grounds" includes places "where the President or other person protected by the Secret Service is or will be temporarily visiting" or places that are "restricted in conjunction with an event designated as a special event of national significance." Vice President Mike Pence was presiding over the Senate during the vote, and Vice President-elect Kamala Harris was also present, so the building likely satisfied the requirement that it contain a "person protected by the Secret Service." In addition, federal law explicitly prohibits bringing weapons into the Capitol or engaging in "violent entry and disorderly conduct."

A second category of offenses relates to disorder. For example, federal law prohibits both transportation of firearms and obstruction of law enforcement as part of civil disorder, an activity defined broadly as "any public disturbance involving acts of violence by assemblages of three or more persons, which causes an immediate danger of or results in damage or injury to the property or person of any other individual." Federal law also criminalizes riots, which are defined along similar lines. Finally, there is a special prohibition on forcibly obstructing a congressional inquiry, although it's unclear whether the electoral-count certification counts as an "inquiry."

And then there are the political offenses. These come with increased criminal penalties and would also send the strongest message about the severity of the behavior on display.

The offenses can be found in Title 18, Chapter 115, which criminalizes "treason, sedition, and subversive activity." Treason, narrowly defined as "lev[ying] war against" the United States or giving "aid and comfort" to its enemies, doesn't fit with the fact pattern here. And although federal law also prohibits "rebellion or insurrection against the authority of the United States or the laws thereof," that statute is very rarely used by prosecutors. It is notable, though, that a conviction for rebellion or insurrection would make someone "incapable of holding any office under the United States," a fact that may be of interest to those concerned about Trump's future political ambitions.

So the most relevant prohibition is Section 2384, which outlaws "seditious conspiracy," defined as when "two or more persons … conspire to overthrow, put down, or to destroy by force the Government of the United States … or to oppose by force the authority thereof, or by force to prevent, hinder, or delay the execution of any law of the United States, or by force to seize, take, or possess any property of the United States contrary to the authority thereof." Sedition is a serious charge, but a number of analysts (including Lawfare's Benjamin Wittes) have raised the possibility that certain conduct related to yesterday's debacle might meet the terms of the statute.
A fantastic explainer at Lawfare by UNC law professor Carissa Byrne Hessick, "Felony Murder and the Storming of the Capitol," examines the wide discretion prosecutors have. It's not inconceivable that everyone who entered the Capitol for whatever reason could be charged with burglary and held liable criminally liable for the deaths that occurred. That would clearly be an abuse of state power if applied wholesale.
That said, Bryce Klehm and Rohini Kurup are "Compiling the Criminal Charges Following the Capitol Riot" and, at quick perusal at least, it would seem that prosecutors are being judicious at least for now. Indeed, most seem to be on relatively obvious charges like "Knowingly Entering or Remaining in any Restricted Building or Grounds Without Lawful Authority; or Knowingly, With Intent to Impede Government Business or Official Functions" and "Engaging in Disorderly Conduct on Capitol
Grounds."
Distinguishing between those with murderous and seditious intent and those who were merely misguided yahoos egged on by a dangerous President is obviously challenging work. But justice requires that we do so, rather than pretending this was a single criminal conspiracy.