Did the Boomers Ruin America?
An interesting but uneven debate.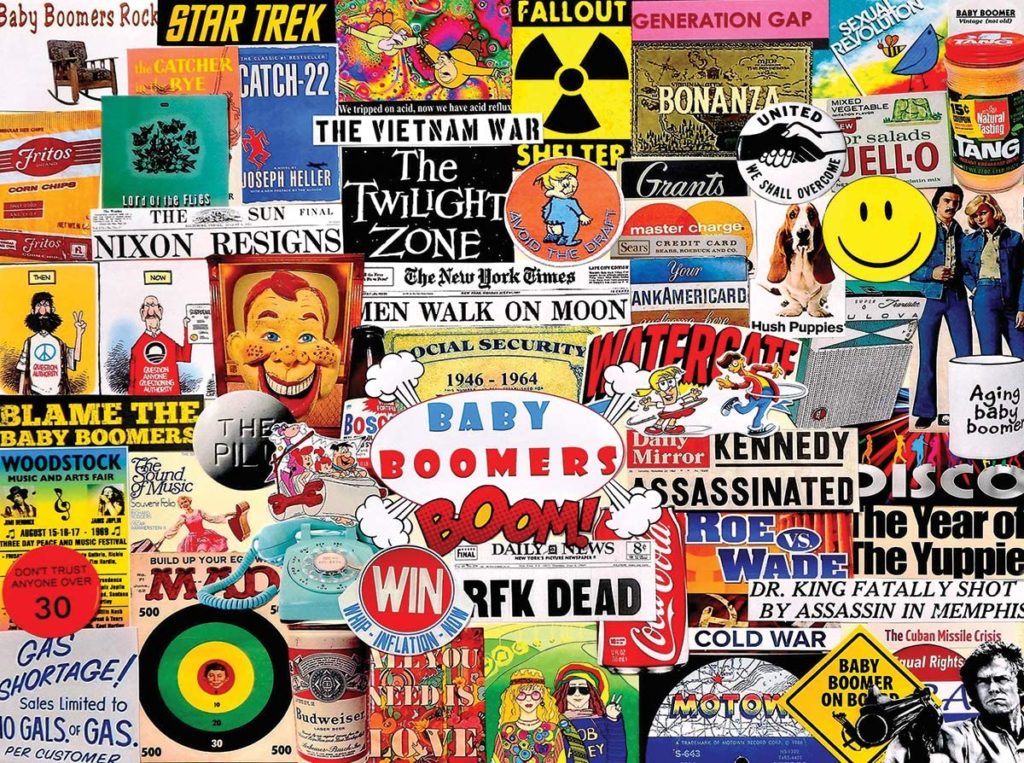 Because it's an interview-driven rather than a host-driven podcast, I only listen to Ezra Klein's podcast when the topic interests me. This week's episode, "Did the Boomers Ruin America? A Debate." was such an occasion.
The subhed, "The conservative writer Helen Andrews and the liberal journalist Jill Filipovic discuss why millennials are so mad at their parents' generation," accurately describes the content and, alas, the pitfall of the debate. Both have published recent books on the subject. Andrews' Boomers, The Men and Women Who Promised Freedom and Delivered Disaster was published in January and Filipovic's OK, Boomer, Let's Talk How My Generation Got Left Behind came out last August. But Andrews does poorly in the debate because she's too blinded by ideology. And, ultimately, Klein does a better job of advancing the conversation than she does.
Filipovic makes an important point early that's both obvious and one that Andrews refuses to concede:
[T]hey're an incredibly politically polarized generation. So boomers, much more so than millennials, much more so than the silent generation, more so even than Gen Xers, are really split politically down the middle between liberals and conservatives. And I think what we've actually seen and what I hear, especially from liberal boomers, is the sense of, well, wait a minute. We were trying to make the world a better place. And then there were political forces who we didn't vote for who may have been part of our cohort, who now you're using to blame our entire generation. There's some fairness to that defensiveness. That said, I would say, liberal boomers kind of won the culture. Conservative and more moderate boomers won American politics.
Andrews, who used to write for National Review and now does so at The American Conservative is in the Trump-populist wing that has taken over the Republican Party, not the more traditional conservative movement.
[W]hen we talk about the world today being a lot tougher for millennials than it was for the boomers, one of the things we're talking about is the loss of power on the part of the working class. Their wages are not growing the way that they used to in the days of the boomers. A one-income family can't make it the way that they could in the time of the boomers. Some of that is attributable to technology, but a lot of that is due to changes in what the boomers did to the left. That is, the boomers were the generation of the new left. And the reason they called themselves that is because they were rebelling against the old left. They deliberately wanted the left-wing party in the western democracies not to stand for working class people and unions, but rather to stand for identity politics type interests. The hinge moment in America for that is the reforms to the Democratic National Convention in 1972, when they nominated George McGovern. The way that delegates were chosen was then tilted toward or to favor identity politics. So the boomers made a choice to have their left-wing party champion identity politics, rather than working class people and unions. And so that's the reason why the working class was then so vulnerable to these technological changes. The technological changes would have happened either way. But I think they would have had better defenders in the left-wing parties if the boomers hadn't replaced the old left with their new left.
The problem with this is that, as Filipovic rightly notes, half of the Boomers are Nixonites and Reaganites, not McGovernites and Dukaknics. And, even as a critique of the New Left, it's too simplistic to argue that identity politics was the key focus of Democrats in the 1970s and 1980s; to the extent it's true at all, it's a much more recent development. Furhter, to the extent unions were busted through government policy, Filipovic rightly argues that it's the right, not the left, that's responsible for that.
Andrew's next argument is simply ahistorical:
The boomers were the generation that said going from 15 percent of Americans going to college to 30 percent of Americans going to college was good. Therefore, kicking that number up even higher to 50 percent or 70 percent must be even better. And at a certain point, you hit diminishing returns. And that's bad for the economy. That's bad for the people who start college and then don't finish. So the story of the boomers and the story of higher education, they're tied together in ways that go beyond the usual PC liberal colleges or left-wing line.
Regardless of one's views on how many people ought go to college, it simply makes no sense to blame the Boomers for the phenomenon. The oldest of them were born in 1946 and the youngest in 1964, meaning they would have graduated high school between 1964 and 1982. By that point, enrolling in college out of high school was already the norm.

Bill Clinton, born in the first year of the Baby Boom, was the first Boomer President, coming into office in January 1993 and it would be well beyond that before the generation truly controlled the levers of power. (Hell, we're nearly three decades past Clinton's inauguration and the current President and Speaker of the House are Silents—the generation before the Boomers.) It just makes no sense to blame this problem—to the extent it's a problem—on them.
The most interesting part of the discussion was this one:
Ezra Klein: So I want to pull out the cultural critique here, alongside some of the economic issues and policies we're talking about. Helen, you write in your book that the baby boomers have been responsible for the most dramatic sundering of Western civilization since the Protestant Reformation. That's, I think, a bigger claim than college affordability or too much college access. So what do you mean when you say that the boomers were a once in a 500 years kind of cultural catastrophe?

Helen Andrews: I have had people ask whether or not that was hyperbole. And my answer is that it was not. The way to make that analogy work and to really get your head around just how world historically disruptive the boomers were is to think about it in terms of media. The Protestant Reformation was a direct result of the advent of the printing press and the popularization of the written word as a medium of communication. And the only revolution in media comparable to that since then has been the rise of television and a visual media. And the baby boomers were the generation, the first generation to be raised by their TVs and to have their minds shaped by visual media, rather than text. There were a lot of people at the time in the 1950s saying that this shift to TV was going to make everybody dumber and eliminate a dimension of critical thinking from the way people process information. And looking at the legacy of the baby boomers and even more at what the rise of social media has done, I think it's time to consider the possibility that the doomsayers about TV were absolutely correct. So, yes, that the rise of TV was obviously as important and as momentous as the rise of the printing press and the printed word. So it really isn't that much of a stretch to then say that the Cultural Revolution that followed from it was equally momentous.

Ezra Klein: But what Cultural Revolution did that create? You're very much speaking my language here. I am a huge fan of the televisual media critics, the McLuhan's and Postman's. And I think they're way under-read today. But I don't think the issue here is that it destroyed critical thinking. I think that would be a pretty hard case to prove. But it definitely changed culture. And it changed what people expected from culture. So how did it change that? How did it change what the boomers thought was the culture they wanted to build and participate in?

Helen Andrews: You can see it in politics, which has been cannibalized by the methods of advertising, rather than the methods of persuasion. Television reduces people's attention spans. It has an intrinsic bias towards flash over substance. So, basically, anything that people are trying to think critically about. If the information that's in their minds is information that they got through TV, it's going to be data of a very superficial kind. And so even if they then try to process that data in their minds in a thoughtful and serious way, it's going to come out the other side equally superficial. So you see that in literature in the decline of the novel. You see that in the academy in just the difference between what an academic book sounds like today versus the prose that you saw in an academic book in 1950. It's just anywhere you look, you see things looking a lot more superficial.

Ezra Klein: Jill, do agree that our intellectual and cultural outputs are so much worse than they were pre-boomer and pre-television?

Jill Filipovic: No, I don't. I think often, these issues are a whole lot more complicated than TV is good or TV is bad, or the internet is great or it's broken all of our brains, right? I think that there is certainly plenty to critique about the ways in which, as Helen says, television has decreased our attention spans, has moved us toward a more kind of advertising mentality than a persuasion mentality. That's all quite well taken. But the idea that that has led to a kind of a greater poverty in cultural output, I actually think is demonstrably false. I think we're seeing a greater diversity in people who are creating cultural products. I think that we are seeing a challenge to kind of an old guard about what is valuable and what's not. To me, that's incredibly exciting to have new visual mediums, to have new technologies, to have new kinds of music and art and ways of speaking and rhetoric that's all introduced into this canon. I think it makes art and literature and television and music all the richer and more interesting.

Ezra Klein: This is where I do wonder how much is generations and how much is technology. Because I think we're a little bit on a straight line from television and then to cable and then to internet and then to — and Jill, you and I come out of blogging, which was the one great golden period of all this. And then it goes over to social media and Twitter and TikTok and so on. And so there's more of everything, but there's also more fracturing of everything. And to me, one of the unifying threads of both of your books is that the boomers preside over this individualization of both commerce and culture and policy-making, for that matter. But sometimes I wonder whether or not some of that fracturing doesn't just reflect a kind of ideology that took hold for who knows what reason, but it actually reflects the direction these technologies went and what they allowed. When you have 500 cable channels, you're going to be able to nichefy the audience in a way you don't when you only have a couple of networks. And so, how much of the individualization that you're talking about just stems from the fact that we lost some of that common ground?

Jill Filipovic: I think that's right. It's almost, I think, impossible to compare today's internet to the television that boomers grew up with. Because boomers grew up in kind of a monoculture when it came to popular culture. There were a handful of television stations. And they have now certainly lived their adult lives through that really dramatic shift. I think there's a couple of things happening. There's the reality that technology has now allowed this hyper individualization, right? And then there's also the reality that America is just a much more diverse place than it was when boomers were young people tuning in to Leave it to Beaver. America has many more immigrants. We have people from many more different countries who speak many more different languages. We're a much more racially diverse country. And so when you look at where millennials and folks younger than millennials are oriented, I agree with many of these critiques that the sort of hyper individualization, the ability to really ensconce one's self inside a universe where most people look and think and believe like you do is ultimately not a great thing. That said, I think the monoculture that boomers were raised in was pretty suffocating and, frankly, not exactly fertile ground for the kind of incredible creativity that I think is one positive outshoot of technology that we see now.
There's more back-and-forth after that but Filipovich and Klein simply do a better job of holding up their end of the conversation, even though they're playing on Andrews' court