Direct Link Between Bradley Manning And Julian Assange Discovered?
A smoking gun?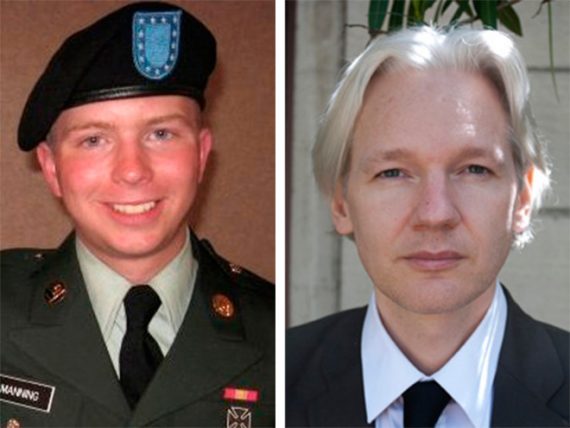 Just north of me at Fort Meade, Maryland, the pre-trial hearings in the Court Martial of Pvt. Bradley Manning, accused of stealing hundreds of thousands of pages of documents that eventually ended up in the hands of Wikileaks, have been going on. Manning's attorneys have not begun putting on their case yet, but they have made some statements which seem to suggest that they will try to argue that Manning's homosexuality, and the military's Don't Ask Don't Tell Policy will somehow play a role in their defense. How that could possibly be relevant to espionage is something I'll leave to his lawyers to explain at a later date. What prompts this post, is news that military investigators have apparently uncovered something we did not believe previously existed, evidence of what appears to be a direct link between Manning and Wikileaks founder Julian Assange:
A government digital forensic expert examing the computer of accused WikiLeaks source Bradley Manning retrieved communications between Manning and an online chat user identified on Manning's computer as "Julian Assange," the name of the founder of the secret-spilling site that published hundreds of thousands of U.S. diplomatic cables.

Investigators also found an Icelandic phone number for Assange, and a chat with a hacker located in the U.S., in which Manning says he's responsible for the leaking of the "Collateral Murder" Apache helicopter video released by WikiLeaks in spring 2010.

Until Monday's revelation, there have been no reports that the government had evidence linking Manning and Assange, other than chat logs provided to the FBI by hacker Adrian Lamo last year. Assange is being investigated by a federal grand jury, but has not been charged with any crime, since publishing classified information is not generally considered a crime in the U.S. But if prosecutors could show that Assange directed Manning in leaking government documents that he then published, this could complicate Assange's defense that WikiLeaks is simply a journalistic endeavor.

The news of the chat logs between Manning and Assange came on the fourth day of Manning's pre-trial hearing being held to determine whether he'll face court martial on 22 charges of violating military law for allegedly abusing his position as an intelligence analyst in Iraq in order to feed a treasure trove of classified and sensitive documents to WikiLeaks.

Mark Johnson, a digital forensics contractor for ManTech International who works for the Army's Computer Crime Investigative Unit, examined an image of Manning's personal MacBook Pro and said he found 14 to 15 pages of chats in unallocated space on the hard drive that were discussions of unspecified government info between Manning and a person believed to be Assange, which specifically made a reference to re-sending info.

While the chat logs were encrypted, Johnson said that he was able to retrieve the MacBook's login password from the hard drive and found that the same password "TWink1492!!" was also used as the encryption key.

Assange's name was attached to a chat handle "da*********@ja****.de" listed in Manning's buddy list in the Adium chat program on his computer. That Jabber address uses the same domain name allegedly mentioned by Manning in the chat logs that ex-hacker Adrian Lamo gave to the FBI and to Wired.com last year. In that earlier chat log, Manning was making reference to a domain that Assange was known to use.

In Manning's buddy list there was also a second handle, "pr**************@ja****.de," which had two aliases associated with it: Julian Assange and Nathaniel Frank. CCC.de in the domain refers to the Chaos Computer Club, a hacker club in Germany that operates the Jabber server.

When asked about the two aliases, Johnson said it was odd for a user to assign two names to one account, implying that some subterfuge might have been at play.

The chat logs mention a request to re-send some unspecified data, showing that the parties had talked before, Johnson said, as well as discussion about using SFTP for uploading data securely to an FTP server.
The laptop hard drive also revealed a chat transcript in which Manning apparently admitted to a third party that he was the source of one of the early Wikileaks releases, a video of a 2007 Apache helicopter mission in Iraq that resulted in the friendly fire deaths of two journalists. And then there is this:
Johnson says he also examined an external hard drive found in Manning's bunk room in Iraq that contained a text file called wl-press.txt that was created on Nov. 30, 2009, right around the time that Manning told Lamo that he first made contact with WikiLeaks.

The file included the line: "You can currently contact our investigations editor directly in Iceland at 354.862.3481 : 24 hour service : ask for Julian Assange."
Assange has always denied direct contact with Manning, although he has never revealed how the materials that Manning stole just happened to come into the possession of Wikileaks. These revelations appear to provide at least a clue on that last part, and suggest that Assange has been lying about his contact with Manning.
The big question is whether this strengthens any potential American legal charges against Assange regarding the Manning matter. Up until now, it has seemed as though he would be untouchable because there was no direct evidence that he had been in contact with Manning prior, or subsequent to, the data theft. Now, though, there is at least the suggestion that he may have been involved with Manning prior to the time the material was stolen, perhaps even coaching him about what to look for. If that's the case, we're looking at potential liability under the Espionage Act or similar laws.  As Jazz Shaw notes, there is a huge difference between a situation where Assange was merely the recipient of documents from some anonymous third party that had received the data from Manning and a situation where he was actively in direct contact with Manning before, during, and after the data theft. In the first situation, the defense that he was acting as a journalist would likely work. In the second, he'd have some serious legal liability to worry about at the very least.
Obviously, this information has been in the possession of military, and most likely Federal civilian, investigators for some time now. Whether it will result in charges against Assange, who is currently still under house arrest in England awaiting final resolution of an appeal of the order that he be extradited to Sweden to stand trial for rape, remains to be seen.
Photo via Wired