Disaggregating the Conversation about Wisconsin
There are a lot of issues on the table, so to speak, in the WI situation. Here I try to entangle them a bit.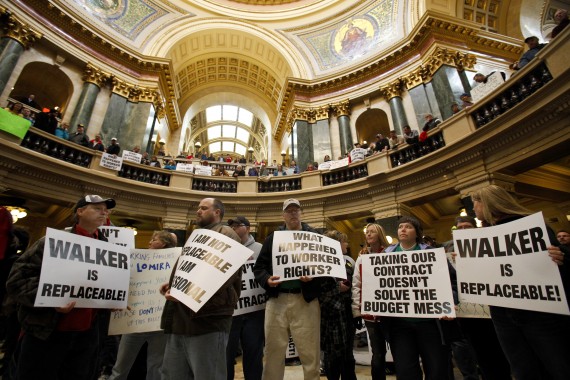 As is often the case in politics, the issues at hand in Wisconsin are multiple which leads to discussions wherein one of the following (at least) happens:  conflation of multiple issues into one, the privileging of one issue over others in a way that ignores key elements of the conversation, or the veering off the conversation into other issues not really on the table.
To wit we have, conflation:  the issue of whether teachers should have to pay more for their benefits should not be conflated with the issue of taking away their collective bargaining rights (while both are in the legislation, they are separate issues needing separate discussions*); privileging one issue over the other:  making ending collective bargaining for Wisconsin teachers an ideological crusade when the real issue is supposedly a fiscal emergency; and veering:  arguing about teacher compensation, i.e., are they paid too much or too little (which really isn't the issue right here, right now).**
The situation in Wisconsin has multiple elements that can be broken down as follows:
1.  The Actual Policy Issues
The issue of whether Wisconsin teachers ought to increase the share they pay in benefits to help the state with its immediate financial crisis.
Whether those same teachers ought to have their collective bargaining rights essentially removed.
Whether those teachers will have their pay capped at the rate of inflation unless voters approve otherwise.
2.  The Philosophical/Ideological Questions.
The democracy question (both in terms of the election and the make-up of the legislature, but also the role of protests and such).
Are unions good or bad?
Should we consider private v. public unions as different types of entities, and if so can one be good while the other is bad?
What is the value of teachers to a state (which addresses the pay issue specifically).
The longer this goes on, the more it seems that all of this is either getting mixed together in one big confusing mélange and/or one issue gets a lot of focus in a way that is out of proportion to the actual events at hand.  And, I would add, I am likely missing something in my lists.
I would argue that while one has to deal rather heavily with list #2 in one's discussion of list #1, it seems that a lot of the discussion has veered off from the legislative matters at hand which is what is going to eventually be voted on.
This is more an organizational post than anything else, but there are a couple of issues I want to address individually which I will do in additional posts.
Are there any glaring omissions in these lists?
—-
*Indeed, I would prefer them to be separate votes, for that matter, but that is a different issue.
**Yes, the overall theme is compensation, but not the philosophical question of whether teachers ought, or ought not, make a specific amount of money per year.