Distinguished Warfare Medal for Armchair Warriors
American troops may now earn the fourth highest combat medal from the comfort of their desk chair.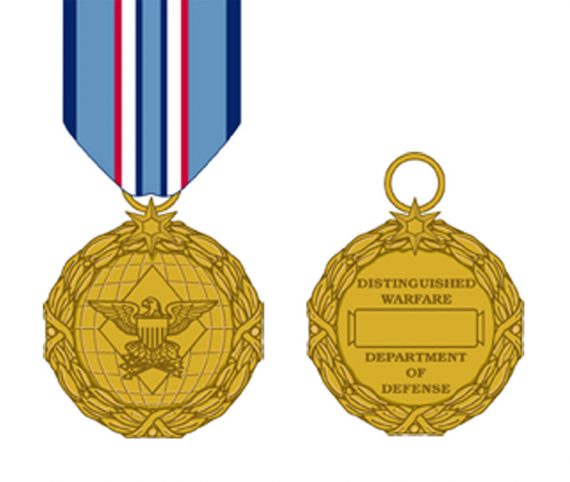 American troops may now earn the fourth highest combat medal from the comfort of their desk chair.
Atlantic Wire ("Pentagon to Start Awarding Medals for Drone Strikes and Cyberattacks"):
The Defense Department is reportedly inventing a new medal designed to reward soliders who fight battles from the safety of their computer consoles. The Associated Press says the Pentagon is creating a new ribbon, called the Distinguished Warfare Medal that will be given for "extra achievement" related to a military operation. That would include drone pilots operating unmanned planes from halfway around the world, or even hackers who launch a successful cyberattack on an enemy. Unlike all other combat-related medals, this would be the first one that you can be awarded without actually putting your life on the line.

While the move will undoubtedly rankle some of the infantrymen and Special Forces veterans who get shot at on a near daily basis during their combat deployments, the Pentagon is eager to find some way to recognize the achievements of those who are fighting modern battles, but just happen to be doing so from a computer lab or flight simulator instead of the war zone. Since a growing number of military operations don't actually call on soldiers, sailors, or pilots to risk their lives anymore, the Armed Forces are not handing out as many of their more traditional combat medals as they used. Despite being perpetually at war since 2001, there have only been 10 Medals of Honor given out since the September 11 attacks, and the number of Navy and Air Force Crosses awarded has actually declined.

Yet a successful drone pilot creating air cover for a squadron on the ground can save just as many lives as one who takes a bullet for fellow solider. That's not the same level of heroism, obviously, but it only seems fair that they get some recognition for their contributions. And "real pilots" will still insist that they not share the same medal with drone operators. As one Air Force colonel told Politico last year, "The basic fact of the matter is no one is shooting back at you. That makes a big difference. Combat pilots respect drone pilots, but I think we'd be uneasy about it if they were to get the same award."
This is naturally causing some consternation among the vets and active troops in my Twitter stream. It sounds really silly. But it makes some sense given how our medal system has evolved.
Essentially, this is a Distinguished Flying Cross with a new name so as not to hurt the feelings of people who fly manned aircraft. It'll rank one notch below the DFC but have the same requirements. Which, while it was news to me as a former Army officer, does not include heroism in battle unless you happen to be in the Army. In the other three services (Navy, Marine Corps, and Air Force), one can earn a DFC for "extraordinary achievement" that didn't involve getting shot at by the enemy and get a "V" device denoting valor for the award if earned for "heroism." Since the Army does not award the DFC other than for heroism, the "V" device is redundant and therefore not available.
It strikes me that it would make more sense to make this equivalent to an Air Medal, which has since 1942 been awarded for "meritorious achievement while participating in aerial flight." As with non-Army DFCs, the Bronze Star, the service-specific Commendation and Achievement Medals, there is a "V" device for heroism awards. I don't think anyone would object to awarding drone operators and cyber warriors, even outside the geography of a combat zone, an Air Medal equivalent award for superior achievement in the performance of their duties. A DFC equivalent? That's a BFD.
Alas, we've screwed up our awards system with the proliferation of what I call "FOGO Achievement Medals," non-combat awards essentially available only to very high ranking (flag or general officer) personnel.
So, while the Medal of Honor sits atop the food chain, followed by the Distinguished Service/Navy/Air Force Cross, there are now six medals available for Distinguished (non-heroic) Service. That's followed by the Silver Star, which is available only for heroism in combat and then two more non-combat awards, the Defense Superior Service Medal (high rank, joint service) and the Legion of Merit (middle rank, non-heroic). Then comes the DFC. Then a quartet of service-specific medals for non-combat heroism, with the Soldier's Medal the most well known. Then comes the Bronze Star, which is awarded for heroism or superior achievement in combat. Then the Purple Heart, for wounds in combat. And then approximately nine hundred awards for low level achievement or being someplace you were ordered to be for long enough.
Out of all those medals, then, we had only three awards—the Medal of Honor, the Crosses, and the Silver Star—for which heroism in combat is a requirement and two more—the DFC and the Bronze Star—that are combat-only awards that can be awarded for heroism or not. And only the top two of those—the Medal of Honor and the Crosses—aren't outranked by medals available for outstanding performance of paperwork while wearing stars on one's collar.
In that context, I'm not sure that there's any reason for complaint about an award between the DFC and Bronze Star that one can earn from a leather chair in Nevada.
UPDATE: I've replaced the top photo of an array of generic medals with one of the actual Distinguished Warfare Medal. It looks too much like the Armed Forces Expeditionary Medal for my tastes.
UPDATE 2: Air Force Major Dave Blair, an MQ-1 Predator instructor pilot, fights back against the notion that drone warriors don't take risks in comparison to those who pilot actual planes.
…what is the differential risk between 10,000 feet and 10,000 miles in current conflicts? When a manned aircraft with two spare engines scrapes the top of a combat zone, well outside the range of any realistic threat, why do we consider that scenario "combat" yet deem a Predator firing a Hellfire in anger "combat support"?

[…]

Recalling one particularly vociferous (and inebriated) F-22 pilot, who emphatically asserted that "fighting a war via video teleconference isn't very honorable," we might say the same for firing a missile beyond visual range from a fighter cloaked with stealth technology. It would be hard to imagine that the same individual would feel compelled to activate his radar transponder upon contact with the enemy, just to restore honor to his kill by mitigating his technological defenses. The decentralized control system of the Predator fits no less well in the category of technological defenses.
This is a fair argument and one made, in a different context, by a former colleague who's a Tomcat driver. It's true: In most of our recent conflicts, our dominance of the skies is such that our pilots face essentially no risk from enemy air defenses, much less enemy fighters. Of course, they're nonetheless flying several thousand feet above the earth at several hundred knots; that's inherently dangerous in a way that handling a joystick in an office chair isn't. To say nothing of landing on a carrier at night.
But Blair's absolutely right on one point: Those piloting drones to put rounds on target are absolutely combat arms, not combat support, forces. At least, every bit as much as those of us in the field artillery.
Blair continues,
I do not believe that RPA operators are in less danger than their manned counterparts. In fact, I assert that it may well be the other way around. Recall that the individuals killed in the terrorist attack of 11 September 2001 on the Pentagon received the Purple Heart, a combat medal. This war is global, and our enemies have global reach as well. If we found ourselves in our enemies' position, would we spend the time and attract attention attempting to purchase a high-profile missile when a terror attack on RPA operators in the continental United States would produce better results? God forbid that scenario comes to pass, but I argue strongly that the differential risk of being an RPA operator in this war is at least that of an in-theater pilot.
I've always thought it odd to award to Purple Heart to the 9/11 victims. While the attack was an act of war, and presaged a war in which US forces are still engaged as combatants, those killed that day were not in a combat zone and not engaging in combat operations. Still, even though they had no idea until it was too late, they were indeed at risk and it's hard to begrudge them a medal that's awarded for being in the wrong place at the wrong time.
And, while Blair makes an interesting point about drone operators as potential targets, he's citing a theoretical risk. Until and unless the enemy targets a stateside ops center, I'd calculate the differential risk based on who's been killed and wounded in this war. I'm guessing those manning flying machines are ahead–or, depending on how you look at it, behind–in that score.
Finally, Blair observes,
"The Department of Defense's Unmanned Systems Integrated Roadmap predicts a force made up almost entirely of RPAs by the middle of this century," he concludes. "On the current trajectory, the only Air Medals will be the ones in history books."
Why is that a bad thing? It's certainly better to stop awarding antequated medals than to lower the standards for earning them.