District Judge Grants Trump's Request For Special Master
I warned you all, my predictions are notoriously wrong.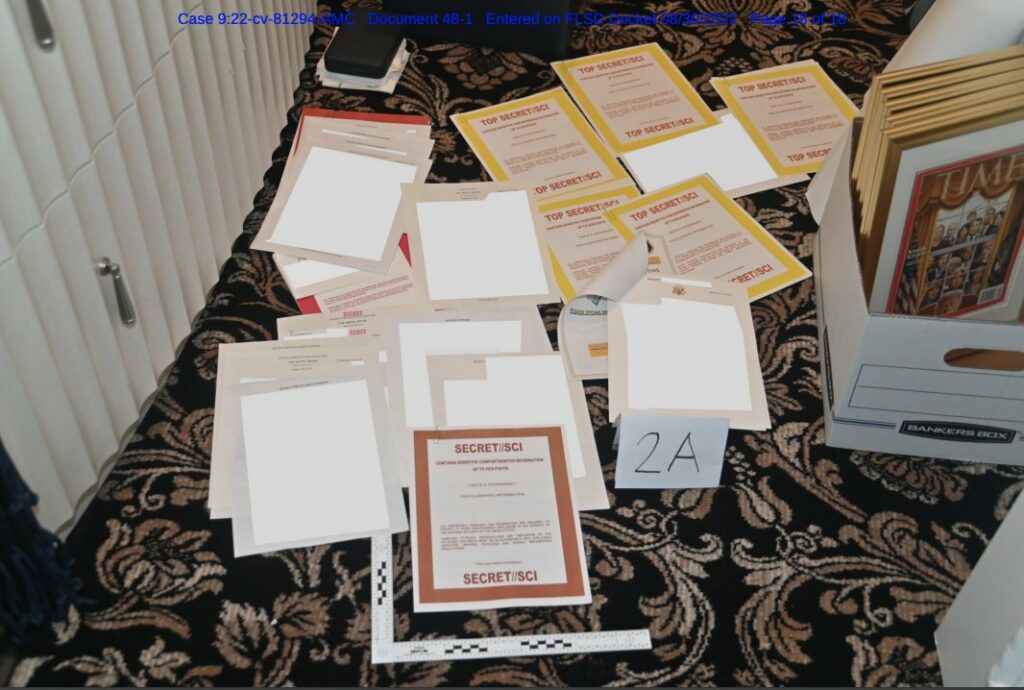 News has just broken that Southern District of Florida Judge Aileen Cannon has granted former President Trump's request to have a Special Master appointed to review a subset of documents taken during the FBI's search of Mar-A-Lago in August. The 24-page decision can be found here.
I am not going to be able to take more than a cursory look at it (I have to finish a conference paper that is way-way-way past due). I will call out a few things though.
This does temporarily suspend the use of those materials, pending review, for any investigative purposes. While that's frustrating to the DOJ team, as I've covered elsewhere we are 60 days before an election, so we're well into the "no big news about prosecutions of major political figures if it can be avoided" period.
It does NOT prevent any classification review or intelligence assessment.
As I mentioned in my previous article on Thursday's hearing, this was always going to be seen as a partisan ruling regardless of which way Judge Cannon decided. Some will say the fix was in from the start. I personally think the ultimate reason for the decision is laid out right at the start of the document:
Pursuant to the Court's equitable jurisdiction and inherent supervisory authority, and
mindful of the need to ensure at least the appearance of fairness and integrity under the
extraordinary circumstances presented…
One noteworthy aspect of the decision is the Judge's interpretation of Nixon v.
Administrator of General Services, 433 U.S. 425 (1977), which was a key part of the DOJ's argument:
In Nixon v. Administrator of General Services, 433 U.S. 425 (1977), a case involving review of presidential communications by a government archivist, the Supreme Court expressly recognized that (1) former Presidents may assert claims of executive privilege, id. at 439; (2) "[t]he expectation of the confidentiality of executive communications . . . [is] subject to erosion over time after an administration leaves office," id. at 451; and (3) the incumbent President is "in the best position to assess the present and future needs of the Executive Branch" for purposes of executive privilege, id. at 449. The Supreme Court did not rule out the possibility of a former President overcoming an incumbent President on executive privilege matters. Further, just this year, the Supreme Court noted that, at least in connection with a congressional investigation, "[t]he questions whether and in what circumstances a former President may obtain a court order preventing disclosure of privileged records from his tenure in office, in the face of a determination by the incumbent President to waive the privilege, are unprecedented and raise serious and substantial concerns." Trump v. Thompson, 142 S. Ct. 680, 680 (2022); see also id. at 680 (Kavanaugh, J., respecting denial of application for stay) ("A former President must be able to successfully invoke the Presidential communications privilege for communications that occurred during his Presidency, even if the current President does not support the privilege claim. Concluding otherwise would eviscerate the executive privilege for Presidential communications.")
This is definitely a narrow reading of that decision. The passage "The Supreme Court did not rule out the possibility of a former President overcoming an incumbent President on executive privilege matters" is especially noteworthy as I suspect that the Judge thinks there is a not insignificant chance that this is going to the Supreme Court and she is highlighting the underlying question for them to answer.
Put a different way, and reading this somewhat generously, Judge Cannon seems to be saying "the decision as to whether or not Nixon applies here is above my pay grade and if I'm eventually going to be overturned, I'd rather it be because I was too conservative versus because I was making up case law."
She also includes an important footnote with the above passage that could eventually make this all moot:
"On the current record, having been denied an opportunity to inspect the seized documents, Plaintiff has not formally asserted executive privilege as to any specific materials, nor has the incumbent President upheld or withdrawn such an assertion."
As I mentioned previously, Trump's legal team has yet to make an affirmative case that some or all the documents are covered by executive privilege. Likewise, the Biden Administration has yet to affirmatively waive the privilege on any of these documents. If or when either of those things happens there may be a need for the Courts to revisit this decision in light of those new facts.
So what is the fallout from this? I turn to two analysts whose work I respect a lot:
Ken White also notes: "I think who she appoints as special master and the instructions given to them will be very telling, along with her subsequent orders."
Likewise, Renato Mariotti reaches similar conclusions:
Like White, I think this is the wrong decision based on the case law. I also think Mariotti is right that this was an effort to bend over backwards given the uniqueness of the case (if only everyone going through the courts got this level of care).
The next major move is up to the Department of Justice. Above, Mariotti lays out why not appealing might be the best choice (especially if you don't want this to go to the Supreme Court). Vox's Ian Millhiser puts the case for letting the Special Master go forward even more bluntly:
Beyond what Millhiser wrote, it's also important to understand that District Judge decisions do not create any type of precedent. That means no other judge is bound by this decision. If the DOJ was to take this to the Eleventh Circuit and lose, then that would create a precedent in the Circuit (one that the DOJ would prefer not to have).
[Update] Also, the DOJ has more options than just filing an appeal. There is also the option for them to file a motion for reconsideration. It's a strict standard, but it presents an opportunity to argue there were errors in a District Court decision. They are rarely successful, but if they did it would reveal a lot about their issues with the current decision.
Assuming they don't appeal or make a motion for reconsideration, then the next thing to watch for are all the documents that file that will set what is looked at (it may just be things taken from the "45 office"), who will be doing the looking, what the evaluation criteria are, and a framework on how much time the Special Master has to make the review.
One thing is for sure, I'm not going to make any predictions–because, if you remember I thought Judge Cannon was ultimately going to rule for the Government. Which is why, folks, you really shouldn't pay attention to anything I write… or at least when I predict anything.