DJIA and Jobs Trend
Plus some comparisons of Trump/Obama and Trump/Bill Clinton.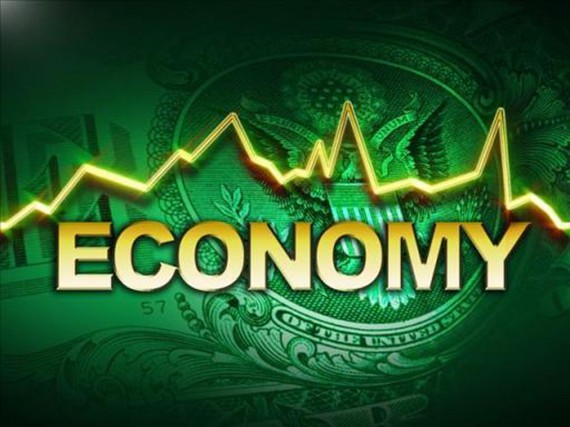 Just reminder of the long-term Dow Jones Industrial Average trend line for the last ten years: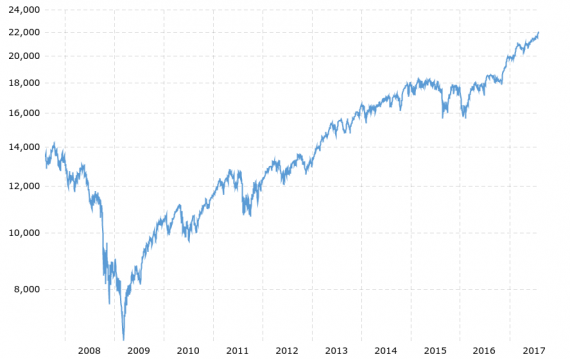 While I will admit I expected the markets to be less happy with the unpredictable nature of the Trump administration, I suppose a policy environment with little threat of change due to the inability of Congress and the President to act creates its own kind of stability. Apart from exiting TPP negotiations and some executive orders about regulations, I am not sure that the President can point to any actual policies that could be considered responsible for the continuation of a long-term trend in the stock market. Sure, there are some promises of tax cuts, but no one could look at the recent repeal and replace efforts and be confident that tax reform is coming quickly and easily.  Indeed, the current economic parameters are basically a continuation from the previous administration.
This is likewise true of the jobs numbers: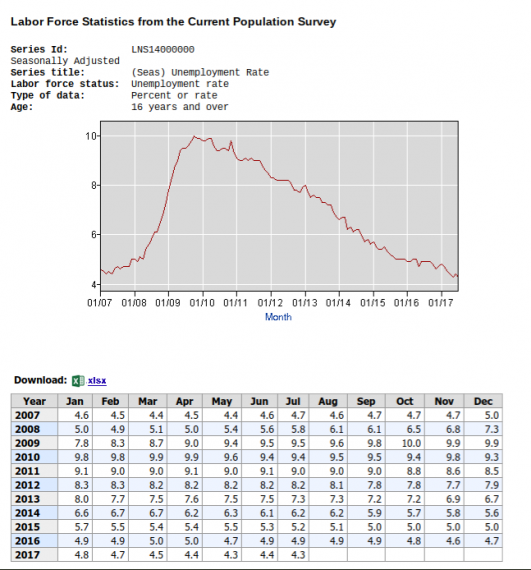 That the president is taking credit is wholly reasonable and normal (indeed, it may be one of the more normal behaviors we have seen out of this White House).  However, a dispassionate viewing of the situation shows a continuation of a very long term trend, making it very difficult to actually credit any of the president's policies (such as they are). I will go a step further and note that regardless of policy linkages, presidents tend to get credit (and blame) based on these kinds of metrics.
I found all of this intriguing in the context of Chris Stirewalt's Fox News Halftime Report:
WOULD YOU EVEN CARE IF HE WAS GUILTY?
The stock market is up, unemployment is down and the economy seems to be picking up some steam. The streets are mostly safe, the nation is mostly secure and the world is mostly at peace.

So does it matter to you whether or not the president is a crook? The answer for a lot of Americans may be no.

With the revelation that a grand jury is looking at evidence against members of President Trump's 2016 campaign team, we move closer still to the possibility that someone could be in very big trouble.

Special Counsel Robert Mueller and his squad are moving fast, and the likelihood that some charges will be brought can no longer be ignored. It is not hard to imagine a moment in the very near future where some associate of the president is in the dock, charged with misdeeds relating to Russian interference in the 2016 election.

But, again, we ask: Would it matter to you?

Democrats are now in something of the same position as Bob Dole was in 1996 when he demanded of reporters about then-President Bill Clinton, "Where's the outrage?"
My very first reaction is that while this bit of commentary makes it all about the metrics, the reality is that Obama had the same trends as Trump is experiencing, and therefore there is a clear partisan variable to be taken into consideration here.  And, by the same token, Democrats aren't falling in love with Trump because of Dow 22k.
As such, and given Stirewalt's audience, I think the more accurate question is, will Republicans Even Care if He is Guilty?  One wonders (and concludes that it is likely a huge percentage won't).
The piece mostly goes on to make comparisons to the Clinton impeachment. Without analyzing the totality of the piece, I will agree that part of the reason that Clinton was able to survive his scandal and his impeachment by the House is that general public opinion was favorable to him and much of that was due to the economy.  Note the following from a 1998 Gallup story:
Despite the fact that he is only the second President in U.S. history to be impeached by the House of Representatives, President Bill Clinton received a 73% job approval rating from the American public this past weekend, the highest rating of his administration, and one of the higher job approval ratings given any president since the mid-1960s.

The 73% rating, based on a Gallup poll conducted December 19-20, came at the end of one of the most eventful weeks in recent American history. Not only did the House convene to debate and then pass two of four articles of impeachment against the President, but the week also saw an intensive four-day U.S. and British air attack against Iraq and its leader, Saddam Hussein.

Both of these two events most probably had an impact on the spike in Clinton's job evaluation. Even though Clinton's job approval ratings have been high all year, the weekend's 73% rating marked a 10 percentage point increase from a survey conducted Tuesday and Wednesday of last week, which partially overlapped the beginning of the Iraq attack, and a 9% increase from a poll conducted the previous weekend. The 73% figure is also about 7-8 percentage points higher than the ratings Clinton received in a number of polls taken throughout most of October and November.
A deeper dive into Clinton's approval numbers can be found here:  Presidential Job Approval: Bill Clinton's High Ratings in the Midst of Crisis, 1998
Let's compare those numbers to Trump's via Rasmussen yesterday (and I pick Rasmussen because it tends to be the most favorable poll to Trump):
The Rasmussen Reports daily Presidential Tracking Poll for Friday shows that 39% of Likely U.S. Voters approve of President Trump's job performance. Fifty-nine percent (59%) disapprove.

The latest figures for Trump include 25% who Strongly Approve of the way Trump is performing and 49% who Strongly Disapprove. This gives him a Presidential Approval Index rating of -24.
And since this post focuses heavily on trends, it should be noted that the trend line for Trump's approval is downward, even in the Rasmussen poll.
So:  39% v. 73% (and Clinton's number was after a year-long scandal and in the midst of actual impeachment proceedings).  The circumstances of the two presidents could not be more different. A key element of the Clinton v. Trump comparison that Stirewalt misses is that Clinton was able to garner support from Democrats and a large percentage of Republicans (he was scoring 81% favorability in regards to his handling of the economy at the time).  Trump, meanwhile, is well underwater in his approval numbers and is struggling just to get Republicans to all agree that he is doing a good job.
Interestingly, the support for Clinton's impeachment and removal are close to Trump's current approval numbers (with Trump being more popular than removal of Clinton).  From CNN in 1999:
Do you want your senators to vote in favor of convicting President Clinton and removing him from office?

Yes    32%
No     63
It would be interesting to see a deeper comparative study of public opinion on these issues, but what does sort of leap out is that there was core of Republicans who wanted Clinton removed and a core that now supports Trump.  One suspects there is some significant overlap on the characteristics of those two groups.
Beyond that, Stirewalt is incorrect that the Clinton and Trump circumstances are as similar as he thinks they are because Clinton had broad support in 1998/1999 and Trump currently does not (and is unlikely to get it). Some of that is the nature of Trump's presidency but in fairness part of it is that despite the positive trends noted above, the reality is that there still remains a substantial amount of anxiety over the economy–something that Trump share with Obama, along with the positive trend lines.