Do Endorsements Matter?
Like most endorsements, Jeb Bush's endorsement of Mitt Romney is unlikely to have a major impact on the race.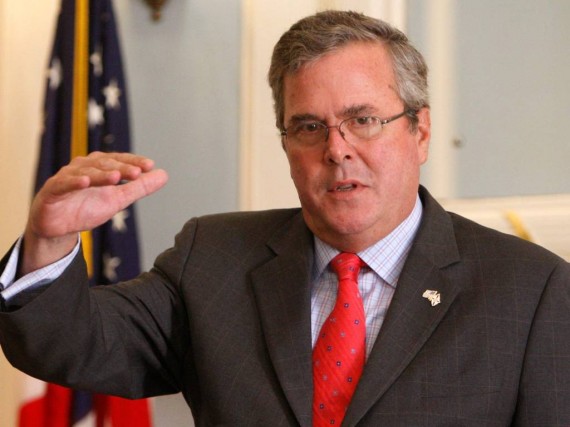 Jeb Bush's endorsement of Mitt Romney on Wednesday brought to an end one of the longest endorsement waiting games of the current election cycle. Outside of Chris Christie and possible Sarah Palin, there were few Republican politicians whose endorsement was more sought after by the candidates or anticipated by the media. Now that it's out, though, one has to wonder if it really matters. After all, Chris Christie endorsed Mitt Romney months ago and that didn't prevent the Republican race from turning into the long drawn-out slog we've been subjected to. The endorsement of Nikki Haley didn't prevent Mitt Romney from losing to Newt Gingrich in South Carolina.  Additionally, Romney also received the endorsement of several top political leaders in Mississippi, including the current Governor, and yet he ended up losing that state. Looking ahead, it doesn't really seem like Governor Bush's endorsement will have any more of an impact, even though it may lead other prominent Republicans to line up behind Romney.
Looking at the general issue of endorsements themselves, though, Alex Koppelman argues that they don't mean nearly as much as they used to:
In the modern, post-machine-politics era, individual endorsements simply don't matter as much as we sometimes pretend they do. The exceptions are, typically, the endorsements from those politicians who still do have a machine—or at least a robust activist and fundraising operation—that can be employed on the endorsee's behalf.

There's no reason to believe that a nod from a single politician can bring a campaign like this one to an end, David Karol, an associate professor of American politics at the University of Maryland and the co-author of "The Party Decides," says. "I just don't think that there is any one figure—with the rare exception going way, way back—[who] has that power." Indeed, Karol says, the most recent example he can come up with of a single endorser swaying a nomination might be Teddy Roosevelt backing William Howard Taft, in 1908.

That's not to say that endorsements don't have any power at all, however. As Karol and his co-authors demonstrate in "The Party Decides," a large number of endorsements, taken together, can mean a great deal—they're the way for the party establishment to anoint its chosen candidate even before primaries begin. "Party élites retain influence in the Presidential nomination process," Karol says, but "that's a collective influence that the élite may be able to exercise; it's no one kingmaker."
This seems about right to me. The fact that one politician has endorsed another is unlikely to persuade individual voters of much of anything. If the endorsers is someone popular with the party base like Christie or Palin then it's possible that joint appearances by endorser and endorsee will lead to large crowds at campaign rallies. (Indeed, Mitt Romney drew some pretty big crowds in Iowa and New Hampshire when he brought Chris Christie along.) However, it strikes me that this doesn't necessarily help the candidate very much. If people are coming to see the endorser rather than the endorsee, there's no guarantee that they'll end up being persuaded by the mere fact of the endorsement. On the other side of the equation, there's a possibility that some endorsements may actually hurt the candidate with voters who aren't part of the party's base. This is likely why you haven't seen Christine O'Donnell leading any rallies for Mitt Romney, or why Rand Paul's Senate campaign only utilized Sarah Palin to headline closed-door fundraisers rather than rallies. The cost of being to closely associated with an endorser may hurt more in a General Election than it would help in a primary.
As Koppelmann notes, the only exceptions to this would probably comes in situations where the endorser has something to offer the candidate beyond the endorsement. There aren't many real political machines left in the country outside of places like Chicago and New York City, and even there the machines are far weaker than they used to be. Nonetheless, a politician with access to such a machine could be very helpful, especially in a primary. Additionally, if an endorsement comes with access to mailing lists or a donor list then there are obvious benefits to a candidate.
There are exceptions, of course. The example that comes to mind first is Ted Kennedy's endorsement of Barack Obama early in the race for the Democratic nomination in 1988 2008. At the time, Obama's campaign was going quite well indeed but still seemed to be having a hard time selling itself to the party establishment, especially those people who would be serving as Superdelegates in Denver. When Ted Kennedy stepped forward and not only gave Obama his blessing but tied him directly to the campaign of his brother in 1960, it was a major breakthrough for Obama's campaign that went a long way toward winning him the nomination. There aren't many Ted Kennedy's though, and in fact I can't think of anyone in modern politics from either party whose endorsement today would have a similar impact on a race. Perhaps Bill Clinton or Al Gore might qualify, but that's about it. For the most part, the days when the endorsement of a single politician can sway an election are long gone.