Do we Even Understand Tax Policy?
Do people really understand the taxes we pay?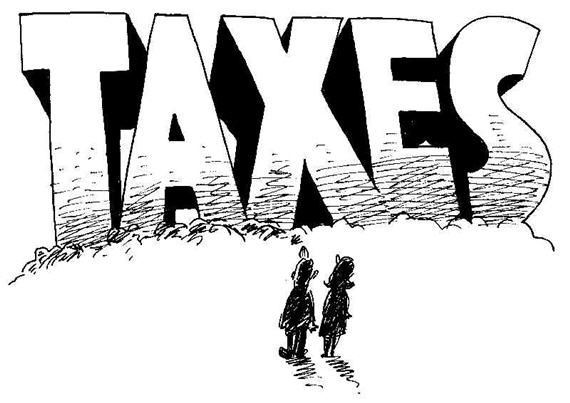 The more I read and hear people talking about tax policy, to more I am convinced that most people a) do not really know what they pay in taxes, save in a very vague sense,* b) they really don't understand/know how federal income taxes work, and c) address discussions of tax policy in a manner that looks more like theology than policy analysis.
Now, speaking for myself, I know what I pay in property taxes.  I know what I pay in sales taxes (both as a percentage, but there is that handy line on every receipt).  I even have a pretty good idea what kind of excise taxes I pay on a gallon of gasoline off the top of my head.**  However, when it comes to knowing exactly what I will pay in terms of the bulk of taxes that I pay (i.e., income and payroll taxes), things are a bit fuzzy.
Now, this is not to say that I can't find out, or that I have no idea.  It is just that it takes some effort to get this information.  Moreover, I don't think most people really have a concrete notion of what taxes they are paying.
To wit: yes, there are a lot of number on one's pay stub.  And there is a rather depressing difference between the gross income and net income numbers.  Yet, in all honesty, which of those numbers do people pay attention to?  Clearly it is the amount that they can actually deposit in their checking accounts.  Indeed, I would wager that most people do not know the difference between payroll and withholding taxes and likewise likely could not tell you which one costs them more per check.  Indeed, the general confusion on the payroll v. income tax issue is part what keeps the "half of people don't pay taxes" meme alive.   In terms of deductions to a given check, I suspect that most folks don't even pay that much attention in terms of how much is taken out for non-governmental reasons (e.g., for health insurance, contributions to retirement, etc.).
Beyond the question of paycheck awareness, I would further argue that most people's perception of whether they pay taxes or not (or whether they pay too much) is the result of whether or not they get a refund every year—never mind that getting a refund simply means you loaned the feds a few dollars, interest free, for a few months.  In other words, most people likely think that their taxes are "too high" if they have to write a check every April 15th, and are less inclined to be upset if they get a refund—never mind that the issue of actually how much of their incomes go to taxes has nothing to do with the payment/refund situation, but rather is a function of their monthly withholding.
And even if we pay attention fairly closely, we don't know what our effective tax rate is until we do our taxes (and either do the calculations ourselves, or more likely, TurboTax does it for us).  Indeed, our conversations tend to focus heavily on marginal rates, but such a focus muddies the waters, as the real issue, ultimately, is the effective rate (if, what we want to do, is understand what people are actually paying, including ourselves).  This speaks, by the way, to the complexity of the tax code—the myriad of deductions, credits and the like that go into the ridiculously complex nature of calculating our annual tax liabilities.
In short>  by debating marginal rates, we don't really capture what is actually happening in terms of what is actually being paid.
For example, note the following from CBS' Moneywatch columnist Carla Fried:
According to the IRS, the average effective tax rate for the top 400 was 18.1 percent in 2008. While that tax rate is indeed 33 percent higher than the national average of 13.6 percent, it is also lower than the 19.6 percent average effective tax rate paid by folks with 2008 adjusted gross income between $200,000-$500,000, and the 24.1 percent average rate for filers with AGIs of $500,000-$1,000,000.
There is something odd about a tax system that produces the above outcome.
Setting aside the question of super-wealthy individuals, I would recommend the following posts:
Now, the scenarios in the above (which, I expect, are not that far off from those of many readers) are not intended to make an argument (at least from my perspective) on the rightness or wrongness of the current levels of taxation, but they do underscore, I would argue, that the rhetoric about taxes and the reality of the way they work are not in sync with one another.  Certainly what this underscores is that we use the tax code as much (if not more) as a means of rewarding certain behaviors as opposed to using it to raise revenue to pay for government.
What's my basic point?  We have ongoing, passionate debates about taxes, but I don't think we, as a public, understand the tax system as a whole and we really do not have a solid grasp on what we are individuals actually pay.  I think this contributes to a rather imperfect debate, to be sure.  I am not arguing that better understanding would lead to a particular outcome in terms of the policy debate (i.e., in favor of more, less, or the same levels of taxation), but I am increasingly convinced that we are talking about a system that doesn't actually exist.
Fundamentally, the problem here is that we really have no idea what a given change in tax policy would actually cost us.  We just know that we don't want to pay more taxes, even if we are a bit unclear on what we (and other people) actually pay.  This is not a helpful baseline for debate.
At a minimum, the fact that we need armies of tax preparers every year (either the human kind or the software kind) tends to suggest that we, as a public, do not understand the taxes we are paying.  Perhaps Congress ought to be focusing on fixing that problem (nd no, I shan't be holding my breath in that regard).
—-
*And yes, any given reader may well know all of these details intimately.  My assertions, however, has to do with the general level of knowledge on these matters.
**My guess was 35.5 cents per gallon.  The magic of the Googletubes tells me, in fact, I pay 36.4 cpg (18.4 for the feds and 18 for Alabama)—although counties can levy up to an addition 5 cpg and cities can add .5 to 4 cpg (source).  Indeed, upon consulting with the state's web site (see here), it looks like a I normally pay a total of 41.4 cpg.