Do Women Make Better Military Helicopter Pilots?
One in ten Army helicopter pilot is a woman, yet men account for 97% of injuries in helicopter accidents.
One in ten Army helicopter pilot is a woman, yet men account for 97% of injuries in helicopter accidents.
TIME's Mark Thompson ("Army Women: Better Chopper Pilots Than the Guys?"):
Ten out of every 100 Army helicopter pilots are women — but they account for only 3 out of every 100 accidents.

That's the bottom line in an Army report that, in an effort to study the impact of women on the front lines, compares accident rates of men and women flying Army helicopters from 2002 to 2013.

The revelation is included in Army Major Seneca Peña-Collazo's report, Women in Combat Arms: A Study of the Global War on Terror, which he published in May while a student at the School of Advanced Military Studies at the Army's Command and General Staff College at Fort Leavenworth, Kan.
SAMS is the Army's premier planning course, attended by an elite group of C&GSC graduates. The "report" was Peña-Collazo's master's thesis. He's an AH-64 Apache pilot
In general, women are involved in less aircraft accidents than all male crews — comprising only 3% of incidents. As women comprise roughly 10% of all aviators, the evidence suggests that women may operate aircraft more safely. As it pertains to just AH-64 aircraft, 100% of all accidents, both in garrison and in theater, involve all-male crews, at least suggesting that female attack pilots may be even more safe in the performance of flight duties.
Here's the breakdown by aircraft type and accident rate: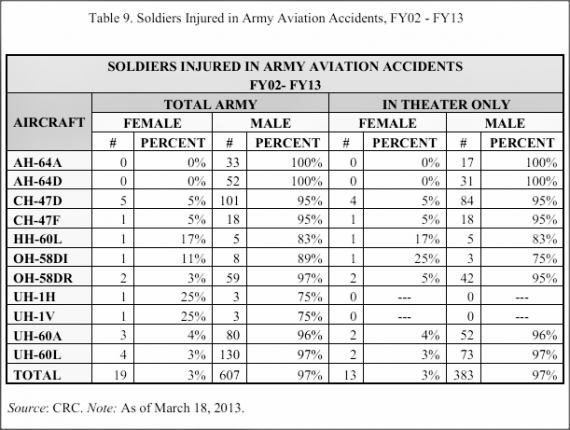 This chart is missing a rather crucial third variable: sorties flown, flight hours, or some other measure to use as a divisor. As best I can tell from a quick scan of the paper, the only indicator we're given at all is that "roughly 10 percent" of all Army aviators are women. So, if we are to assume that they fly an equal number of hours, the fact that only 3 percent of injuries have been to women versus 97 percent to men might be interesting. But it might not! The data presented don't even tell us who was flying–the men injured might have been co-pilots or passengers!
I'm of course prepared to accept the possibility that women make safer pilots. But Peña-Collazo's thesis doesn't demonstrate that. Nor, incidentally, was that his objective; he's just including this data among scads of others to draw insights into the performance of women in the military generally during the post-9/11 conflicts. Thompson:
[H]is report doesn't hypothesize what might account for the different crash histories of the Army's female and male pilots. The samples could be too small to make valid comparisons, or the female pilots may be less aggressive in the air, perhaps because they have less flying time.

There are also no details on whether or not commanders found female pilots as good as — or better — than their male comrades when it came to accomplishing their assigned missions. In any event, a sortie — especially in combat — that ends with the crew and aircraft safely back on base is a good thing.

Retired Army colonel Elspeth Ritchie, once the service's top psychiatrist, doesn't believe AH-64 crews with one or two females at the controls are being cut any slack that could lead to fewer accidents. "Pilots do not choose which missions to fly," she says. "Their bosses choose the missions." The key question is why flight crews with at least one woman on board have fewer crashes. "The obvious conclusion is that mixed [gender] crews are safer," she says. "Why is the question. Less 'cowboying'? More safety checks? More thoughtful behavior in the air? Or is this apparent pattern random variation?"
Without a lot more information, my instinct is the latter. Or, more precisely, I don't think looking at the raw numbers of injured crew members does anything more than give us insights that might lead to more investigation.
First, as noted before, we'd want to look at crashes per hours flown, rather than simply total injuries.
Second, "crashes leading to injury" is likely a more useful variable than number of injuries, since the latter is a function of crew size and largely irrelevant to the question anyway.
Third, we'd want to examine the situations in which the accidents occurred. Maybe the crashes are occurring mostly in specific sets of circumstances and either male pilots are much more likely to be assigned to fly under those circumstances or, more likely, they occur infrequently enough that lumping in flight hours under oher circumstances just clouds the picture.
Fourth, we'd likely want to isolate the effects to the actual flight crew—those who actually fly the chopper or directly interface with the pilot. That is, it's plausible that it makes a difference whether a man or woman is flying. It's also plausible that a male pilot will perform differently if there's a female c0-pilot (or vice versa). It's rather dubious that the presence of a woman somewhere else in the crew impacts the behavior of the pilot.