Doctors: N.F.L. Great Ken Stabler Suffered From C.T.E. Due To Concussions
Another late football great has been diagnosed with a brain disease directly connected to the game they played.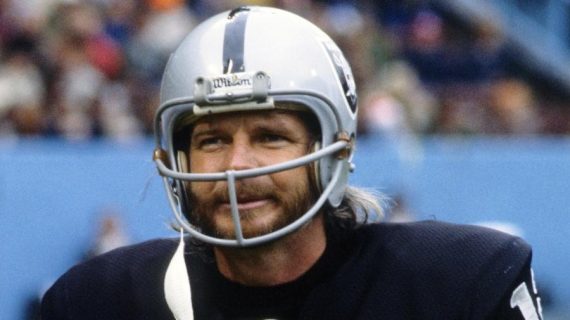 The family of N.F.L. great Ken Stabler, the former Oakland Raiders Quarterback who died last July after a long battle with cancer, has revealed that post-mortem tests reveal that Stabler suffered from chronic traumatic encephalopathy, now known popularly as C.T.E., the chronic brain disease that has been diagnosed in countless numbers of professional football players in recent years:
Shortly before he died last July, the former N.F.L. quarterback Ken Stablerwas rushed away by doctors, desperate to save him, in a Mississippi hospital. His longtime partner followed the scrum to the elevator, holding his hand. She told him that she loved him. Stabler said that he loved her, too.

"I turned my head to wipe the tears away," his partner, Kim Bush, said recently. "And when I looked back, he looked me dead in the eye and said, 'I'm tired.' "

They were the last words anyone in Stabler's family heard him speak.

"I knew that was it," Bush said. "I knew that he had gone the distance. Because Kenny Stabler was never tired."

The day after Stabler died on July 8, a victim of colon cancer at age 69, his brain was removed during an autopsy and ferried to scientists in Massachusetts. It weighed 1,318 grams, or just under three pounds. Over several months, it was dissected for clues, as Stabler had wished, to help those left behind understand why his mind seemed to slip so precipitously in his final years.

On a scale of 1 to 4, Stabler had high Stage 3 chronic traumaticencephalopathy, or C.T.E., the degenerative brain disease believed to be caused by repeated blows to the head, according to researchers at Boston University. The relationship between blows to the head and brain degeneration is still poorly understood, and some experts caution that other factors, like unrelated mood problems or dementia, might contribute to symptoms experienced by those later found to have had C.T.E.

Stabler, well known by his nickname, the Snake ("He'd run 200 yards to score from 20 yards out," Stabler's junior high school coach told Sports Illustrated in 1977), is one of the highest-profile football players to have had C.T.E. The list, now well over 100, includes at least seven members of the Pro Football Hall of Fame, including Junior Seau, Mike Webster and Frank Gifford.

Few, if any, had the free-spirited charisma of Stabler, a longhaired, left-handed quarterback from Alabama who personified the renegade Oakland Raiders in the 1970s. Stabler was the N.F.L.'s most valuable player in 1974 and led the Raiders to their first Super Bowl title two seasons later. He ended his 15-year N.F.L. career with the New Orleans Saints in 1984.

"He had moderately severe disease," said Dr. Ann McKee, chief of neuropathology at the V.A. Boston Healthcare System and a professor of neurology and pathology at Boston University School of Medicine, who conducted the examination. "Pretty classic. It may be surprising since he was a quarterback, but certainly the lesions were widespread, and they were quite severe, affecting many regions of the brain."

Quarterbacks are provided more protection from hits than most football players. An offensive line's purpose is, in part, to protect the quarterback, and leagues like the N.F.L. have special rules to discourage severe blows to players in the most important position on the field.

But Stabler's diagnosis further suggests that no position in football, except perhaps kicker, is immune from progressive brain damage linked to hits to the head, both concussive and subconcussive.

Stabler is the seventh former N.F.L. quarterback to be found to have had C.T.E. by Boston University, which has found C.T.E. in 90 of the 94 former N.F.L. players it has examined, including the former Giants safety Tyler Sash, who died in September at age 27 and whose diagnosis was made public last week.

On Wednesday, the family of another Super Bowl quarterback, Earl Morrall, told The New York Times that Morrall was found to have Stage 4 C.T.E. following his death in 2014 at age 79.

(…)

Because C.T.E. can be diagnosed only posthumously, and most brains are not examined for the disease, incidence rates among athletes and nonathletes are difficult to ascertain. A study by the Mayo Clinic, released last fall, found C.T.E. in 21 of 66 men who played contact sports (mostly football), but found no traces of the disease in 198 other brains of men who had no exposure to contact sports.

Scientists are quick to note that they do not understand why some football players get C.T.E. and others do not.

But the disease, once thought to mostly afflict boxers, has been found in recent years in deceased athletes who have played soccer, rugby and even baseball.

Most brains are donated by families hoping to understand why their loved one's cognitive functions declined in later years. Symptoms of C.T.E. are similar to those of Alzheimer's disease or dementia, including memory loss, confusion, impulsiveness and depression.

"On some days, when he wasn't feeling extremely bad, things were kind of normal," Bush said. "But on other days it was intense. I think Kenny's head rattled for about 10 years."

For decades, the N.F.L. rebutted research by independent experts that connect brain trauma to long-term cognitive impairment. Only in recent years, long after Stabler's career ended, has the league begun to publicly acknowledge it has a problem.

(…)

It was not until the final few years that his family recognized a rapid decline in his cognitive functions, too. Several symptoms — which cannot be conclusively attributed to C.T.E. — began to show themselves quickly, beginning with Stabler's complaints of a high-pitched ringing in his head. In his final year, he once grit his teeth so hard that he broke a bridge in his mouth and had to get dental implants.

"There were days when I walked in the door and looked at his face, and I could tell," Bush said. "He was sitting in his chair, because he was always waiting for me, and the news was on and whatnot, and he had his head laid back, and his eyes just scrunched up so tight that I used to think that would give you a headache in itself, just the pure pressure of squinting like that."

Noise and bright lights became enemies. A lifelong lover of music, Stabler stopped listening to the radio in the car, choosing to drive hours in silence. He increasingly complained about the clanging of kitchen dishes and the volume of the television.

Family and friends found him repeating himself, sharing stories privately or during public events that he had told just minutes before. He lost his sense of direction, pointing north when he spoke about the coast just a few miles south of his home in Gulfport, Miss. Driving, he became flustered at four-way stop signs.

In the fall of 2014, he moved to Arizona to be closer to his oldest daughter, Kendra Stabler Moyes, 45, and her twin sons, 17-year-old Justin and Jack, who play high school football.

"I remember them calling me and saying, 'Mom, Papa keeps stopping at green lights,' " Stabler Moyes said.
The release of the news about Stabler now comes at the same time that he is being posthumously considered for a spot in the Pro Football Hall Of Fame. Last year after he died, it was announced that Stabler was part of the class being considered for induction in the Hall in 2016. The final selection for the list of inductees is being considered this week in advance of Super Bowl 50 and will be announced on Saturday at the N.F.L.'s annual pre-Super Bowl awards show. Many analysts expected prior to this announcement that Stabler would likely be included among the inductees announced this week, and hopefully that status will not be impacted by this report. The announcement also comes in the wake of the announcement made late last year that New York Giants legend and longtime football analyst Frank Gifford, who died in his sleep in August at the age of 84, also suffered from C.T.E. based on examination of his brain after he had passed away. While it's clear that neither Stabler nor Gifford died as a result of the brain disease, anecdotal evidence from family members in both cases indicated that it apparently did have some impact on their short and long term memory and other cognitive abilities later in life. It also adds to the long list of former N.F.L. stars who have been diagnosed with the disease after death, including long-time Chargers, Dolphins, and Patriots great Junior Seau, who killed himself at the age of 43 by a gunshot to the chest, also suffered from the disease. Seau's family joined many other former players and their families in suing the N.F.L. in litigation that remains open despite apparent settlement, and was nearly prevented from speaking when Seau was inducted into the Hall of Fame himself last year. The speech that Seau's daughter wanted to give was ultimately published in The New York Times. The news also comes just two months after the release of Concussion, a movie starring Will Smith that tells the story of ' Dr. Bennet Omahu, who is profiled in this piece in The Wall Street Journal.  Omahu ithe person who first confirmed the existence of a chronic brain disorder subsequently found in many athletes who play football and other high impact sports. The disease, now called chronic traumatic encephalopathy, or more commonly C.T.E., was first discovered by Oamhu in his examination of the brain of Mike Webster, the former Pittsburgh Steelers star Hall Of Fame inductee who died in 2002.
Obviously, this announcement comes at a particularly uncomfortable time for the N.F.L. Super Bowl week has become a time when the league highlights its best under the glare of international media attention, and the announcement of the incoming Hall of Fame class has become an important and celebrated part of the pre-game activities that began on Monday with much-hyper press appearances by both the Denver Broncos and Carolina Panthers that was even covered live on the NFL Network. At this point, the news about Stabler would seem to put the league in something of an uncomfortable position. If Stabler does make the list of inductees, as he should, then the stories about C.T.E. will inevitably come up an be part of the media attention. If he isn't then someone is bound to ask if this announcement had something to do with it, and if the league is trying to minimize press attention on an embarrassing issue that is still the subject of litigation. Beyond the public relations issues, though, the news about Stabler, like the news about Gifford is likely to serve as yet more evidence about the dangers of concussions in sports in general and football in particular, and to increase the pressure on the N.F.L. and other governing bodies to find ways to increase protection of all players from the impact of repeated concussions. It's also likely to continue to raise questions among parents and younger players about the safety of playing the game given the current state of safety technology.
As I said when the Giffords news came out, football as a game is not going anywhere notwithstanding news like this. The N.F.L. is the most profitable and successful sports league in the United States and Super Bowl 50 will likely draw record audiences, especially given that fans will be getting to a chance to see future Hall of Famer Peyton Manning facing off against rising star Cam Newton in what is likely to be Manning's last professional football game regardless of whether the Broncos win or lose. At the same time, though, the ongoing issues related to concussions and C.T.E. are not going away, and as more football greats pass away we're likely to learn that the problem is far more widespread than we know even today. At some point, the powers that be, be it the N.F.L., the N.C.A.A., or the various bodies that regular football below the college level, will be forced to do something to deal with this issue and to at lease minimize the problem as much as possible. Otherwise, it's unclear how many young men will want to play the game in the future.