Doctor's Office Baby Pictures Barred By HIPAA
A good law has one rather silly unintended consequence.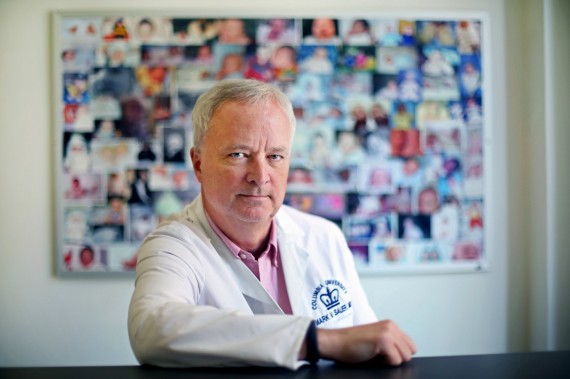 Obstetricians officers are apparently ending the decades old practice of posting pictures of babies delivered by their physicians because of federal health care privacy laws:
Pictures of smiling babies crowd a bulletin board in a doctor's office in Midtown Manhattan, in a collage familiar to anyone who has given birth. But the women coming in to have babies of their own cannot see them. They have been moved to a private part of the office, replaced in the corridors with abstract art.

"I've had patients ask me, 'Where's your baby board?' " said Dr. Mark V. Sauer, the director of the office, which is affiliated with Columbia University Medical Center. "We just tell them the truth, which is that we no longer post them because of concerns over privacy."

For generations, obstetricians and midwives across America have proudly posted photographs of the babies they have delivered on their office walls. But this pre-digital form of social media is gradually going the way of cigars in the waiting room, because of the federal patient privacy law known as Hipaa.

Under the law, the Health Insurance Portability and Accountability Act, baby photos are a type of protected health information, no less than a medical chart, birth date or Social Security number, according to the Department of Health and Human Services. Even if a parent sends in the photo, it is considered private unless the parent also sends written authorization for its posting, which almost no one does.

So doctors — especially those at large institutions with internal compliance officers — have been stripping down the walls or, as Dr. Sauer did at the Center for Women's Reproductive Care, hiding the photos, often with a bit of sadness. (The babies on the office's website are models.)

While privacy is a virtue, the doctors say, the law could make more sensitive distinctions.

"For me, the face of a baby, that is really an anonymous face," said Dr. Pasquale Patrizio, director of the Yale Fertility Center in New Haven. "It was representative of so much happiness, so much comfort, so much reassurance. It is purely a clinical office now."

Although his center no longer displays the photos, parents insist on sending them in, Dr. Patrizio said. "We are scanning them and leaving them in their own charts — their encrypted charts," he said, chuckling.

Most people know Hipaa as the law responsible for the "Notice of Privacy Practices," the blizzard of forms given to patients to sign, informing them of the ways in which their protected health information may be used. The law was enacted in 1996, but the banishment of baby photos has accelerated since 2009, when an economic stimulus bill provided money to promote electronic health records and let the government step up enforcement of the rules.

Rachel Seeger, a spokeswoman for the Office for Civil Rights of the Department of Health and Human Services, confirmed that the displays were illegal. "A patient's photograph that identifies him/her cannot be posted in public areas" unless there is "specific authorization from the patient or personal representative," she wrote in an email.
I'm not sure when this practice of doctor's having that large wall of baby photos became common. Perhaps it existed when I was a child, but then I can't say that I have any memory of visiting the office of the doctor that delivered me, and I don't recall anything like that at the Pediatricians office I was taken to as a child. One assumes that it became common around the same time that home photography because easy and cheap, though The motivation behind it is easy to understand, of course. New parents want to share the joy of the birth of their child, and the doctor's office that was so involved in the process seems like a natural place that you'd share such things with. By the same token, of course, it's easy to see the motivations behind the privacy provisions in HIPAA as well. Keeping patient information secure is essential to the integrity of the doctor-patient relationship and in the modern era where much of this information is stored electronically and shared with third parties such as insurance companies, a law like HIPAA was obviously needed in order to formalize confidentiality rules that had, in many cases, been largely informal for a very long time. That being said, I'm not sure that anyone who drafted or voted for the law thought that it would cover something as innocuous as a collage of baby photographs in a doctor's office, even though by the strict terms of the law it clearly is banned.
The obvious solution around something like this would be a simple written waiver from the parents to allow the picture to be displayed, but raises the prospect of more paperwork and such. In the end, this strikes me as a rather silly unintended consequence from a well-intentioned law.