Does America Spend More Than Next 10 Nations Combined on Defense?
A Washington Post fact check calls this "true but false."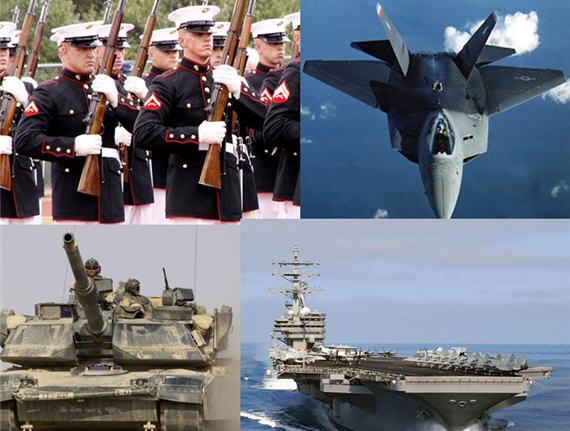 John Noonan is tired of the meme that the United States spends more on defense than the next ten nations combined and points to a fact check from WaPo's Glenn Kessler ("President Obama and the defense budget: a factoid that falls short") to debunk it.
As the headline implies, President Obama himself reiterated this claim: "I firmly believe, and I think the American people understand, that we can keep our military strong and our nation secure with a defense budget that continues to be larger than roughly the next 10 countries combined." This was in his speech outlining his new defense strategy.
[T]he president appears to be arguing that the United States has a strong military because its budget is larger than those of the next 10 largest countries combined.  The mostly widely cited public source for this claim is the Stockholm International Peace Research Institute, whose military expenditure database suggests that the U.S. military budget is bigger than those of the next 19 countries combined.

However, raw numbers can be misleading. The official Chinese figure of less than $100 billion a year is believed to be dramatically understated; SIPRI pegs it at around $100 billion. The Defense Department believes the real number for the Chinese military to be $150 billion.
Kessler is right that published figures, especially from authoritarian states like China, can be grossly misleading. But the SIPRI database shows China at at $119 billion, roughly halfway between the published figures and the US government's official guestimate. And even going with $150 billion doesn't change the claim.
Even that doesn't tell the whole story, because it costs China less money to buy the same goods and services as the United States. Carl Conetta, co-director of the Project on Defense Alternatives, who edits a Web page on Chinese military power, says that using a rough calculation of purchasing power parity, the correct figure for Chinese defense spending would be as much as $240 billion.
This is the more interesting argument. There's no academic consensus on how to do international comparisons of this sort between advanced and developing economies. PPP is really rather silly here, in that it obscures the more powerful argument on the weakness of the meme, which is that the United States spends a large amount on personnel because it has an all-volunteer force that must be relatively well paid, whereas China has a conscript army that can be paid next to nothing.
On the other hand, such arguments treat soldiers as a commodity. It's fair to say that America gets more value per soldier than does the PRC because our troops are better educated, better trained, better fed, and have much higher morale and esprit de corps. But those aren't quantifiable.
 The comparison to China also does not include the fact that because it is not a global power, Beijing may actually spend more on its military in the western Pacific than does the United States.
This is a strange argument. On the one hand, yes, China's smaller military is focused on a smaller mission set and therefore can bring all of its combat power to the western Pacific. But, aside from the fact that these are political and strategic choices, not immutable facts, this would seem to be a pretty good indicator that China isn't a significant threat to the United States. After all, we're not in the western Pacific.
Further, combat power is fungible. Two decades ago, my unit was pulled out of Europe and shipped off to Southwest Asia. Forces dedicated to enforcing other interests can be rededicated relatively quickly, presuming of course they're the right kinds of forces.
There is also a question of whether one counts just the base military budget or also the spending on the wars such as in Iraq and Afghanistan.
Why is this a question? Surely, fighting wars counts as military spending.
Indeed, even SIPRI urges caution in how its data is used, saying that beyond "very broad and clear comparisons" between countries with vastly different budgets, "attempts to draw conclusions about a country's level of military capability from its level of military expenditure should be regarded with considerable skepticism."
Here, again, Kessler is right: Merely looking at money spent won't tell you about relative combat power. For example, the United States spends almost infinitely more on defense than the Afghan Taliban. We haven't been able to defeat them despite a decade of fighting.
Then again, neither the president nor others of us who cite the disproportionate spending of the United States are arguing otherwise. Indeed, all the president said was that "we can keep our military strong and our nation secure" with what amounts to a ten percent cut in our spending. Given that we've managed to do those things plus fight two fruitless and expensive nation-building wars halfway across the world, that's almost axiomatic.
Lastly, all this overlooks another fairly key point that I'll illustrate with this chart from Wikipedia but based on the aforementioned SIPRI data:
Of the twenty countries on the planet that spend the most on defense each year, virtually all of them are strong allies of the United States. Yes, China is 2nd and Russia is 5th. But France, the UK, Germany, Italy, Canada, Spain, Turkey, the Netherlands, and Greece are all NATO allies. The Aussies can be counted on to join just about every fight on our side.  Japan, India, and Brazil are quite friendly.
The more useful point than "the United States spends more than the next X number of nations combined," then, is that we  and our allies absolutely dwarf and potential foe in military power.