Does International Aid Work? Who Knows?
Two experts debate the topic, demonstrating how little we really know.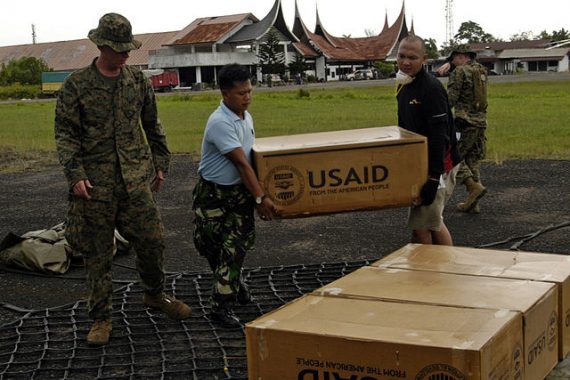 Jeffrey Sachs, Director of The Earth Institute at Columbia University, made a rather bold assertion last night on Twitter: "All of the foes of aid — Easterly, Deaton, Mwenda — are really riled up now that aid is clearly working. They've upped their vitriol."
Ryan Briggs, who recently finished an international relations PhD specializing in aid assistance to Africa at American University, challenged him: "Do you actually think they have ill intentions? That they think aid is working and that it makes them upset?"
What followed was a thoughtful, insightful discussion into the state of our knowledge about the topic, which Kelsey Atherton captured on Storify. I commend it to you; it's a three minute read that I won't attempt to re-reproduce in this post.
For my money—and I'm little more than an ignoramus on the topic, so am judging on the merits of the arguments presented, not any real background knowledge of the subject—-Briggs gets the better of the debate. One of the world's most renowned economists is reduced to arguing that the economics profession is inadequate to measuring whether international aid is actually effective but that, as an economist who has studied the topic passionately for more than two decades, he can assure us that international aid is clearly working. At worst, that's specious as hell. As best, it's evidence that Bill Easterly and company are right to be skeptics; one doesn't spend billions of dollars on faith alone.
Beyond that, the key takeaways for me are (1) that we have little hard data—or, indeed agreement on what to measure and how to measure it—we have despite decades of targeted international assistance and (2) how much of the argument is therefore about motives.
Obviously, Sachs is well intentioned. He's passionate about helping the world's poorest people live better lives. But so are people like Easterly.
You'd have to be a special kind of asshole to begrudge a tiny fraction of the GDP of the world's richest countries if it would allow innocent children to escape starvation, disease, and hopelessness. But, given that those conditions don't seem to be going away, it's hardly unreasonable to be skeptical of the methods we've been using the last several decades to ameliorate them.
At the end of the day, then, Briggs is right: we've got to ask hard questions and demand better data and more accountability. Because the ultimate measure of international aid programs isn't how much the people running them care but how much good they're doing. And we really have no clue.
UPDATE:  Here's an excerpt from the FT op-ed by Easterly that presumably triggered Sachs' initial outburst:
[Bill] Gates has spent the past 13 years giving away a large part of the fortune he amassed as co-founder of Microsoft. In that time, the foundation whose chairmanship he shares with his wife Melinda has made grants amounting to almost $30bn. In a letter published last week, Mr and Mrs Gates attacked the defeatist attitude that sometimes surrounds discussions concerning global development.

As they rightly insist, incredible progress has been made in the past 35 years towards the eradication of hunger and premature death. This refutes the dogma that poor countries are doomed to stay poor, that foreign aid is all wasted, and that saving lives inevitably leads to the misery of overpopulation. These myths, they say, threaten to hold back the poor by persuading humanity that deprivation is an evil with which people must learn to live, when in fact it is a blight that can be eradicated.
Now, Easterly goes from there to issue some criticisms of Gates and those like him. But note the premise: he's agreeing that things are getting much better on the development front—thus, ceding the point over which Sachs says he's vitriolic. Indeed, Easterly is demonstrably pro-aid and very much pro-helping those in dire need. He mostly just cautions against hubris:
This revolution is a story of many actors rather than conspicuous heroes, as Angus Deaton explains in his superb book The Great Escape. The germ theory of disease led to more effective efforts to clear up the water supply, and spurred the invention of drugs such as penicillin. Improvements in transport spread knowledge, medicine and equipment more quickly. Educated parents practised better hygiene and knew how to get medicines for their sick children. Money was only a small part of the story. Ghana at the turn of the millennium was a far poorer country than the US at the beginning of the second world war. Yet it had reduced its infant mortality rate to a similar level.

The contribution made by philanthropists and politicians should not be overplayed. Yet, if aid is a feeble instrument of economic progress, it is nonetheless a powerful tool of self-aggrandisement for the western elite. "We" are important because we are the rich people giving aid, the political leaders of the poor countries that receive it and the experts who broker the exchange.

True, some aid programmes have targeted sickness with triumphant success. Mass vaccination campaigns kept millions of children from dying of measles and smallpox. Unicef promoted oral rehydration therapy to fight diarrhoeal diseases that used to cause far more deaths. But even if health aid has been a success, it does not follow that most progress on health is due to aid.

In other important areas, international assistance programmes have a patchy record. As Mr Gates himself acknowledges, there is no definitive proof that aid stimulates the economic growth necessary to lift people out of poverty.

Mr Gates is right that the world's rich should do more to support public health programmes that work. He is right, too, to decry the time wasted arguing over whether aid works. But the reason he gives – that the argument should concentrate on how to make aid work better – is the wrong one. Aid spending is a drop in the ocean of the budgets of the governments that give it and the economies of the countries that receive it. Whether it works scarcely matters for development.

The obsession with international aid is a rich-world vanity that exaggerates the importance of western elites. It is comforting to imagine that benevolent leaders advised by wise experts could make the poor world rich. But this is a condescending fantasy.
Gideon Rachman does a good job of pushing back against some of Easterly's criticism of Gates another others as being motivated by "vanity." But the larger point, that we should be humble about what can be achieved and, especially, cautious about paternalism in dealing with the developing world is well taken.