Does Ron Paul's Strong Showing In Ames Matter? No
Does Ron Paul's second place showing at Ames mean the media should take him seriously as a contender? No, it doesn't.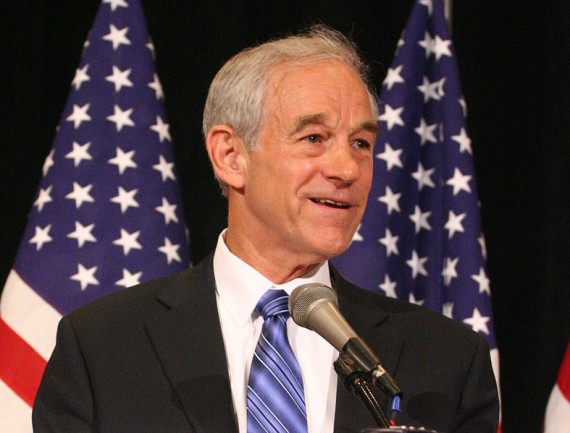 In the wake of Ron Paul's strong, but not entirely surprising, second place showing in Saturday's Ames Straw Poll, some Ron Paul supporters are upset that their candidate is being ignored as most of the political coverage shifts to Michele Bachmann, Rick Perry, and President Obama's bus tour of the Mid-West:
I saw this on my Facebook news feed from the Ron Paul FB page yesterday:

Notice anything strange about this headline?! How much more blatant could the mainstream media's bias possibly be? Ron Paul was in 2nd place, just 1% behind Bachmann. Pawlenty was around 14% behind Bachmann.

"Michele Bachmann wins Ames Straw Poll, Tim Pawlenty gets third – Jonathan Martin"

Now that I have had a chance to follow the link today, the Politico article headline now reads "Michele Bachmann wins Ames Straw Poll.
This is actually a familiar refrain from Paul supporters, or any candidate who is unlikely to win and thus doesn't get a lot of free media coverage. I heard the same arguments from Paul supporters back in 2007 and 2008 when Paul was even less of a contender than he is this time around. The thing to remember, though, is that no candidate is entitled to free media coverage, and no candidate is entitled to be taken seriously by the media. Especially if the odds of them becoming the nominee are roughly equivalent to the odds of Lady Gaga entering the convent.
Over at The Washington Examiner, though, Timothy Carney argues that the media should be paying more attention to Congressman Paul this time around:
Why do the mainstream media and the Republican establishment persist in ignoring and dismissing Paul?

There is no one answer. You cannot chalk it all up to Paul's perceived long-term viability problems: I know no serious forecaster or GOP operative who gives Bachmann a significant chance of being the Republican nominee, yet she is showered with coverage at every turn.

In part, the media ignore Paul's success at events like Ames and the Conservative Political Action Committee because they think he's almost breaking the rules by having such a dedicated following. True enough, a cult following often does not translate into support broad enough to win an election. Is Paul the Right's Lyndon LaRouche?

Still, Paul climbed from 5th place in the straw poll four years ago to a virtual tie for first yesterday, doubling his number of votes. So he is surging. And don't forget Democrats nominated a guy last election whose strength was winning caucuses due to a dedicated core of support.

So, again, why doesn't Paul get the attention he seems to deserve? Mostly because the mainstream media and the Republican establishment wish he would just go away.
Carney has a point, but I'm not sure that success at getting your supporters to straw polls in a good measure of political viability. If you look beyond those straw polls to actual candidate polls, Paul is currently averaging 9% nationwide. In the most recent Des Moines Register Poll of Iowa caucus voters, he received the support of 7% of those polled, far below the 27% he managed to garner in the Ames Straw Poll. Given the lack of correlation between the scientific polls and the straw poll with respect to Paul specifically, it seems fairly clear that winning those straw polls doesn't really mean that he's any kind of a frontrunner and that the media is justified in treating him as about as consequential a candidate as Herman Cain or Rick Santorum, neither of which have a realistic shot at either the Iowa Caucuses or the GOP nomination at this point.
Carney argues that Paul's warnings about the housing crisis,the economy, our endless foreign wars, and, of course, the national debt have largely been proven correct, and that this is one reason why "the bipartisan establishment" chooses to ignore him. When I read comments like that, I start rolling my eyes because it reminds me of people who say that Paul was silenced during the 2008 campaign by the "Bush media machine" or some such thing.  It's really not an argument so much as it's a complaint that your guy isn't getting the free coverage that, say, a candidate, garnering 22% in nationwide polls might be getting. As I said above, though, no candidate is entitled to free media coverage, and giving less coverage to the guy at 7% makes complete sense. It isn't the job of CNN, MSNBC, or Fox News Channel to get your candidates message out, that's the campaign's job. If you don't think they're doing it correctly, go volunteer and do it right.
There's another reason why Ron Paul isn't going to get the same coverage as Rick Perry or Michele Bachmann, and it's because, in the end, he's so far out of step with the GOP base that he isn't going to get the nomination . The most obvious issue that demonstrates this is national security, where Paul's neo-isolationism stands alone in a Republican Party that is still largely dominated by neoconservatives, Bush-era nation builders, and those who want to turn the War on Terror into a crusade against Islam. Philip Klein does a good job of highlighting those disagreements in a column today, and I don't see how anyone can argue that Paul. would ever be able to mend these fundamental differences with a majority of the Republican Party, if not a majority of Americans.
The last problem for Paul, of course, is his tendency to associate with people for whom the work kook isn't an adequate description. Whether it's the racially tainted newsletters, the donations to the last Presidential campaign from the neo-Nazis at Stormfront, or the numerous appearances on the radio show hosted by 9/11 Truther Alex Jones, Paul has an unforunate tendency to associate with questionable people, and when you do that it's going to make you look less serious.
Despite these flaws, I like Ron Paul, I appreciate his idealism, heck I cast my first vote for President in 1988 for him when he ran as a Libertarian. But the fact that he garnered 27% of the vote in a staged straw poll doesn't mean much of anything, and he's not a serious contender for the GOP nomination.