Does The Evolution Fight Matter?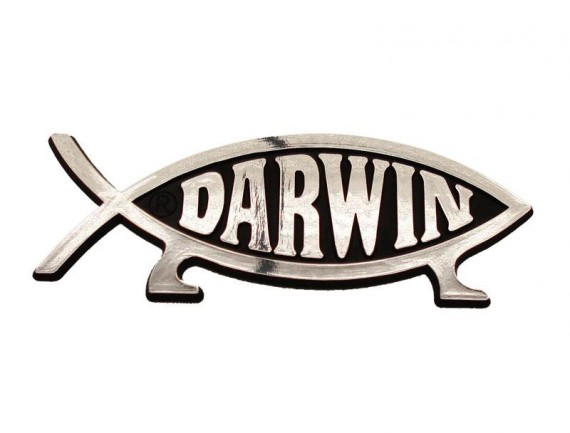 Working off Andrew Sullivan's comments about a Gallup poll that I wrote about earlier this month, Kevin Drum argues that it really doesn't matter that a large percentage of the American public doesn't accept evolution as the explanation for man's origin:
This 46% number has barely budged over the past three decades, and I'm willing to bet it was at least as high back in the 50s and early 60s, that supposed golden age of comity and bipartisanship. It simply has nothing to do with whether we can all get along and nothing to do with whether we can construct a civil discourse.

The fact is that belief in evolution has virtually no real-life impact on anything. That's why 46% of the country can safely choose not to believe it: their lack of belief has precisely zero effect on their lives. Sure, it's a handy way of saying that they're God-fearing Christians — a "cultural signifier," as Andrew puts it — but our lives are jam-packed with cultural signifiers. This is just one of thousands, one whose importance probably barely cracks America's top 100 list.
Contra Sullivan, Drum also argues that one's position on evolution doesn't really tell us very much about the cultural divide that Sully laments:
I could spend an entire day arguing politics and economics and culture with a conservative and never so much as mention evolution. It's just not that important, and it doesn't tell us much of anything about our widening political polarization. We should keep up the fight, but at the same time we shouldn't pretend it has an epic significance that it doesn't. I'm not optimistic about anyone or anything "bringing the country together," but not because lots of people choose to deny evolution. Frankly, that's one of the least of our problems.
I tend to think Drum is largely correct here. In the end, evolution is not an issue that most people have to deal with even tangentially in their daily lives and it's likely that much of this 46% doesn't really have a good understanding of what Evolutionary Theory is really all about. Polls like the one from Gallup frustrate me intensely because it would be nice if we lived in a country where rational thought was more common, but then again I'm not sure how common reason actually is amongst humanity in general.
As Drum goes on to say, none of this means that we should give in to the creationists and remove evolution from High Schools, or allow pseudo-science like "intelligent design" to be treated as it if were as valid as actual science, those are fights worth fighting. However, in the end, this is hardly the most important issue in the country.