Does Tim Pawlenty Have A Willie Horton Problem?
Tim Pawlenty may face trouble from a pardon he issued while he was Governor of Minnesota.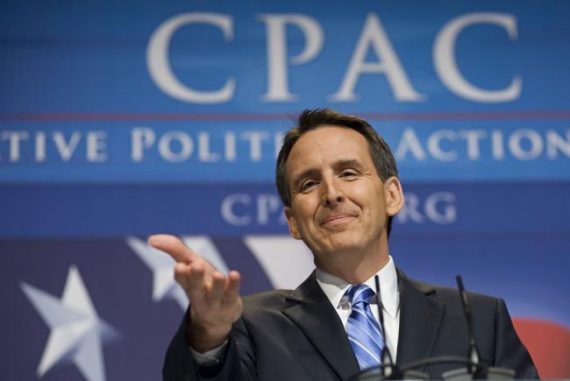 During the 1988 Presidential campaign, Michael Dukakis's campaign was seriously damaged thanks to a "weekend pass" that he had issued while Governor of Massachusetts to a man named Willie Horton, who subsequently went on to commit a rather brutal murder in Maryland. The issue was actually first brought to light by Al Gore, who was running against Dukakis in the Democratic primary, but it was in October 1988 that this ad from a group unaffiliated with the George H.W. Bush campaign started running across the country:
Dukakis was already in trouble in the polls at this point, but the Willie Horton ad reinforced the image of Dukakis as a light-on-crime Northeastern liberal, and led to this exchange between Dukakis and CNN anchor Bernard Shaw at one of the Presidential debates:
Dukakis was dead, and the "Willie Horton" problem has been an issue for Governors running for President ever since. Mike Huckabee faced it in 2008, and several former Governors may have similar problems this year:
It's still early in the presidential race, so the opposition research dumps haven't really begun. But when the skeletons in the closets of 2012 GOP hopefuls begin to be revealed, the unique shape of the field—which will almost certainly feature a handful of current or former governors—makes it's a good bet that someone is going to have a Willie Horton problem.

That's code for a violent or deranged felon run amok on their watch—a reference to the notorious convict who went AWOL during a furlough from a Massachusetts prison, committed more crimes and ultimately became the subject of a devastating ad that helped seal the fortunes of 1988 Democratic presidential nominee Michael Dukakis.

With former Govs. Mitt Romney, Tim Pawlenty, and Jon Huntsman in the 2012 mix—and a few other current and former chief executives perhaps in the wings—the issue of pardons and furloughs is one that could play an unexpected and damaging role for some campaigns.

Before he departed from the race, Mike Huckabee, who issued more than 1,000 sentence reductions and pardons as Arkansas governor, was widely viewed as having the most exposure. While no one in the current field has anything close to that in the oppo files, Romney and Pawlenty might be haunted by a few cons who could undermine their law-and-order credentials.
Pawlenty's controversial pardon is considerably disturbing:
Jeremy Giefer served time in jail in 1994 for having sex with a 14-year-old girl. But you wouldn't know it to look at the record of the man now charged with sexually molesting his daughter more than 250 times over the last eight years.

That's because two years ago, Gov. Tim Pawlenty, Attorney General Lori Swanson, and then-Chief Justice Eric Magnuson unanimously voted to wipe Giefer's record clean, granting him a pardon extraordinary.

One reason Giefer wanted his record cleared? His wife wanted to open a childcare center in the house where they live–the same house where Giefer allegedly molested his young daughter throughout the six years prior.

(…)

As it turns out, Giefer's wife–the woman he pleaded guilty to statutorily raping in 1994–had already opened a family childcare center next door to their Vernon Center home two months earlier, according to state licensing information.

Susan Giefer has told law enforcement that she was unaware of any sexual activity between her husband and daughter. She declined to comment for this story.
Under Minnesota's pardon laws, an objection by any one of the three members of the Board would have meant that the application was denied.
The attack ad pretty much writes itself, doesn't it?