Does U. S. Support for NATO Serve a Strategic Purpose?
Does NATO membership serve a strategic purpose?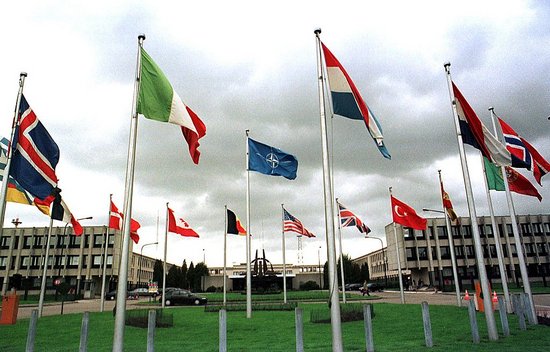 The Huffington Post quotes Massachusetts Representative (and, presumably, ranking Democratic member of the House Financial Services Committee in the next Congress) Barney Frank as denying that U. S. support for NATO has a strategic purpose:
"These kind of restrictions on domestic spending with unlimited spending for the war — and you always have to talk about both — is a great mistake," Rep. Barney Frank (D-Mass.) told The Huffington Post last week. "And the liberal community's got to focus more on Afghanistan, Iraq, NATO. NATO is a great drain on our treasury and serves no strategic purpose."
Lawrence Korb, senior fellow at the Center for American Progress, seconds him:
"Barney Frank has a good point," said Korb. "We ought to rethink the whole idea of NATO."
The first NATO Secretary General, Lord Ismay, famously quipped that the purpose of NATO was "to keep the Russians out, the Americans in, and the Germans down". Clearly, those goals are obsolete.
NATO's budget has two primary components: the civil budget and the military budget. In fiscal 2009 and 2010 the U. S. paid $66.1 million and $84.1 million, respectively, for the NATO civil budget and $408 million and $430 million, respectively, for the military budget. That's less than one half of one percent of our military spending, an appreciable amount to be sure but a drop in the ocean of U. S. military spending. For our half billion dollars per year we're getting support from our NATO allies in Afghanistan, military coordination with those NATO allies, and reduced transaction costs for our interactions with them. IMO that's probably worth the half billion per year we're spending for NATO membership.
Still, the question is worth asking. Does U. S. support for NATO continue to serve a strategic purpose? Are we getting value for our money?
There's one more aspect of the question that I think deserves consideration. A linchpin of the Obama Administration's foreign policy has been a renewed cooperation with international institutions. Will this mean the actual existing international institutions, of which NATO is a significant example, or hypothetical international institutions?