DOJ Records Show Massive Increase In Warrantless Surveillance Since 2009
Secret surveillance of American citizens has dramatically increased under the Obama Administration.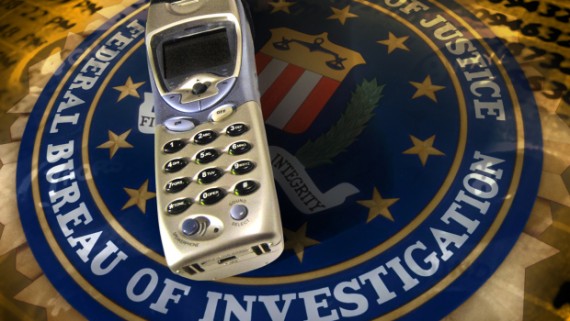 According to documents obtained today from the Department of Justice by the American Civil Liberties Union, there has been a massive increase in warrantless electronic surveillance since the Obama Administration took office in 2009:
Justice Department documents released today by the ACLU reveal that federal law enforcement agencies are increasingly monitoring Americans' electronic communications, and doing so without warrants, sufficient oversight, or meaningful accountability.

The documents, handed over by the government only after months of litigation, are the attorney general's 2010 and 2011 reports on the use of "pen register" and "trap and trace" surveillance powers. The reports show a dramatic increase in the use of these surveillance tools, which are used to gather information about telephone, email, and other Internet communications. The revelations underscore the importance of regulating and overseeing the government's surveillance power.  (Our original Freedom of Information Act request and our legal complaint are online.)

Pen register and trap and trace devices are powerfully invasive surveillance tools that were, twenty years ago, physical devices that attached to telephone lines in order to covertly record the incoming and outgoing numbers dialed. Today, no special equipment is required to record this information, as interception capabilities are built into phone companies' call-routing hardware.
The numbers speak for themselves:
The reports that we received document an enormous increase in the Justice Department's use of pen register and trap and trace surveillance. As the chart below shows, between 2009 and 2011 the combined number of original orders for pen registers and trap and trace devices used to spy on phones increased by 60%, from 23,535 in 2009 to 37,616 in 2011.

During that same time period, the number of people whose telephones were the subject of pen register and trap and trace surveillance more than tripled. In fact, more people were subjected to pen register and trap and trace surveillance in the past two years than in the entire previous decade

During the past two years, there has also been an increase in the number of pen register and trap and trace orders targeting email and network communications data. While this type of Internet surveillance tool remains relatively rare, its use is increasing exponentially. The number of authorizations the Justice Department received to use these devices on individuals' email and network data increased 361% between 2009 and 2011
As always, putting this information in a chart makes the dramatic increase in the number of people that have been affected by these surveillance methods exceedingly clear: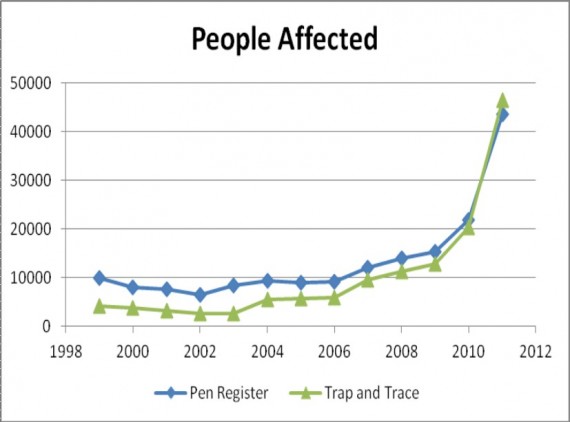 For those of you unaware of exactly what kind of information these forms of electronic surveillance can gain access to, the Electronic Frontier Foundation has an excellent summary:
With a pen/trap tap on your phone, the police can intercept:

The phone numbers you call
The phone numbers that call you
The time each call is made
Whether the call was connected, or went to voicemail
The length of each call
Most worrisome, we've heard some reports of the government using pen/trap taps to intercept content that should require a wiretap order: specifically, the content of SMS text messages, as well as "post-cut-through dialed digits" (digits you dial after your call is connected, like your banking PIN number, your prescription refill numbers, or your vote for American Idol).

That information is revealing enough on its own. But pen/traps aren't just for phones anymore — thanks the USA PATRIOT Act, the government can now use pen/trap orders to intercept information about your Internet communications as well. By serving a pen/trap order on your ISP or email provider, the police can get:

All email header information other than the subject line, including the email addresses of the people to whom you send email, the email addresses of people that send to you, the time each email is sent or received, and the size of each email that is sent or received.
Your IP (Internet Protocol) address and the IP address of other computers on the Internet that you exchange information with, with timestamp and size information.
The communications ports and protocols used, which can be used to determine what types of communications you are sending using what types of applications.
Although we don't think the statute allows it, the police might also use pen/trap taps to get the URLs (web addresses) of every website you visit, allowing them to track what you are reading when you surf the web. The Department of Justice's apparent policy on this score is to collect information about what site you are visiting — e.g., "www.eff.org" — using pen/trap taps, but to obtain a wiretap order before collecting information about what particular page or file you are visiting — e.g., "www.eff.org/nsa". However, there's no way to confirm that federal authorities actually follow this policy in all cases, and serious doubt as to whether state authorities do.
Pen/tap traps can also be used to determine the location of your cell phone, and presumably you by pinging your phone and using the responses from surrounding cell towers to triangulate your general location.  It's also worth noting, as the report points out, that these figures only cover actions undertaken by the Justice Department. It's likely that similar techniques are being used by other elements of law enforcement that are not part of the Department of Justice. So, these figures are likely just the tip of the iceberg.
As the ACLU goes on to point out in its post, the legal standard that the government must meet for these forms of surveillance is exceedingly low and doesn't even require review and approval by a judge. In the case of a wiretap that is actually intended to intercept the content of a phone conversation, law enforcement must submit an application to a judge setting forth sufficient facts to establish probable cause that a crime is being or has been committed and that the wiretap is essential to the investigation of that crime. These types of surveillance, however, are considered "non-content" surveillance, meaning that all law enforcement has to do is file paperwork with a court saying that they stating that they seek information that they believe is relevant to an ongoing investigation. There is no review by a judge, and it isn't even clear that the paperwork itself is ever actually seen by anyone other than the people in the clerk's office in which the it is filed. Since the standard for these types of surveillance is so low, the government is able to use them without anyone really asking them to justify at, and certainly nobody questioning their one-sided determination that the information they seek is "relevant" to an investigation.
The problem with this distinction that allows law enforcement to essentially use this method of surveillance with impunity and without review is that it ignores the fact that even this "non content" information can be highly personal and the search invasive:
Non-content information can still be extremely invasive, revealing who you communicate with in real time and painting a vivid picture of the private details of your life. If reviewing your social networking contacts is sufficient todetermine your sexuality, as found in an MIT study a few years ago, think what law enforcement agents could learn about you by having real-time access to whom you email, text, and call. But the low legal standard currently applied to pen register and trap and trace devices allows the government to use these powerful surveillance tools with very little oversight in place to safeguard Americans' privacy.
It's also troublesome that the ACLU was required to file a FOIA request, which was fought by the Justice Department, to get this information. This is the kind of information that should be publicly available on a regular basis. There's little danger that revealing it is going to endanger any ongoing investigations, and the government's interest in keeping in private is far outweighed by the public's right to know just how much their government is secretly monitoring American citizens. The ACLU suggests that Congress should tighten the reporting requirements imposed on the Justice Department, but I'm afraid that there would be very little support for such a maneuver on the part of either Republicans or Democrats. One need only look to the overwhelming bipartisan support for the PATRIOT Act to figure that one out. For the time being, it is going to have to take groups like the ACLU educating the public about what is getting done in their name and, hopefully, the American people waking up to what's happening.
Graphic via CBS News