Donald Sterling: Sympathy for a Devil
I'm uneasy about a world in which a private conversation, illegally recorded, can be used in this fashion.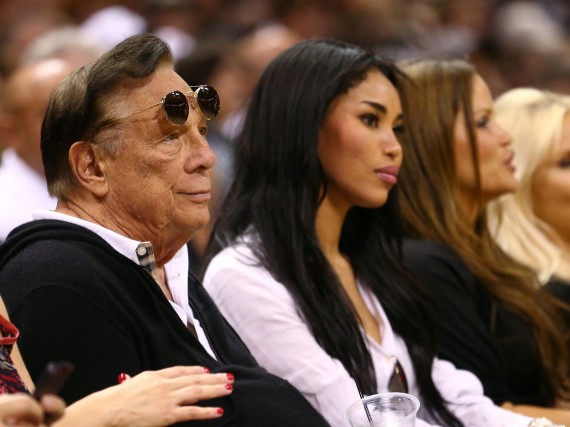 As Doug has already noted, new NBA commissioner Adam Silver has banned Clippers owner Donald Sterling for life, fined him the maximum amount permissible under league bylaws, and plans to initiate proceedings for the other owners to force Sterling to sell the team. They will almost certainly accede to that wish and in rapid fashion.
Given the vileness of Sterling's remarks and the universal condemnation they have received, one naturally treads gingerly in arguing that any amount of punishment is too severe. Indeed, given the business interests of the Association, I'm not sure they had any choice but to act swiftly and harshly. But I'm nonetheless conflicted here.
On the one hand, It's hard to feel sorry for Sterling. As Bomani Jones has eloquently pointed out, the rant that caused the backlash is among the least of Sterling's offenses. Sterling seems to be a genuinely despicable human being who has caused a lot of real human suffering over the years. It's shocking in hindsight that the NBA didn't disassociate itself from him long ago.
Nor is there much question that Silver has plenary authority to take the action that he did today or that the other owners have the right to force Sterling to sell the team at market value. ESPN legal analyst Lester Munson lays out that case effectively.
Even so, I'm more than a little queasy about such drastic punishment being levied for the offense of saying offensive things in a private conversation. NBA legend Kareem Abdul-Jabbar,
Racists deserve to be paraded around the modern town square of the television screen so that the rest of us who believe in the American ideals of equality can be reminded that racism is still a disease that we haven't yet licked.

What bothers me about this whole Donald Sterling affair isn't just his racism. I'm bothered that everyone acts as if it's a huge surprise. Now there's all this dramatic and very public rending of clothing about whether they should keep their expensive Clippers season tickets. Really? All this other stuff I listed above has been going on for years and this ridiculous conversation with his girlfriend is what puts you over the edge? That's the smoking gun?

He was discriminating against black and Hispanic families for years, preventing them from getting housing. It was public record. We did nothing. Suddenly he says he doesn't want his girlfriend posing with Magic Johnson on Instagram and we bring out the torches and rope. Shouldn't we have all called for his resignation back then?

Shouldn't we be equally angered by the fact that his private, intimate conversation was taped and then leaked to the media? Didn't we just call to task the NSA for intruding into American citizen's privacy in such an un-American way? Although the impact is similar to Mitt Romney's comments that were secretly taped, the difference is that Romney was giving a public speech. The making and release of this tape is so sleazy that just listening to it makes me feel like an accomplice to the crime. We didn't steal the cake but we're all gorging ourselves on it.

Make no mistake: Donald Sterling is the villain of this story. But he's just a handmaiden to the bigger evil. In our quest for social justice, we shouldn't lose sight that racism is the true enemy. He's just another jerk with more money than brains.

So, if we're all going to be outraged, let's be outraged that we weren't more outraged when his racism was first evident. Let's be outraged that private conversations between people in an intimate relationship are recorded and publicly played.
Similarly, Dallas Mavericks owner Mark Cuban, who has tweeted his support for Silver's sanctions against Sterling, is concerned about the implications of stripping his ownership:
"I think there's a [league] constitution for a reason, right?" Cuban said before Game 4 of the Mavericks-San Antonio Spurs series. "Because this is a very slippery slope. What Donald said was wrong. It was abhorrent. There's no place for racism in the NBA, any business I'm associated with, and I don't want to be associated with people who have that position.

"But at the same time, that's a decision I make. I think you've got to be very, very careful when you start making blanket statements about what people say and think, as opposed to what they do. It's a very, very slippery slope.

"Again, there's no excuse for his positions. There's no excuse for what he said. There's no excuse for anybody to support racism. There's no place for it in our league, but there's a very, very, very slippery slope."
But I'm not sure why it's okay to use an illegally recorded private conversation as a basis for banning Sterling from even attending the games of the team he owns, fining him more money than most Americans will earn in a lifetime, but not to force him to sell the franchise at a whopping profit. Especially since Sterling wasn't caught cheating, gambling, or otherwise violating NBA rules.
In the Q&A at the press conference where he announced the sanctions, Silver was adamant that punishment was for the remarks released over the weekend alone, not Sterling's cumulative record. Asked about the issue that Abdul-Jabbar, Cuban, and myself have raised—the private nature of the conversation—Silver simply noted that "it's public now." But that's a slippery slope, indeed.
Ultimately, Sterling is a sleazy character and the NBA has to disassociate itself from him. And he'll make hundreds of millions of dollars in profits from the sale of the team. And who wouldn't love the karma of Earvin "Magic" Johnson, a central figure in the conversation that was Sterling's undoing, emerging as the new owner of the team?
Still, I'm uneasy about a world in which a private conversation, illegally recorded, can be used in this fashion.