Donald Trump Claims 'Illegal Voting' In Three States He Lost
Now Donald Trump is alleging that the 2016 Election was tainted by 'illegal voting,' even though he won!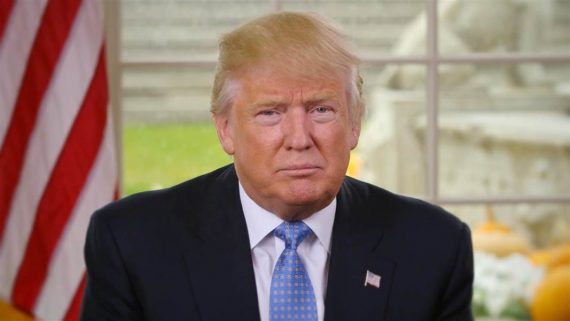 While Green  Party Presidential nominee Jill Stein, seemingly without any evidence and now with the support of the Clinton campaign at least in Wisconsin, continues with her calls for a recount in three Midwestern states due to what seem to be entirely invented allegations of cyber-hacking and other interference in the election in Donald Trump's favor, Trump is alleging a conspiracy all his own. In a series of tweets over the weekend, Trump claimed that he "won" the popular vote due to alleged evidence that "millions" of illegal voters:
WASHINGTON — President-elect Donald J. Trump said on Sunday that he had fallen short in the popular vote in the general election only because millions of people had voted illegally, leveling the baseless claim as part of a daylong storm of Twitter posts voicing anger about a three-state recount push.

"In addition to winning the Electoral College in a landslide, I won the popular vote if you deduct the millions of people who voted illegally," Mr. Trump wrote Sunday afternoon.

The series of posts came one day after Hillary Clinton's campaign said it would participate in a recount effort being undertaken in Wisconsin, and potentially in similar pushes in Michigan and Pennsylvania, by Jill Stein, who was the Green Party candidate. Mr. Trump's statements revived claims he made during the campaign, as polls suggested he was losing to Mrs. Clinton, about a rigged and corrupt system.

The Twitter outburst also came as Mr. Trump is laboring to fill crucial positions in his cabinet, with his advisers enmeshed in a rift over whom he should select as secretary of state. On Sunday morning, Kellyanne Conway, a top adviser, extended a public campaign to undermine one contender, Mitt Romney — a remarkable display by a member of a president-elect's team. In television appearances, she accused Mr. Romney of having gone "out of his way to hurt" Mr. Trump during the Republican primary contests.

Claims of wide-scale voter fraud have been advanced for years by Republicans, though virtually no evidence of such improprieties has been discovered — especially on the scale of "millions" that Mr. Trump claimed.

Late on Sunday, again without providing evidence, he referred in a Twitter post to "serious voter fraud in Virginia, New Hampshire and California."

A day earlier, Mr. Trump's transition team ridiculed the idea that recounts were needed. "This is a scam by the Green Party for an election that has already been conceded," it said in a statement, "and the results of this election should be respected instead of being challenged and abused."

That message runs counter to the one Mr. Trump sent on Sunday with his fraud claims — if millions of people voted illegally, presumably officials across the country would want to pursue large-scale ballot recounts and fraud investigations.

But the Twitter posts could energize some of his supporters, who have claimed online that Mrs. Clinton's two million-vote lead in the popular vote has been faked. Mr. Trump at times promoted other conspiracy theories during the campaign, including claiming that Senator Ted Cruz's father was somehow tied to the assassination of President John F. Kennedy.

Many of Mrs. Clinton's supporters have been galvanized by the notion that vote recounts in the three states — where Mr. Trump leads by a combined total of about 100,000 votes — could somehow overturn Mr. Trump's commanding Electoral College victory. By announcing, three weeks after Mrs. Clinton conceded, that it would participate in the Wisconsin recount, her team has helped reignite the contentious atmosphere of the campaign, of which Mr. Trump's Twitter barrages were a fixture. (By all accounts, Mr. Trump types out many, though not all, of his own Twitter posts.)

After spending almost five days in Palm Beach, Fla., where he celebrated Thanksgiving at his Mar-a-Lago resort, Mr. Trump made no public statements on Sunday other than those via Twitter. He returned in the afternoon to Trump Tower in Manhattan.

Through the day, Mr. Trump appeared fixated on the recount and his electoral performance. In a series of midafternoon Twitter posts, not long before he boarded his flight, Mr. Trump boasted that he could have easily won the "so-called popular vote" if he had campaigned only in "3 or 4" states, presumably populous ones.

"I would have won even more easily and convincingly (but smaller states are forgotten)!" he wrote.
Here are Trump's tweets making the allegation:
In addition to winning the Electoral College in a landslide, I won the popular vote if you deduct the millions of people who voted illegally

— Donald J. Trump (@realDonaldTrump) November 27, 2016
Serious voter fraud in Virginia, New Hampshire and California – so why isn't the media reporting on this? Serious bias – big problem!

— Donald J. Trump (@realDonaldTrump) November 28, 2016
Trump's claims that the election in several states that he lost was 'rigged' appears to rest on the assertion that illegal immigrants were permitted to vote, and that these people voted overwhelmingly for Hillary Clinton. This is an assertion for which there is quite simply no evidence:
Election law experts quickly rejected Trump's claims as farfetched.

"There's no reason to believe this is true," said Rick Hasen, a professor specializing in election law at the University of California, Irvine. "The level of fraud in US elections is quite low."

Hasen added, "The problem of non-citizen voting is quite small — like we're talking claims in the dozens, we're not talking voting in the millions, or the thousands, or even the hundreds."

David Becker, executive director of the Center for Election Innovation & Research and a former senior trial attorney in the Voting Section of the Department of Justice's Civil Rights Division, agreed that widespread fraud was unlikely.

"We know historically that this almost never happens," he said. "You're more likely to get eaten by a shark that simultaneously gets hit by lightning than to find a non-citizen voting."

A source close to the president-elect said he felt piqued by the Wisconsin recount demand of Green Party nominee Jill Stein, which Hillary Clinton's campaign said it will participate in, so he hit back. Even though he's won and it shouldn't matter, he isn't letting it go, the source said.

Another adviser said that Trump genuinely believes "that the Democratic establishment will try to steal" his victory. So his goal is to hold their feet to the fire.

The claims of voter fraud appear to have gained traction in conservative circle after Infowars, the conspiracy theory-laden website, published an article on Nov. 14 under the headline, "Report: 3 million votes in presidential election cast by illegal aliens."

The story cites an analysis by Gregg Phillips, who claims to be the founder of a voting app named VoteStand and who was previously associated with Newt Gingrich's Winning Our Future super PAC. Phillips has declined to provide any evidence to PolitiFact or reporters to support his assertions of fraud. But he tweeted Sunday evening that he would "release a comprehensive research study to the public, Attorney General [nominee Jeff] Sessions and all interested parties."

Radio host Alex Jones, who runs Infowars, has faced criticism for promoting unsubstantiated — and often bizarre — conspiracy theories, including that the 2012 Sandy Hook Elementary School shooting, which resulted in the death of 20 children, is a hoax, and that Hillary Clinton is a "demon from Hell."

Trump called Jones just days after the election to thank him for his support.

It's not insignificant that Trump's tweet also successfully shifted the media narrative away from negative stories about Trump's many conflicts of interest. The New York Times published a front-page investigation into the conflicts on Sunday.

The president-elect has a long history of pushing debunked conspiracy theories, including the false claim that President Barack Obama wasn't born in the United States and that the election was "rigged" by global elites to assure Hillary Clinton's victory.
Glenn Kessler at The Washington Post also finds Trump's claims to be lacking in evidence, and gives him Four Pinocchios for his assertion:
The simple answer is no. This is a bogus claim with no documented proof.

Our colleagues at Snopes.com and PundiFact have already examined this claim, back when it was hot in the right-wing blogosphere, not a statement made by a future U.S. president. The whole thing started with a few tweets by Gregg Phillips, a self-described conservative voter fraud specialist, who started making claims even before data on voter history was actually available in most jurisdictions.

These claims were then picked up by such purveyors of false facts as Infowars.com, a conspiracy-minded website that, among other things, claims that no one actually died in a massacre at Sandy Hook Elementary School in Newtown, Conn. One article described Phillips as being affiliated with VoterFraud.org but in reality he says he is the founder of VoteStand.com, supposedly an app that detects vote fraud. Phillips also has claimed that Obamacare is the "biggest voter registration fraud scheme in the history of the world" because it provided opportunities for voter registration.

In any case, Phillips made this claim — and then has declined to provide any evidence to back it up, even though reporters have asked.

"He said he has chosen not to release more information because he is still working on analyzing the data and verifying its accuracy," PundiFact reported. "Phillips would also not say what the data is or where it came from, or what methodology he used."

It's certainly rather odd that Phillips would make such a claim before he had verified whether it was true. He did not respond to a query from The Fact Checker after Trump tweeted, although he gleefully celebrated anger at his claim.

Back when Trump was trailing in the polls and was threatening to dispute the election results because the system was "rigged," we've previously given Trump four Pinocchios for making a number of bogus claims about alleged voter fraud.

Among other things, he falsely asserted that illegal immigrants were tipping the results in elections, based on a misinterpretation of disputed data. Even the researcher who produced the data said Trump was taking his findings out of context: "Our results suggest that almost all elections in the U.S. are not determined by non-citizen participation, with occasional and very rare potential exceptions."

A representative of the Trump campaign did not respond to a request for evidence of Trump's claim.
And Virginia conservative blogger and attorney Brian Schoeneman, who served on the Electoral Board in Fairfax County, Virginia from 2013 to 2015, during which time he supervised vote counts and at least one recount in the Commonwealth's most populated county during the 2013 race for Virginia Attorney General, wrote this morning of voter fraud in Virginia.
First Schoenemann addressed the issue of felons who had their voting rights restored by Governor McAuliffe, only to see that action overturned by the Virginia Supreme Court due to the fact that McAuliffe had acted beyond the scope of his authority. It has been alleged that many of the felons impacted by this decision who should not have had their voting rights restored under Virginia law voted in any case and that this somehow tipped the results for Clinton. As Schoenemann notes, Clinton won Virginia by some 220,000 votes, and we know that McAuliffe's decision impacted some 67,000 felons and that, of those, just 21,000 people bothered to re-register to vote after the Governor's decree and before the Supreme Court ruling. We don't know how many among those 21,000 had their rights improperly restored, nor do we know if all of those who re-registered voted in the election. Even if they had, though, and even if they all voted for Hillary Clinton, it would have hardly mattered since it amounts, at most, to ten percent of the total number of people who voted for Clinton. Clinton would have still won the Commonwealth of Virginia even if all 21,000 former felons improperly voted and even if they all voted for Clinton. So, this argument is irrelevant. Similarly, as Shoenemann goes on to note, the claims about illegal voting by illegal immigrants or others would not have changed the outcome of the race.
The specter of non-citizen voting has been raised, and outside watchdog groups have been doing investigations of the issue for a while now.  The Public Interest Legal Foundation did a survey of eight Virginia counties, and came up with a number of 1046 alleged non-citizens were registered to vote, and approximately 20 of those cast ballots before they had their registrations cancelled.  Those votes, if actually cast by non-citizens who knew they weren't eligible to vote, meet the legal definition of voter fraud and are a class six felony in Virginia.  At the same time, we've seen in Fairfax publicized situations where people were called for jury duty in Fairfax and claimed to be exempt because they weren't citizens.  That shouldn't happen, obviously, because the jury pools are drawn from the voter registration rolls.  Those situations were all referred to law enforcement for investigation.

There's also the perennial challenge of keeping the voter lists up-to-date.  There is no automatic, easy way to track voter registrations when voters move out of state, and that creates a situation where some people can be registered in multiple jurisdictions at the same time.  It's not supposed to happen, but it does, and it logically is a precursor to voter fraud – we rarely see situations of ballot stuffing in America, but where there is fraud, it's usually people taking advantage of dual registrations to cheat and vote more than once.  Every election, Republicans push for purges of voter lists to get potential inactive or dual registered names off the list, and Democrats fight it, claiming that the purges hit too many legitimately registered voters and represent an attempt at voter suppression.  A national voter registration database could fix a lot of these problems, but both parties have problems with the idea.

That's the extent of the issues with potential voter fraud in Virginia this year – some non-citizen voting, felon restoration of rights, and the perennial issues that never seem to go away.  All of this stuff has been investigated and reported on by the media – we wouldn't know about any of it had it not been – but none of it is significant enough to be characterized as "serious voter fraud" – at least, assuming "serious" means "impacted the outcome of the election in a major way."
None of this is to say that actual voter fraud should simply be ignored. To the contrary, where it is found it should be investigated and aggressively prosecuted in order to maintain confidence in the credibility of the electoral process. What it does tell us, though, is that that, similar to past allegations of elections being improperly decided because of voter fraud, there is no more evidence to support Trump's claims of 'illegal voting' than there is to support the claims of Jill Stein and others on the far-left that Hillary Clinton was robbed of victories in the Midwest and elsewhere due to hackers who changed election results to result in a Donald Trump victory.
So now we have three of the top four vote-getters in the 2016 Presidential election alleging, without any evidence to support their claims, that the election was rigged either due to 'illegal voting' or outside interference from unnamed groups acting on behalf of one candidate or the others. While there is nothing improper per se with a candidate seeking a recount when the outcome justifies it and the law allows for it, we have, for at least the past twenty years if not longer, entered a territory where the very integrity of the election system itself is being called into question. In the past, these claims were for the most part to the confines for the political fringe on the left and the right, where conspiracy theories have festered for decades. As we've gotten further into the era where political consensus of any kind no longer seems to exists, though, those views have moved further and further into the mainstream to the point where we now have seemingly mainstream politicians throwing these allegations around without any evidence to support them. This is dangerous because of the extent to which it tends to further undermine the integrity of the electoral process, and what that could lead to. For more than two hundred years, Americans have believed that they can exercise at least some control over their leaders via the ballot box. As a result, except for one terrible and bloody occasion that led to the Civil War, we have managed to peacefully transfer power from one President to another, and often one political party to another. If confidence in that system continues to be deliberately eroded by those with agendas that are served by such erosion, then I fear for the future that our nation may face.