Donald Trump Is Time's 'Person Of The Year'
In the end, there was no other logical choice.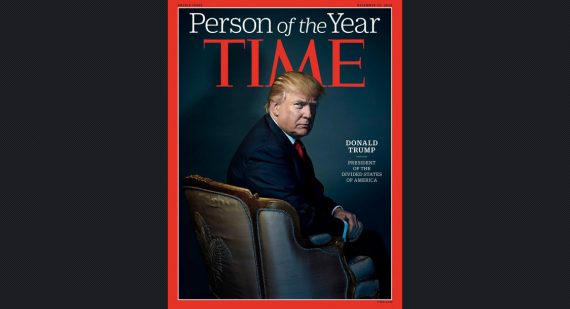 In what may be the least surprising decision of the year, Donald Trump was named Time Magazine's 'Person Of The Year':
Donald Trump is Time's person of the year for 2016, the magazine's editor announced Wednesday morning on NBC's "Today" show.

"When have we ever seen a single individual who has so defied expectations, broken the rules, violated norms, beaten not one but two political parties on the way to winning an election that he entered with 100-1 odds against him," Time managing editor Nancy Gibbs said. "I don't think we have ever seen one person operating in such an unconventional way have an impact on the events of the year quite like this."

Gibbs said 2016 "may have been one of the more straightforward years" in terms of selecting a person of the year, with Trump the obvious choice. Democratic presidential nominee Hillary Clinton, the first female presidential nominee of a major political party and the likely winner of the popular vote, was the magazine's runner-up person of the year. Hackers, taken as a group, came in third after an election cycle in which cyberattacks played an outsize role.

The Time magazine cover announcing Trump as its person of the year shows him seated in a chair and bills him as "president of the divided states of America."
Time's Editor Nancy Gibbs notes that Trump was, for better or worse, the most disruptive force American politics has seen for quite some time:
It's hard to measure the scale of his disruption. This real estate baron and casino owner turned reality-TV star and provocateur—never a day spent in public office, never a debt owed to any interest besides his own—now surveys the smoking ruin of a vast political edifice that once housed parties, pundits, donors, pollsters, all those who did not see him coming or take him seriously. Out of this reckoning, Trump is poised to preside, for better or worse.

For those who believe this is all for the better, Trump's victory represents a long-overdue rebuke to an entrenched and arrogant governing class; for those who see it as for the worse, the destruction extends to cherished norms of civility and discourse, a politics poisoned by vile streams of racism, sexism, nativism. To his believers, he delivers change—broad, deep, historic change, not modest measures doled out in Dixie cups; to his detractors, he inspires fear both for what he may do and what may be done in his name.

The revolution he stirred feels fully American, with its echoes of populists past, of Andrew Jackson and Huey Long and, at its most sinister, Joe McCarthy and Charles Coughlin. Trump's assault on truth and logic, far from hurting him, made him stronger. His appeal—part hope, part snarl—dissolved party lines and dispatched the two reigning dynasties of U.S. politics. Yet his victory mirrors the ascent of nationalists across the world, from Britain to the Philippines, and taps forces far more powerful than one man's message.

We can scarcely grasp what our generation has wrought by putting a supercomputer into all of our hands, all of the time. If you are reading this, whether on a page or a screen, there is a very good chance that you are caught up in a revolution that may have started with enticing gadgets but has now reshaped everything about how we live, love, work, play, shop, share—how our very hearts and minds encounter the world around us. Why would we have imagined that our national conversation would simply go on as before, same people, same promises, same patterns? Perhaps the President-elect will stop tweeting—but only because he will have found some other means to tell the story he wants to tell directly to the audience that wants to hear it.

It turned out to be a failing strategy when Hillary Clinton, who loves policy solutions and believes in them, tried to make this race a character test, a referendum on Trump. But it was certainly understandable. He presented so many challenges, so many choices about what America values. Her popular-vote victory, while legally irrelevant, affirmed the prospect of a female Commander in Chief. In fact, she crushed Trump among voters who cared most about experience and judgment and temperament, qualities that have typically mattered when choosing the leader of the free world. Even at his moment of victory, 6 in 10 voters had an unfavorable view of Trump and didn't think he was qualified to be President.

But by almost 2 to 1, voters cared most about who could deliver change, and in that category he beat her by 69 points. This is his next test. The year 2016 was the year of his rise; 2017 will be the year of his rule, and like all newly elected leaders, he has a chance to fulfill promises and defy expectations.
And Michael Scherer emphasizes the big unknowns about the coming four to eight years:
The truth is no one really knows what is going to happen, up to and including the occupants of Trump Tower. "It's a very exciting time. It's really been an amazing time," Trump says, as the country still tries to come to terms with what he accomplished. "Hopefully we can take some of the drama out."

That's not likely to happen anytime soon. Following a President who prided himself on sifting drama through the sieve of careful consideration, Trump's methods, for better and worse, tend to be closer to the opposite. And this is now Trump's America to run, a victory made possible either because of historical inevitability or individual brilliance, or some combination of the two.

It's an America with rising stock markets despite the tremors of a trade war. A country where a few jobs saved makes up, in the moment, for the thousands still departing. This is a land where a man will stand up in a plane headed to Allentown, Pa., to demand allegiance to the new leader—"We got some Hillary bitches on here? Come on man, Trump! He's your President, every goddamn one of you!"—and then get banned by the airline from ever traveling again. It's where a hijab-wearing college student in New York reports being attacked and jeered at in the next President's name, where American-born children ask their citizen parents if Trump will deport them, where white supremacists throw out Nazi salutes in Washington meeting halls for their President-elect.

It's a country where many who felt powerless have a new champion, where much frustration has given way to excitement and where politics has become the greatest show on earth. Here men in combat helmets and military assault rifles now patrol the streets outside a golden residential tower in midtown Manhattan. And almost every day at about the same time they let pass a street performer who wears no pants, tight white underwear and cowboy boots, so he can sing a song in the lobby for the television cameras with Trump's name written in red and blue on his butt. It's an America of renewed hope and paralyzing fear, a country few expected less than a year ago. Because of Donald John Trump, whatever happens next, it will never be like it was before.
In the end, the selection of Trump as Person of the Year is hardly surprising. In the 89 years since Charles Lindbergh was named Time's first 'Person of the Year,' the incoming President has been singled out by the magazine ten times, in 1932, 1948, 1964, 1976, 1980, 1992, 2000, 2004, 2008, and 2012. That's ten times over the course of the 22 Presidential Elections that took place from 1928 to 2012.  Additionally, as we can see the winner of the Presidential election has been given that distinction in each of the Presidential election years since 2000, something that didn't even happen in the case of Franklin D. Roosevelt. The reason for this should be readily apparent. As Time's editors have made clear from the beginning, the distinction is intended to recognize the person who has had the biggest impact on the news in the United States in particular during the previous year. It is not meant to be an honorarium, and it could just as easily be given to someone who has had an overwhelmingly negative impact on the world as it could to someone whose impact was overwhelmingly positive. That's why people such as Adolf Hitler (1938), Josef Stalin (1939 and 1942) and the Ayatollah Khomeni (1979) are on the list alongside people such as FDR (1932, 1934, and 1941), Churchill (1940 and 1949), Dwight Eisenhower (1944 and 1959) and Popes John XXIII  (1962) and John Paul II (1994) ,  For better or worse, the person who wins the Presidency, including obviously an incumbent who wins re-election, will likely have dominated the headlines during the preceding year and their election will likely have an immense impact on the course the nation and the world take for next four to eight years, and possibly well beyond that.
Given all of this, there really wasn't question that the editors of Time would pick the President-Elect for this year's Person Of The Year. For better or worse, there is no person who has had a bigger impact on the news cycle this year than Donald Trump. After spending the last half of 2015 dominating the polls in the race for the Republican nomination, Trump proved all the critics who said that he had no chance of actually winning the nomination by turning that poll support into votes at the polls notwithstanding the fact that his campaign appeared to consist of little more than large campaign rallies, free media appearances on an almost daily basis during which he essentially set the tone of interviews by often appearing by phone instead of live in studio or on videotape, and late night appearances on Twitter that often consisted of little more than attacking the media and the other Republicans running for President. By spring, he had vanquished all of the sixteen Republicans running against him, including many long-serving politicians who had won elections for decades before facing a man who was running for office for the first time in his life at the age of  69. He held off a quixotic last minute attempt by conservative and mainstream Republicans to deny him the nomination. He engaged in vicious attacks against media personalities and fellow politicians, including men such as John McCain, the Judge presiding over the Trump University fraud cases, and the grieving parents of a Muslim-American soldier who had sacrificed his own life to save his men  And, he engaged in what can only be described as vile attacks against Mexicans, Muslims, women, the disabled, and others, any one of which should have been disqualifying in a normal Presidential election year. During the General Election, he spent nearly all of the time from July through November behind Hillary Clinton in the polls and still ended up emerging victorious by winning on Election Night in states that Republicans had not won in a Presidential election in decades, including Wisconsin, Michigan, Pennsylvania, Ohio, and Florida. Finally, he did all of this while at the same time advocating policies that seem out of step with Republican orthodoxy, thus setting the stage for a Presidency where it's conceivable that a Republican President will be pushing forward his agenda by making deals with Democrats and making end runs around Republican majorities in both houses of Congress. It was an extraordinary accomplishment that will be studied by pundits, professional political aides, and political science professionals and academics for years and decades to come. Whether it ultimately leads to good or ill for the country is, of course, a different question that we won't be able to answer for years if not decades.
For all of these reasons, it was not surprising that Trump was chosen as Person of The Year. Arguably, it's also a designation he should have received last year given the way in which he had already impacted American politics since entering the race in June of that year. Instead, that distinction went to German Chancellor Angela Merkel. This year, though, there was no other logical choice. In fact, one could make the argument that Trump would have been the logical choice even if he had lost the election, even thought it's likely that Time would have chosen Hillary Clinton in that case. Trump's victory, though, made the choice inevitable.