Donald Trump Jr. Met With Emissaries From Arab Countries For Help On Winning Election
Russia wasn't the only nation that sent people to meet with Trump Campaign officials at Trump Tower back in 2016 regarding assistance to the Trump Campaign.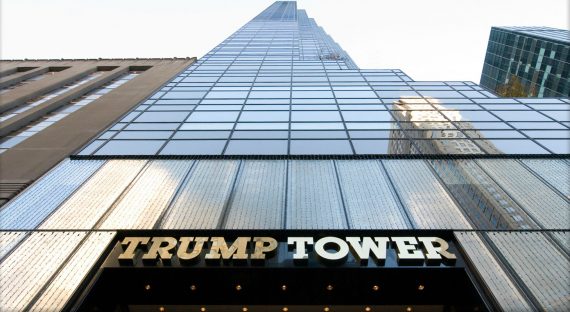 The New York Times is reporting that Donald Trump Jr. and other officials in the Donald Trump Presidential campaign met with officials of another foreign government at Trump Tower promising assistance in winning the election:
WASHINGTON — Three months before the 2016 election, a small group gathered at Trump Tower to meet with Donald Trump Jr., the president's eldest son. One was an Israeli specialist in social media manipulation. Another was an emissary for two wealthy Arab princes. The third was a Republican donor with a controversial past in the Middle East as a private security contractor.

The meeting was convened primarily to offer help to the Trump team, and it forged relationships between the men and Trump insiders that would develop over the coming months — past the election and well into President Trump's first year in office, according to several people with knowledge of their encounters.

Erik Prince, the private security contractor and the former head of Blackwater, arranged the meeting, which took place on Aug. 3, 2016. The emissary, George Nader, told Donald Trump Jr. that the crown princes who led Saudi Arabia and the United Arab Emirates were eager to help his father win election as president. The social media specialist, Joel Zamel, extolled his company's ability to give an edge to a political campaign; by that time, the firm had already drawn up a multimillion-dollar proposal for a social media manipulation effort to help elect Mr. Trump.

The company, which employed several Israeli former intelligence officers, specialized in collecting information and shaping opinion through social media.

It is unclear whether such a proposal was executed, and the details of who commissioned it remain in dispute. But Donald Trump Jr. responded approvingly, according to a person with knowledge of the meeting, and after those initial offers of help, Mr. Nader was quickly embraced as a close ally by Trump campaign advisers — meeting frequently with Jared Kushner, Mr. Trump's son-in-law, and Michael T. Flynn, who became the president's first national security adviser. At the time, Mr. Nader was also promoting a secret plan to use private contractors to destabilize Iran, the regional nemesis of Saudi Arabia and the Emirates.

After Mr. Trump was elected, Mr. Nader paid Mr. Zamel a large sum of money, described by one associate as up to $2 million. There are conflicting accounts of the reason for the payment, but among other things, a company linked to Mr. Zamel provided Mr. Nader with an elaborate presentation about the significance of social media campaigning to Mr. Trump's victory.
This meeting, of course, brings to mind the meeting that Trump Jr, along with Jared Kushner and Paul Manafort had at Trump Tower with Natalia  Veselnitskaya, a Russian attorney linked to the Russian government who has since admitted to being a Russian government informant. That meeting happened after Trump Jr. and other campaign officials were told that Veselnitskaya had access to information that would prove to be damaging to Hillary Clinton. When the meeting was first reported, Trump Jr. both claimed, in a statement released by the White House, which we now know the President participated in drafting, that the purpose of the meeting was to discuss the adoption of Russian children and sanctions impacting that program that put in place after the Russian seizure of Ukraine in 2014. It soon became apparent, though, that this claim was false. although that was apparent from the beginning that this claim was nonsense since it was unlikely that three top campaign officials, including two of the candidate's family members, would take a meeting on such an esoteric topic.
Within days after the initial report, as questions regarding the adoption cover story began to reveal that it was nonsense, Trump Jr. released a string of emails between himself and other campaign officials regarding the meeting. Those emails made it clear that the purported purpose of the meeting was based on the claim that Veselnitskaya could deliver allegedly damaging information about Hillary Clinton. In one of those emails, Trump Jr. responded "That's great" when informed that the lawyer had access to damaging information about Clinton and the Democrats. Later, Veselnitskaya said in interviews that Trump Jr. offered a quid pro quo in exchange for information about Clinton. In other words, the initial explanation for the meeting provided by the White House was a fabrication, and the President's involvement in drafting it raises some rather obvious questions about what he knew and when he knew it.
In any case, this report, while not directly related to anything having to do with contacts between the Trump campaign and Russia, does appear as if it could be significant. The most obvious issue, of course, is the fact that it is a violation of American law for foreign governments, companies, or individuals to be involved in any way in an American election. This includes not just a ban on donations, but also a ban on any kind of assistance, direct or indirect, to a campaign for any political office. In this report, we have evidence that not only Russia but also purported American allies such as Saudi Arabia and the United Arab Emirates, both of whom resented the Obama Administration for its policies toward Iran and also opposed the Joint Comprehensive Plan of Action (JCPOA), the nuclear deal with Iran. Second, alongside the meeting with Veselnitskaya two months earlier, it demonstrates that Trump campaign officials were apparently unconcerned with the fact that they were meeting with people connected with foreign governments for assistance that would benefit Trump in the General Election notwithstanding the fact that it is against the law. Finally, the fact that Trump Jr. was involved in this meeting just as he was involved in the June meeting with Veselnitskaya is a strong indication that the candidate himself was well aware of what was going on just a floor above him. The idea that he'd be unaware of what his son was doing considering how closely the two had worked together in the private sector is, quite simply, implausible.
There are a number of unanswered questions that come to mind after reading this report, of course. The first is whether or not there were any subsequent meetings between Trump Jr. or other campaign officials and the people involved in this meeting or others linked to them. If there were, then this would suggest that the idea of foreigners helping the Trump campaign in some respect would be strengthened. The second is what, if anything, these foreign representatives may have done to assist the campaign. Finally, there's the question of whether or not Trump Jr. or other campaign officials met with any other people linked to foreign governments with regard to assistance in the primary or the General Election. Given their willingness to meet with officials from at least three nations that we know of, it's not too hard to believe that they would set up meetings with anyone else offering help in the election.
Reportedly, this meeting has been known to Special Counsel Robert Mueller for some time now and it's likely that it has become a subject of his ongoing investigation. Where it leads only time will tell, of course, but it's really beginning to look as if the Trump campaign was willing to look the other way when it came to Federal election laws if they thought it would help them. That makes the possibility that they were colluding with Russian representatives to aid the campaign to seem all the more plausible.