Donald Trump Opposes Flag Burning, Supports Burning The Constitution
Donald Trump resurrects an old debate and desecrates the Constitution in the process.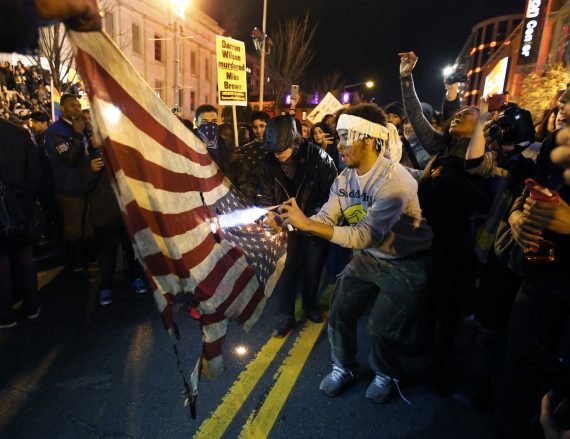 Renewing a debate that seemingly had been closed nearly thirty years ago, President-Elect Donald Trump took to Twitter early this morning to argue that burning the American flag should be illegal and that one should be punished by jail time and/or loss of citizenship for committing such an act:
President-elect Donald Trump on Tuesday threatened loss of citizenship or jail for those who burn the American flag, saying such protests — which the Supreme Court has declared to be free speech — should carry "consequences."

Trump offered his thoughts in an early-morning post on Twitter, saying, "Nobody should be allowed to burn the American flag."

Flag burning was ruled to be constitutionally protected speech under the First Amendment in a 1990 Supreme Court case, United States v. Eichman, that struck down a law seeking to prevent its desecration. Moreover, a 1967 Supreme Court decision rejected the practice of stripping U.S. citizenship as a form of criminal punishment.

Trump did not say what inspired his proposal, but it comes just days after a college in western Massachusetts decided to stop flying all flags, including U.S. flags, after someone there burned one in protest of Trump's election victory over Democratic presidential nominee Hillary Clinton.

Hundreds of veterans and others gathered Sunday to protest the decision by Hampshire College in Amherst, Mass., to remove the flag.

Trump's latest interest in curbing First Amendment protections follows several other actions related to free speech, including his blacklisting of reporters who fell out of favor with his campaign and a suggestion that he would "open up" libel laws to make it easier to sue the news media.

Trump's tweet also demonstrated an ability that has continued beyond his campaign to divert public attention from other issues of the day. Earlier this week, he caused an uproar by asserting on Twitter, without evidence, that millions of people voted illegally for Clinton.

During a television appearance Tuesday shortly after Trump's tweet, House Majority Leader Kevin McCarthy (R-Calif.) suggested that Congress is unlikely to move on the issue of flag burning.

"We have a First Amendment right, but where I come from, you honor the flag," McCarthy said on MSNBC's "Morning Joe." "If someone wanted to show their First Amendment right, I'd be afraid for their safety, but we'll protect our First Amendment."

Trump transition spokesman Jason Miller defended his boss's position during an appearance on CNN.

"Flag burning should be illegal," he said repeatedly on the CNN's "New Day."

Trump's tweet revives a debate that was settled in the courts more than 25 years ago.
Here's Trump's tweet:
Nobody should be allowed to burn the American flag – if they do, there must be consequences – perhaps loss of citizenship or year in jail!

— Donald J. Trump (@realDonaldTrump) November 29, 2016
The flag burning debate goes back some thirty years to 1989, when the Supreme Court issued its decision in Texas v. Johnson. In that case, the State of Texas prosecuted a man who had set fire to the American flag during a protest outside the Republican National Convention in Dallas in 1984. The State of Texas arrested and prosecuted a protestor named Gregory Lee Johnson under the state's law making it a crime to burn the American flag. Johnson was convicted on the charge, which at the time called for a fine of up to  $5,000 and/or up to one year in jail. Johnson appealed his decision through the Texas courts and, eventually, his conviction was overturned by the Texas Court of Criminal Appeals, the highest state court for appeals in criminal cases, on the ground that the statute violated the First Amendment. That ruling was appealed by the State of Texas to the U.S. Supreme Court, which upheld the Court of Criminal Appeals ruling and ruled that flag burning was protected political speech under the First Amendment and that laws against such activity were unconstitutional. The 5- 4 Court ruling, in which the states liberal Justices at the time were joined by none other than Reagan appointee Antonin Scalia, quickly proved to be controversial and soon became something of a rallying point for conservatives seeking to attack Democrats in vulnerable seats. Almost immediately, there were calls for a Constitutional Amendment to overturn the decision, but despite the fact that polling showed widespread public disapproval of the decision, there were clearly insufficient votes in Congress or the states to amend the Constitution. Instead, Congress passed a Federal law purporting to outlaw burning of the flag nationwide that supporters claims could get around the Court's decision. Very quickly, though, that law was also struck down along much the same lines in United States v. Eichmann. After that decision, the issue of flag burning pretty much died off as quickly as it had risen, although there have been several attempts by Republicans to push through a Constitutional Amendment, the most recent being during the Administration of George W. Bush. All of those efforts have been unsuccessful, of course, but it has been clear each time that the real point of the proposed Amendment was to score political points against Democrats rather than actually amend the Constitution. Other than that, though, the issue has been a political dead end for since the Eichmann issue and was rarely talked about until Trump revived it this morning.
If Congress or any of the states attempted to pass another law banning the American flag as Trump suggests, that law would clearly be struck down yet again, both because of the Supreme Court's decision that is now nearly thirty years old and because it is obvious that burning the American flag as part of political protest is protected speech under the First Amendment. The fact that flag burning is an activity rather than speech is irrelevant, of course, because the Supreme Court and other courts have repeatedly held that activity that is meant to be expressive is just as protected as speech itself, so that dispose of one of the more frequent arguments that people who have supported Trump's position have advocated in the past. Additionally, the fact that the flag is a national symbol of the what the United States stands for and those who have fought and died for is also irrelevant for First Amendment purposes. There is no exception in the First Amendment that makes it acceptable for Congress or any other body to create an exemption that applies to national symbols, and there is quite simply no good reason why such as an exception should be created. Finally, advocates of laws against flag burning have attempted to argue that the laws can be upheld because the activity is "offensive,' but this argument similarly fails to pass Constitutional muster. As the Court has ruled in numerous cases involving everything from people protesting outside of a military funeral to a law that makes it a crime to lie about having received military honors, offensive speech deserves First Amendment protection just as much as speech that does not offend.
Additionally, the other part of Trump's announcement, that burning a flag should result in loss of citizenship, is similarly Constitutionally suspect:
Even if Mr. Trump could persuade Congress to enact a criminal statute, a dramatic shift in the balance between government power and individual freedom, anyone convicted and sentenced under it could point to clear Supreme Court precedents to make the case for a constitutional violation.

The obstacles include the precedent that the Constitution does not allow the government to expatriate Americans against their will, through a landmark 1967 case, Afroyim v. Rusk. They also include a 1989 decision, Texas v. Johnson, in which the court struck down criminal laws banning flag burning, ruling that the act was a form of political expression protected by the First Amendment.

(…)

The 1967 case involving the stripping of citizenship traces back to a 1940 law that automatically revoked the citizenship of Americans who took actions like voting in a foreign country's election or joining its military.

The case centered on a man who had been born in Poland, became a naturalized American citizen, and later went to Israel and voted in an election there. When he subsequently tried to renew his American passport, the State Department refused, saying he was no longer an American citizen, and he sued.

In a 5-to-4 ruling, the Supreme Court called citizenship and the rights that stem from it "no light trifle to be jeopardized any moment" by politicians' attempts to curtail it. The court said that the 14th Amendment, which guarantees due process of law, does not empower the government to "rob" someone's citizenship. Americans, the ruling explained, can only lose their citizenship by voluntarily renouncing it.

"The very nature of our free government makes it completely incongruous to have a rule of law under which a group of citizens temporarily in office can deprive another group of citizens of their citizenship," Justice Hugo L. Black wrote.

In a case in 1980, Vance v. Terrazas, the Supreme Court extended that precedent by a vote of 6 to 3. That case concerned a man who was born with both American and Mexican citizenship, and who as a student took an oath of allegiance to Mexico, renouncing his American citizenship in order to obtain a Mexican citizenship document.

When the State Department said he had thus surrendered his American citizenship, he sued. The court majority said he was still a citizen because the government had to prove that he specifically intended to relinquish it, rather than having said those words with a different motivation, like fulfilling his desire to obtain the certificate.
The reality, of course, is that Trump is proposing something that is quite simply not going to happen, not only because of the Supreme Court's emphatic rulings on the First Amendment in the past and its current position on so-called "offensive" speech but also because there clearly isn't any desire on the part of a Congress controlled by Republicans to resurrect an issue that, in the end, isn't very important. In response to Trump's tweet, for example, both Senate Majority Leader Mitch McConnell and House Majority Leader Kevin McCarthy have said that they support the Supreme Court's decision and would oppose any effort to attempt to overturn it. As with the mostly Republican politicians who used the Court's decision in Johnson as a political weapon, though, it seems rather obvious that Trump doesn't really care about the fact that what he's proposing could never actually be enacted. Instead, he seems intent on using the idea as a political weapon and a means to rally his supporters, who likely support the idea of making flag burning illegal, behind him. The fact that this proposal came out at the same time that Trump's transition team is being forced to deal with repeated reports about infighting about the possibility that Mitt Romney could be appointed Secretary of State as well growing questions about the numerous conflicts of interest that Trump will face upon becoming President even if he turns over operation of his companies to his children is not coincidental either since it matches the pattern he established during the primary and General Election campaigns of saying or doing something controversial in order to take attention off of an unfavorable item in the news. That doesn't make Trump's proposals any less dangerous, of course.
As The Washington Post and California attorney Ken White both put it, ideas like the one Trump expressed today are particularly dangerous. Here's how White put it:
The flag-burning cases are important, like the crush videos case was important, because they draw a crucial line between having a few strictly limited exceptions to the First Amendment, on the one hand, and having as many exceptions as we feel like having, on the other hand. Flag burning isn't speech that's uniquely valuable or important to protect. What's important is that we protect the principled method by which we determine which speech is protected and which isn't.

The argument that flag burning should be outside the First Amendment can be applied with equal force to just about anything — "hate speech," "cyber-bulling," "revenge porn," "pro-ISIS speech," or whatever the flavor of the month is. If think the majority was wrong in the flag burning cases, here's what you're saying: "the Supreme Court makes bad judgments, and I want to give that Supreme Court the power to decide, on a case-by-case basis, whether the harm of speech outweighs its value. I don't want the courts to be limited to established, well-defined categories outside of First Amendment protection."
I put the matter in much the same way when I wrote about this issue all the way back in 1990 when the public reaction to Texas v. Johnson was fresh:
In adopting the position of the opponents of the Supreme Court decision, one would have to accept the seemingly contradictory idea that in order to protect the symbol of a nation founded on individual liberty, one must restrict individual liberty. Taking this position also leads one into dangerous territory in relation to other areas of action or thought and the effect that they might have on the rest of society. After all, if flag burning can be banned because a majority of the public are offended by an attack on what they believe to be a sacred symbol, then why not extend the ban into other areas where an individual's actions might be offensive to others? If we ban flag burning, then why not ban movies or books that depict in an offensive way religious figures or other subjects considered to be sacred? Why not ban magazines, films, or groups that offend the sensibilities of women, blacks, Jews, or any other minority group?

A person who opposes flag burning may argue that he would not extend his logic as far as that in the above examples. But the reasoning behind these examples and that behind flag burning are of the same majoritarian parentage: the belief that if a sufficiently large number of people find an activity offensive then they can use the coercive power of the state to regulate or, preferably, to ban that activity.

The problem, then, with taking the position that the flag should be protected even at the expense of individual liberty is not that flag burning or any other activity deemed to be offensive has some sort of redeeming value, or that symbols such as the flag are unimportant, but that in banning these activities, one is accepting a principle that is ultimately destructive of a free society. By accepting this principle, we are allowing for the creation of a society wherein appropriate expressions of patriotism, appropriate forms of artistic expression, and appropriate activities are decided by a process of majority rule that, rather than minimizing conflict in society, heightens it to a dangerous degree.

(…)

It is undeniable that to most Americans, including those who value liberty, flag burning is offensive. We do not like to see someone set fire to a banner that is a symbol of freedom, especially when that person rejects the freedom the flag symbolizes. However, we must not allow our love for the flag-as-symbol to blind us to the reality that a law banning flag burning or desecration would be as much a restriction on individual liberty as would be a law banning publication of a book that seems to denigrate a religion. Neither must we forget that the moment one concedes that certain activities should be banned simply because they offend other people, one is allowing for the creation of an environment in which no one is safe to do what he might, lest he offend someone and bring down on him the heavy hand of the government.
Little did I know that we'd still be talking about this issue nearly three decades later. The good news is that we are nowhere closer to banning flag buring while desecrating the Constitution now than we were then. Indeed, outside of Trump and his followers, I tend to doubt there are very many people who care about this issue anymore.