Donald Trump, Ted Cruz, Both Viewed Very Badly Outside The GOP
The two men most likely to win the Republican nomination aren't very well liked outside the Republican Party.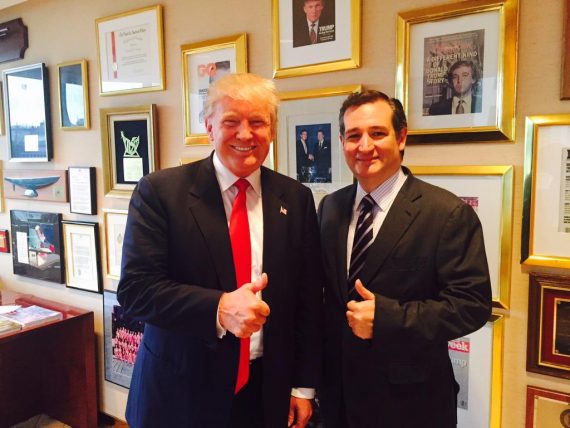 For better or worse, it seems rather clear at this point that the Republican nominee for President will be either Donald Trump or Texas Senator Ted Cruz. For all of the alternative scenarios that may be playing out in the minds of some pundits — whether it involves John Kasich somehow winning the nomination or the party turning to a candidate who hasn't even been through the nomination process, there are really only two realistic ways that the Republican National Convention can turn out. In the first scenario, Donald Trump will walk into the convention with enough delegates to get the nomination, or nearly so to the point that denying it to him would be incredibly difficult for the GOP, and he'll win the nomination on the first ballot. In the second scenario, Trump will be unable to get a majority on the first ballot and the convention will go to a second or third ballot, in which case Cruz will most likely win the nomination due to the manner in which his campaign has outplayed all the others when it comes to delegate selection. Unfortunately for the GOP, neither choice seems to be very palatable to the general public, and that bodes poorly for the General Election:
Donald Trump ranks as the most unpopular top-tier presidential contender in more than 30 years of ABC News/Washington Post polls, trailing only former Ku Klux Klan leader David Duke among presidential candidates in any election year since 1984.

At the same time, the unpopularity of Trump's main rival, Ted Cruz, has reached its highest level yet this election cycle. John Kasich breaks even in basic popularity, with many – at this late stage of the primary season – still yet to form an opinion of the Ohio governor.

Trump's seen unfavorably by 67 percent of Americans in this poll, produced for ABC by Langer Research Associates. That's unchanged from last month and slightly off his high, 71 percent unfavorable in an ABC/Post poll nearly year ago. A majority strongly dislikes him, also unprecedented for a leading candidate.

Duke was rated unfavorably by 69 percent of Americans in an ABC/Post poll in February 1992; he went on to win fewer than 120,000 votes, and no delegates in his bid for that year's GOP presidential nomination. Trump has won more than 8 million votes to date.
What's perhaps most striking is how much of a difference there is between how these two candidates are viewed by Republicans and how they are viewed by the public as a whole:
Within his party, 56 percent of Republicans see Trump favorably, and it's similar for Cruz, 58 percent, while lower for the lesser-known Kasich, 47 percent. The difference among all adults is that independents and especially Democrats hold more negative views of Trump than of either of his competitors. Kasich has the most cross-partisan appeal.

Notably, about four in 10 Republicans see each of these candidates unfavorably. For comparison, Mitt Romney was seen favorably by 69 percent of Republicans at this time in 2012 and unfavorably by just 20 percent.

(…)

[W]ithin the GOP, Cruz has a +20-point net positive score; Trump's is +14 and Kasich's +7. Cruz does vastly better among his biggest backers in the primaries, very conservative Republicans, +55 points in favorability, vs. +1 for Kasich and -1 for Trump. (The sample size of very conservative Republicans is small, but the result is significant and aligns with exit polls.)

Cruz, though, sustains a sharp drop-off among less conservative Republicans, to +7, compared to +23 in this group for Trump (and +9 for Kasich).

Kasich breaks about even in popularity among political independents and Democrats alike. Cruz is far behind, -25 and -39 from independents and Democrats, respectively; Trump, -37 and a remarkable -75.

Among other groups, Trump continues to do much worse among women, -51 in popularity, than among men, -22. That includes a big difference among Republican men and women, +30 vs. -4. Cruz and Kasich have no appreciable gender gap.

Trump also has a massive race/ethnicity gap. While he's more unpopular than popular by 20 points among whites, that balloons to 65 points among nonwhites, including -84 and -66 among blacks and Hispanics, respectively. Cruz is seen similarly by whites and nonwhites, while Kasich is +7 among whites, -15 among nonwhites.

Finally, Trump's education gap also continues, and he's joined here by Cruz: Both are more unpopular among college graduates than among non-grads. It's the opposite pattern for Kasich.
To be fair, Hillary Clinton's numbers are also negative at this point, but her favorable/unfavorable numbers (46%/52%) are still better than Ted Cruz's (36%/53%) at this point, and the fact that Clinton has been a known factor in American politics for more than twenty years now and it's unlikely that these net unfavorable numbers are going to hurt her quite as much as some people seem to think. With Trump and Cruz, though, Republicans find themselves stuck with two candidates that represent the worst possible choices for anyone who actually wants to win a General Election. This reality is also reflected in the Head-to-Head General Election polls, all of which have to be bad news for any Republican interested in winning in November. Donald Trump, for example, is currently losing by double digits to both Clinton and Sanders in these polls, while Ted Cruz is losing by slightly narrower margins to both candidates. This contrasts notably with previous years when the same head-to-head polling showed candidates like John McCain and Mitt Romney at least being competitive against their Democratic opponents.
None of this bodes well for a Republican Party already looking at an Electoral College disadvantage heading into 2016. As I've noted before, in order to win the Presidency, Republicans would need to hold on to all of the states that Mitt Romney won in 2012, as well as winning in Florida, Ohio, Virginia, and at least one other state. With negatives as high as the ones he has, it's difficult to see Donald Trump being able to do this even if he is able to somewhat increase the GOP share of the white vote over what Romney received four years ago. Similarly, it's hard to see Ted Cruz doing any better than Romney did four years ago, and especially hard to see him winning in states like Virginia and Ohio. Additionally, with unpopular candidates like Trump or Cruz at the top of their ticket, Republicans will need to worry even more than they already should be about losing control of the Senate are both men are likely to put the re-election bids of candidates like Kelly Ayotte and Rob Portman at considerable risk, as well as the potential impact either of these candidates could have on GOP hopes to capture Senate seats in Nevada and Colorado.
In other words, Republicans are stuck between the proverbial rock and a hard place and it's unlikely to turn out well no matter which candidate the GOP nominates.