Donald Trump To Pick Mike Pence As Running Mate, Reports Say
If reports are correct, Indiana Governor Mike Pence will be Donald Trump's choice for a running mate.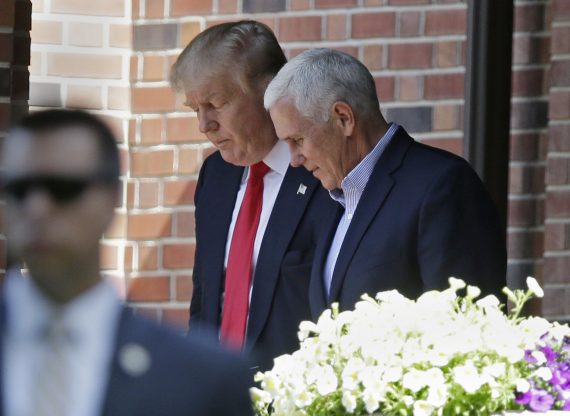 Multiple news outlets are reporting that Donald Trump will pick Indiana Governor Mike Pence at his running mate, an announcement that will be made official at an event in New York City tomorrow morning:
Donald J. Trump's campaign has signaled strongly to Republicans in Washington that he will pick Mike Pence, the governor of Indiana, as his running mate, though Republicans caution the party's mercurial presidential candidate may still backtrack on his apparent choice.

Mr. Trump's advisers have told national Republican officials that they are preparing to make an announcement with Mr. Pence, according to three people with knowledge of the conversations, who were not authorized to discuss them publicly. His campaign has said that it will unveil a running mate for Mr. Trump in New York on Friday.

Mr. Pence, a former congressman and radio host, emerged over the last week as the strong favorite of Mr. Trump's political advisers and senior officials in the Republican Party.

But Mr. Trump himself has sent conflicting signals in recent days, as he has subjected his potential running mates to a final round of screening. He addressed a rally in Indiana alongside Mr. Pence on Tuesday night and met privately with him several times.

On Wednesday, Mr. Trump and his children threw together a hasty series of conversations with other finalists in the vice-presidential search, including Gov. Chris Christie of New Jersey, Senator Jeff Sessions of Alabama and Newt Gingrich, the former House speaker.

Paul Manafort, the chairman of the Trump campaign, said that the campaign had not notified anyone of a final decision on the running mate.

"We have not been reaching out to Washington to tell them to prepare for any particular candidate," Mr. Manafort said, when reached by phone Thursday afternoon.

He reiterated that Mr. Trump would announce his selection in Manhattan on Friday.

A low-key man largely defined in public life by his Christian faith, Mr. Pence, 57, is seen as a cautious choice of running mate — a political partner who is unlikely to embarrass Mr. Trump, and who may help him shore up support among conservative voters still wary of his candidacy.

His staunch conservative views on certain social issues, like gay rights and abortion, may inject a new set of concerns into the general election debate that have been largely overlooked with Mr. Trump at the top of the Republican ticket.

Republicans on Capitol Hill reacted with a mixture of applause and relief to the news of Mr. Trump's likely selection. Mr. Pence is viewed in Washington as a conventional politician with standard-issue conservative beliefs, including on some subjects where his policy instincts plainly conflict with Mr. Trump's.

Mr. Pence has endorsed free trade agreements, including the Trans-Pacific Partnership, an Asian trade deal that Mr. Trump has described as a "rape" of the American economy. He voted for the Iraq war, which Trump has condemned, and last winter he denounced Mr. Trump's call to ban all Muslim immigration into the United States.

If those views place Mr. Pence at odds with Mr. Trump, they are in line with the outlook of Republican leaders in the House and Senate, who praised him on Wednesday.

"It's no secret I'm a big fan of Mike Pence's," said Paul Ryan, the speaker of the House from Wisconsin. "We're very good friends. I have very high regard for him. I hope that he picks a good movement conservative. Clearly Mike is one of those."

The Senate majority leader, Mitch McConnell, of Kentucky, said picking Mr. Pence would be a "good move by Donald Trump." Mr. McConnell, who has sharply rebuked Mr. Trump in recent weeks for his indiscipline on the campaign trail, said he would "look forward to enthusiastically supporting the ticket."

For Mr. Trump, selecting Mr. Pence would be a sharp departure from habit, and the surest sign yet that he intends to submit to at least some standard political pressures in the general election.

In the past, Mr. Trump has leaned heavily on a tiny circle of trusted friends and advisers, and has crafted his major political decisions to shock and titillate the news media and Republican primary voters.

But Mr. Pence is a laid-back personality who does not have the same set of showman's instincts as Mr. Trump or other vice-presidential contenders like Mr. Gingrich and Mr. Christie.
In addition to this report from The New York Times, similar reports have also been posted by The Washington Post, Politico, Roll Call, The Daily Beast, and The Huffington Post, all seemingly independently.  Fox News Channel, meanwhile, is reporting that Pence is taking steps to abandon his re-election bid for Governor in seeming preparation for tomorrow's announcement, while other news outlets are reporting that former Indiana Governor Mitch Daniels, who now serves as President of Purdue University, is being heavily lobbied by Indiana Republican insiders to mount a bid to return to the Governor's Mansion as a replacement for Pence on the ballot. Daniels was barred from seeking a third consecutive term as Governor, but it would appear that Indiana law allows him to seek another term now that he has been out of office for the entirety of Pence's time in office. Daniels, however, has said that he will not mount a bid to return to the Governor's Mansion if Pence is selected as Trump's running mate, so it would appear that Indiana Republicans will have to look elsewhere.
Pence's name was a late entry to the Republican "Veepstakes" in that his name first entered the fray just two weeks ago when Trump first met with him at the urging of both Campaign Manager Paul Manifort and other Republican insiders and Trump's own children, who have been heavily involved in the selection process to the point that at least one of them has been present for each of tUphe one-on-one meetings that Trump has had with various candidates that he's been considering since formally clinching the Republican nomination. As I noted at the time, while Pence did fulfill at least one of Trump's pre-stated criteria for a running mate in that he is seemingly well-suited to help a prospective President Trump navigate Capitol Hill, especially when it comes to relationships with leadership and the budget process, there is also much about the two men that demonstrates the extent to which they are seemingly opposites. Pence, for example, is decidedly in the socially conservative side of the GOP to whom social issues such as abortion and marriage have been particularly important issues of late, Trump has largely avoided these issues. Additionally, Pence's tenure as Indiana Governor has had its ups and downs, and those downs are likely to follow him to the Presidential race if he is in fact Trump's selection. Finally,  unlike two of Trump's other final candidates, Newt Gingrich and Chris Christie, Trump has not had much of a relationship at all with Pence up until now and it may be difficult for him to develop the level of confidence he typically claims to need in close associates.
On a final note it's worth noting that all of these reports today indicating that Trump has all but officially chosen Pence could turn out to be incorrect. Eight years ago, there was similar speculation about the 'final choice' on both sides for both Barack Obama and John McCain that turned out to be wrong. In Obama's case, it was being openly reported that the Democratic nominee had chosen then Indiana Senator Evan Bayh to be his running mate, while McCain was said to have selected then Minnesota Governor Tim Pawlenty. While Bayh and Pawlenty were apparently both finalists for the respective positions, in the end the Democratic nod, of course, went to Joe Biden and  John McCain selected Sarah Palin, a move that at first energized his campaign significantly but ultimately backfired as Palin revealed that she was completely unprepared for the job she was selected for. It's possible that the same thing could happen with Pence and that Trump will end up picking someone else. Given Trump's love of surprises and turning events like tomorrow's announcement into spectacles, that's certainly not beyond the realm of possibility.
Update: The Indianapolis Star is reporting that Pence is taking the steps needed to get himself off the ballot for Governor, and the top political reporter for a local television station in Indianapolis passes on the news that the Governor is reportedly on a plane headed east:
Confirmed. Mike Pence departed Mount Comfort airport at 4:10 headed to Teterboro Airport in New Jersey. Video on @WISHTV at 5.

— Jim Shella (@shellawish) July 14, 2016