Donald Trump's Campaign Fumbles As Plagiarism Plagues Aftermath Of Melania Trump's Speech
Speeches by the wife and kids are supposed to be the easy part of a convention. If you mess that up, you truly are an amateur.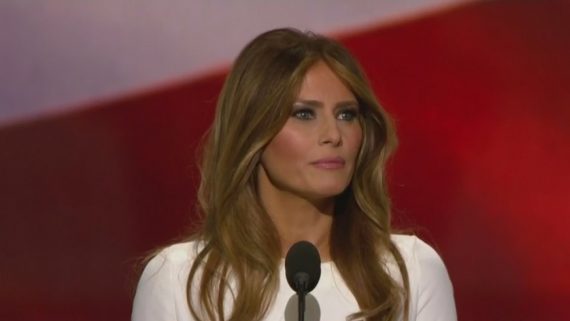 I didn't watch it myself, but the initial reaction that I did see from Melania Trump's speech at the first night of the Republican National Convention was quite positive. Commentary on both sides of the aisle focused on the way she spoke about her own upbringing in Slovenia and her gratitude to the United States for providing a second home and a place to achieve unexpected international success as a fashion model, wife, and mother. It was, in other words, your standard 'spouse of a candidate' speech, and to be honest it's usually pretty hard to mess those up. The audience is going to love seeing some insight into the human side of a candidate they've known only from the campaign trail, the press is eager to hear from someone close to the candidate who hasn't taken an assertive role on the campaign trail until now, and in general even the opposition is going to treat a "civilian" like a spouse somewhat better than the candidate themselves. That's one reason why it's somewhat remarkable that the Trump campaign was somehow able to mess up what should have been the easiest part of the convention:
The Donald Trump campaign on Tuesday denied allegations that Melania Trump plagiarized a Michelle Obama speech on the first night of the Republican National Convention, calling the accusation "just really absurd."

"To think that she would do something like that knowing how scrutinized her speech was going to be last night is just really absurd," Trump's campaign chairman Paul Manafort told CNN's Chris Cuomo on "New Day."

At least one passage in Trump's speech Monday night plagiarized from Obama's address to the Democratic National Convention in 2008.

Side-by-side comparisons of the transcripts show the text in Trump's address following, nearly to the word, the would-be future first lady's own from the first night of the Democratic convention in Denver nearly eight years ago.

But Manafort said the words Melania used were not "cribbed" but are common words.

"There's no cribbing of Michelle Obama's speech. These were common words and values. She cares about her family," Manafort said. "To think that she'd be cribbing Michelle Obama's words is crazy."

Manafort said attacks on Trump's speech are due to Hillary Clinton, the presumptive Democratic nominee, being "threatened" by Trump.

"This is once again an example of when a woman threatens Hillary Clinton, she seeks out to demean her and take her down. It's not going to work," he said.

The controversy quickly overshadowed the speech, which was to have been her introduction to voters. It focused on her immigration to the US and her love for her husband.

A Republican operative familiar with how the campaign was handling the speeches said a number of senior aides had a role, edited Melania's speech, suggested changes and provided guidance. Manafort told CNN's Phil Mattingly earlier on Tuesday that he wasn't involved in drafting the speech and served solely in a sign-off role.

The Trump campaign released a statement on the speech after the similarities were uncovered, but the statement did not mention the plagiarism charge.
"In writing her beautiful speech, Melania's team of writers took notes on her life's inspirations, and in some instances included fragments that reflected her own thinking. Melania's immigrant experience and love for America shone through in her speech, which made it such a success," according to Jason Miller, the senior communications adviser.
The New York Times shows the similarities between Michelle Obama's speech in 2008 and Melania Trump's speech last night:
Here are the relevant passages.

Ms. Trump, Monday night:

"From a young age, my parents impressed on me the values that you work hard for what you want in life, that your word is your bond and you do what you say and keep your promise, that you treat people with respect. They taught and showed me values and morals in their daily lives. That is a lesson that I continue to pass along to our son. And we need to pass those lessons onto the many generations to follow. Because we want our children in this nation to know that the only limit to your achievements is the strength of your dreams and your willingness to work for them."

Mrs. Obama, in her 2008 speech:

"Barack and I were raised with so many of the same values: that you work hard for what you want in life; that your word is your bond and you do what you say you're going to do; that you treat people with dignity and respect, even if you don't know them, and even if you don't agree with them. And Barack and I set out to build lives guided by these values, and pass them onto the next generation. Because we want our children — and all children in this nation — to know that the only limit to the height of your achievements is the reach of your dreams and your willingness to work for them."

Ms. Trump:

"I was born in Slovenia, a small, beautiful and then-Communist country in Central Europe. My sister, Ines, who is an incredible woman and a friend, and I were raised by my wonderful parents. My elegant and hard-working mother, Amalija, introduced me to fashion and beauty. My father, Viktor, instilled in me a passion for business and travel. Their integrity, compassion and intelligence reflects to this day on me and for my love of family and America."

Mrs. Obama, in 2008:

"And I come here as a daughter — raised on the South Side of Chicago by a father who was a blue-collar city worker and a mother who stayed at home with my brother and me. My mother's love has always been a sustaining force for our family, and one of my greatest joys is seeing her integrity, her compassion and her intelligence reflected in my own daughters."
The similarities between the two speeches are, quite frankly, too apparent to be denied, and someone on the Trump campaign thought they could get away with it notwithstanding the fact that it was the first major public address by a candidate's spouse who has, until now, stayed largely behind the scenes while her husband takes center stage and his children from previous marriages act as his primary surrogates on the campaign trail. Even worse than the fact of the obvious plagiarism itself, though, has been the manner in which the Trump campaign has responded to the issue so far. Initially, there was a complete denial that any plagiarism had taken place, but in the early hours of this morning that has shifted to the strategy, such as it is, of underplaying the amount of copying that is plainly evident and attempting to shift the blame for who might be responsible for what is a minor but nonetheless embarrassing development. Depending on who you believe, the entire speech was written by Melania Trump, or it was written by her in consultation with a campaign staffer, or it was written by a 'team of speechwriters' who worked together after consulting with the candidate's spouse about what she wanted to say.
Off the top, let's just say that of all the explanations the least plausible one is that this speech was written entirely by Melania Trump, primarily because it is clear that English is not her primary language and yet the speech reads like it was written by someone whose primary language was English. It's also hard to believe that the campaign would leave the candidate's wife go out there on her own and give a speech in prime time without at least some help from a professional speechwriter. Therefore, the most likely explanation is that the source of this plagiarism is whomever on the campaign staff was responsible for assisting Mrs. Trump with writing the speech. What's remarkable is that the campaign is managing to mess up what ought to be the easiest part of the convention. The candidate's spouse speech is generally something short, sweet, and tells us something about the human side of the candidate, and since it's usually given by someone who isn't used to public speaking and may not have been a common sight on the campaign trail it's usually going to be well-received. The only way to mess it up is to do something like this that makes the candidate, and theis spouse, look foolish and then spend the next day trying to deny that anything serious has occurred .This is hardly the biggest news of the 2016 campaign, of course, but it does demonstrate the extent to which the Trump campaign is still very much an amateur hour operation, and it makes one wonder what else they can mess up going forward.