Donald Trump's Job Approval Numbers Continue To Be Historically Bad
President Trump's job approval numbers continue to be worse than those of any President since the end of World War Two.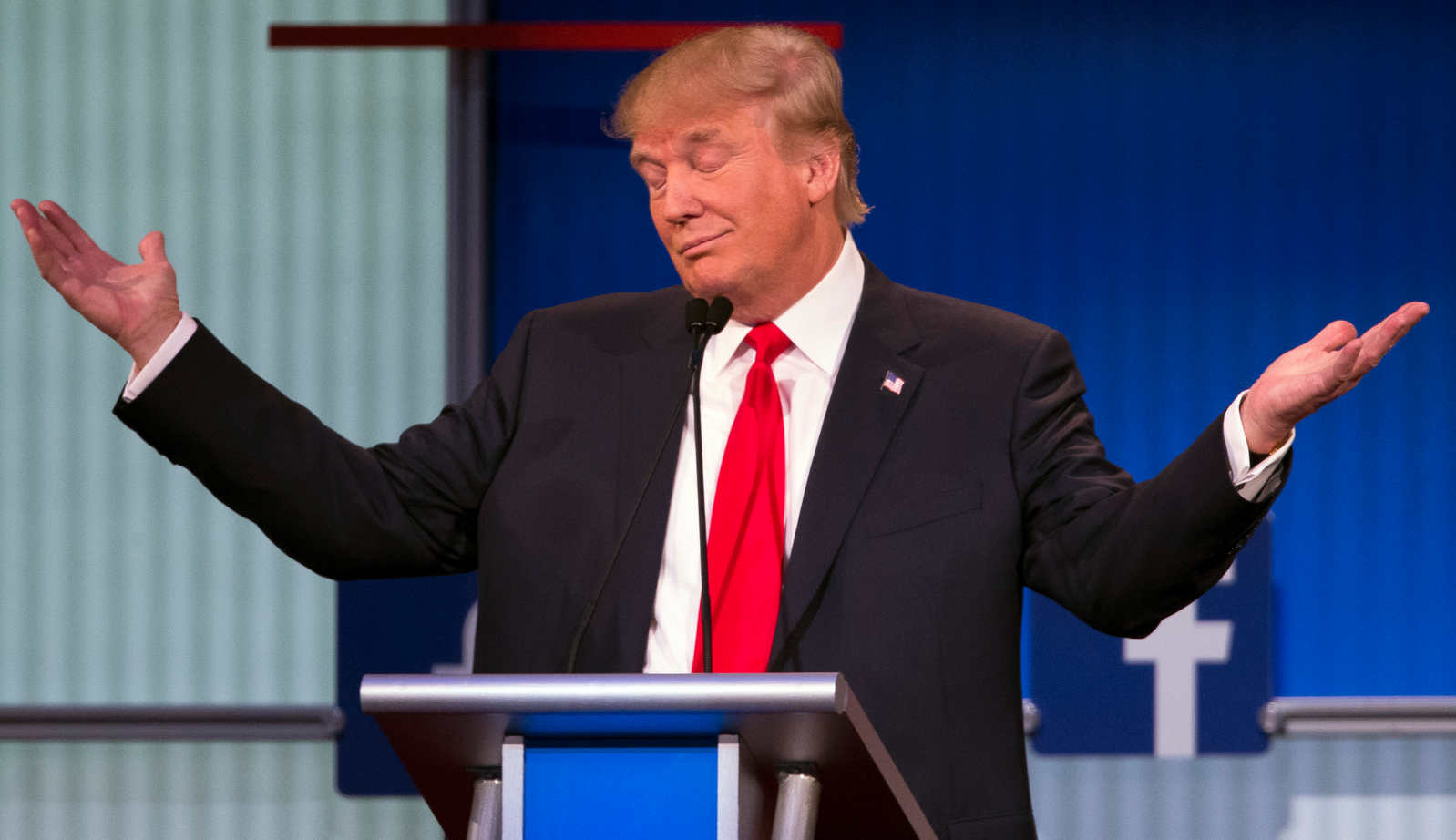 A new poll from CNN shows President Trump's job approval numbers hitting some of their lowest levels yet as his Presidency nears the end of its second year:
Six-in-10 Americans disapprove of the job Donald Trump is doing as President, according to a Gallup poll out Monday. Thirty-eight percent approve of the President.

The last time his approval rating dipped under 40% was just a few weeks ago, but his disapproval hasn't been at 60% or higher since around this time last year, in December 2017, when the guilty plea of his former national security adviser, Michael Flynn, and his endorsement of Alabama Senate candidate Roy Moore (who was accused of sexual misconduct) were in the news.

Trump's most recent approval rating is down five percentage points since last week's Gallup poll and reflects a slight decrease in almost every demographic group, but especially among those aged 18-29, who went from 35% approval of the President to 28%. The disapproval rating increased seven percentage points since last week.

Gallup polls, which are conducted each week, reflect more fluctuation in Trump's approval, which has moved often between 35% and 45% since he assumed the office of President.

At this point in his presidency, just after his party also lost control of the House of Representatives, Barack Obama had a 45% approval rating, around average for him. Obama's approval rating never went below 40% in Gallup's polling. However, Trump isn't the first president to have such low ratings. George W. Bush hit 31% in the year following Hurricane Katrina. At its highest, however, his disapproval rating was 65%, five-points higher than Trump's is now.
More from The Hill:
Six-in-10 Americans disapprove of President Trump's job performance, matching an all-time high for his disapproval rating in the Gallup Poll.

A weekly presidential job approval tracker released Monday found that 60 percent of Americans disapprove of Trump's performance, while 38 percent said they approve as of the week ending Nov. 25.

The president's disapproval rating has largely hovered in the mid-50 percent range in the Gallup poll, but this week marks the fourth time it has hit 60 percent.

It previously hit that threshold in August 2017 in the aftermath of a white nationalist rally in Charlottesville, Va., again in late October 2017 and once more in December 2017 around the time the GOP passed its tax-cut legislation.

The Gallup weekly presidential approval tracker has a margin of error of 3 percentage points, and is based on a survey of roughly 1,500 adults.

The dip in numbers came during the same week that Trump signaled he would not dole out additional punishment against Saudi Arabia or Crown Prince Mohammed bin Salman over the death of journalist Jamal Khashoggi.

He also clashed with Supreme Court Chief Justice John Roberts over the 9th Circuit's rulings, and his administration issued a report that contained a dire warning about the effects of climate change.
Looking at other polls, we can see that while there is some variation in the numbers the President is clearly still doing fairly badly when it comes to job approval:
Looking at the polling averages, we see that the President's approval numbers remain as bad as they have been since he entered office:
The RealClearPolitics average, for example, puts the Presidents average job approval at 42.9% and his disapproval at 53.0%, for a deficit of -10.1 points;
In the Pollster average, the President's job approval stands at 43.9% while his disapproval stands at 51.8%, for a deficit of -7.9 points. Among Democrats, the President's disapproval remains overwhelming high while the numbers among Republicans show his approval at overwhelmingly high levels. Among Independents meanwhile, the President's job approval stands at 37.2% and his disapproval stands at 56.5%, for a deficit of -19.3  points;
Finally, in the FiveThirtyEight average, the President's job approval stands at 42.5% and his disapproval stands at 52.8% for a deficit of -10.3 points.
The RealClearPolitics chart, meanwhile, shows the extent to which the President has maintained a consistently unpopular image from virtually the moment he entered office: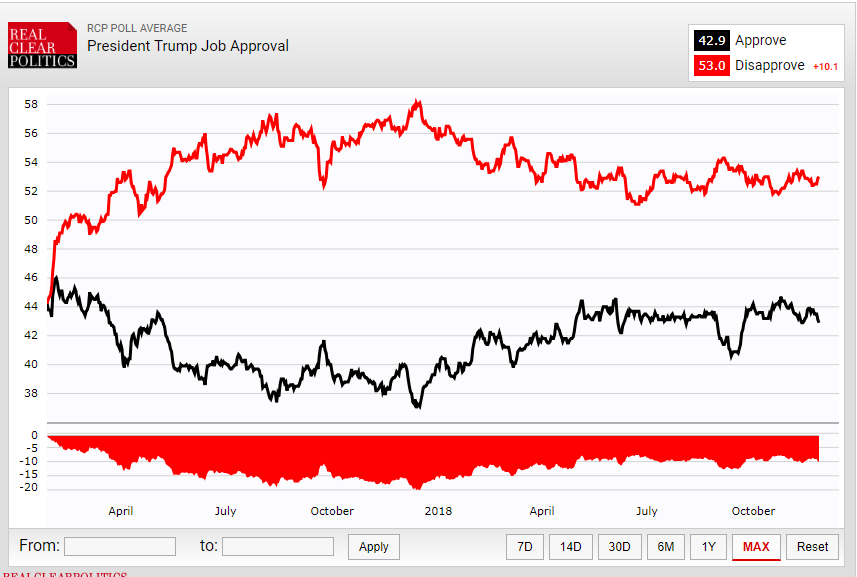 As I've said before, President Trump's job approval numbers remain at levels that are historically low for a newly elected President at this point in his Presidency. While many President's have seen their numbers decline as they enter their second year in office, none in recent memory have had numbers this low. More importantly, none have seen their numbers this consistently low from virtually the first day that they took office. While this doesn't necessarily tell us where things might be a year or more from now, it certainly doesn't portend well for a President that has faced difficulties from the start and who doesn't seem to be doing a very good job of winning friends or influencing people.
Every President in recent memory has started off their time in office with genuinely positive job approval numbers. To a large degree, this is because voters appear to want to think the best of whoever the new POTUS is and want them to do the best job possible. How long that honeymoon lasts has varied, and often is related to things beyond the control of an individual POTUS. In recent times, though, it's lasted for a considerable period. For Geoge W. Bush, it lasted basically four years but that's pretty much because his numbers were sent into the stratosphere after 9/11 and it took a long time for that to fade. It wasn't until after 2004, that Bush's approval numbers began to sink thanks to a tightening economy and a seemingly endless war in Iraq. And, of course, he left office with one of the worst approval/disapproval ratios of any post-WW2 President with the exception of Nixon.  For Obama, it wasn't until well into his second year that his approval number had sunk to the point where there was even a slight majority that disapproved of his performance rather than approved. Obama's numbers would fluctuate from there until 2012 when they bounced back just in time for the election, and after that, he remained mostly in positive territory for the remainder of his time in office.  Trump started out in the negative and it didn't take very long for him to reach point Buah didn't reach until 2007. We've already seen in the midterm election returns what it means for the President and his party when the President has historically low job approval numbers. If those numbers continue, and there's no reason to believe that they are going to improve significantly at this point, then it's likely that 2020 is going to make 2018 look like a picnic.