Donald Trump's Vice-Presidential Choice: Would It Be Conventional, Or Crazy?
Several top Republicans have already said that they would not accept a position on a ticket with Donald Trump, so who might he choose?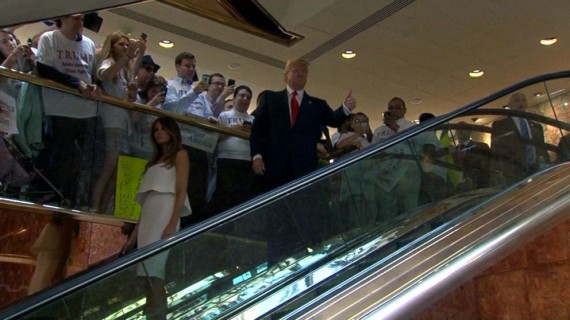 At least for the moment, there don't seem to be many top Republicans who would be interested in being Donald Trump's running mate should he win the Republican Presidential nomination, which becomes seemingly more apparent with each passing day:
It's a time-honored tradition for politicians to deny any interest in the vice presidency. But this year, with the possibility of Donald J. Trump as the Republican nominee, they really mean it.'

"Never," said Chris Schrimpf, a spokesman for Gov. John Kasich of Ohio, who is still running against Mr. Trump. "No chance."

"Hahahahahahahahaha," wrote Sally Bradshaw, a senior adviser to Jeb Bush, when asked if he would consider it.

"Scott Walker has a visceral negative reaction to Trump's character," said Ed Goeas, a longtime adviser to the Wisconsin governor.

Or, as Senator Lindsey Graham put it, "That's like buying a ticket on the Titanic."

A remarkable range of leading Republicans, including Gov. Nikki Haley of South Carolina and Senator Jeff Flake of Arizona, have been emphatic publicly or with their advisers and allies that they do not want to be considered as Mr. Trump's running mate. The recoiling amounts to a rare rebuke for a front-runner: Politicians usually signal that they are not interested politely through back channels, or submit to the selection process, if only to burnish their national profiles.

But Mr. Trump has a singular track record of picking fights with obvious potential running mates like Senator Marco Rubio of Florida, who has indicated a lack of interest in the vice presidency generally and has yet to reconcile with Mr. Trump publicly. Ms. Haley and another potential pick, Gov. Susana Martinez of New Mexico, have sharply criticized Mr. Trump at recent party gatherings and do not want to be associated with his sometimes-angry tone, according to advisers and close associates who have spoken with these Republicans.

Several Republican consultants said their clients were concerned that Mr. Trump's unusually high unfavorable ratings with all voters and his unpopularity among women and Hispanics could doom him as a general election candidate and damage their own future political prospects if they were on his ticket.

Still, elected officials do have a way of coming around to the vice presidency, and Mr. Trump said in an interview on Saturday that he was in the early stages of mending fences and building deeper relationships with leading Republicans. And in a sign of growing acceptance that Mr. Trump is their likely nominee, several Republicans made it clear that they would join him on the ticket because they think he can win, or because they regard the call to serve as their duty.

Newt Gingrich, the former House speaker, as well as Senator Jeff Sessions of Alabama and the retired neurosurgeon Ben Carson, said in interviews that they would consider joining the ticket if Mr. Trump offered. Two governors, Chris Christie of New Jersey and Mary Fallin of Oklahoma, have also told allies that they were open to being Mr. Trump's running mate.

"If a potential president says I need you, it would be very hard for a patriotic citizen to say no," Mr. Gingrich said. "People can criticize a nominee, but ultimately there are very few examples of people turning down the vice presidency."

Mr. Trump, who could well become the presumptive Republican nominee on Tuesday by winning the Indiana primary, is just starting to mull vice-presidential prospects and has no favorite in mind, he said in the interview. Mr. Trump said he wanted someone with "a strong political background, who was well respected on the Hill, who can help me with legislation, and who could be a great president."

He declined to discuss potential picks in any detail, but he briefly praised three governors as possible contenders — Mr. Kasich, Mr. Christie and Rick Scott of Florida — and said he would also consider candidates who were women, black or Hispanic. (A spokeswoman for Mr. Scott said he was focused on being governor.)

Asked if he was surprised about the array of Republicans who are uncomfortable being his running mate, Mr. Trump said: "I don't care. Whether people support or endorse me or not, it makes zero influence on the voters. Historically, people don't vote based on who is vice president. I want someone who can help me govern."

A cross section of leading Republicans agree that his most sensible choice would be an experienced female governor or senator, given that he would most likely face Hillary Clinton in November and need support from a majority of white women to offset her strong support among blacks and Hispanics. Yet Mrs. Clinton is currently ahead of Mr. Trump with white women by double-digit percentages, according to a recent CBS poll.

The pool of Republican women in major offices is relatively small, and Mr. Trump has already alienated some of them. Governor Haley denounced him for not quickly disavowing support from the former Ku Klux Klan leader David Duke, and Governor Martinez has criticized his remarks about Hispanics.

Both governors endorsed Senator Rubio for president; a Martinez spokesman said she "isn't interested in serving as vice president," while a Haley spokesman declined to comment.

"There are some Republicans who would've said yes to running with Romney or McCain or Bush but would say no to Trump," said Curt Anderson, a Republican strategist, referring to the party's last three presidential nominees. "The issue is, no one knows what we're dealing with here. Is it possible that Trump faces a historic landslide loss? Sure. Is it possible he beats the hell out of Clinton? Sure. No one knows — no one has predicted Trump right for a long time."
Given the controversy surrounding his campaign, it's not surprising that Trump may face some difficulty in finding a top tier candidate to fill the position of Vice-Presidential running mate. Indeed, from the perspective of a either a younger Republican politician who may have ambitions aimed at higher office of their own, or a more experienced politician whose selection would be intended to give a ticket with Trump at the top a sense of experience and gravitas that it might lack, signing on to a ticket with Donald Trump could end up being a political death warrant. For one thing, losing Vice-Presidential candidates have historically faded away into political obscurity, rarely heard from again. Only once in American history, for example, has a losing candidate for Vice-President gone on to win their party's Presidential nomination and become President. That candidate was Franklin D. Roosevelt, who was the Democratic nominee on a losing ticket with James Cox in the 1920 election and, of course, became President in 1932 when he defeated Herbert Hoover thanks in no small part to the worst economic downturn in American history. Paul Ryan also seems to be carving out an exception to this general rule given his elevation to Speaber of the House, but for the most part being the second person on a losing ticket has traditionally been a guaranteed ticket to political death. Given the prospect that Trump seems likely to lose a General Election race to Hillary Clinton, and lose big at that, there would seem to be few advantages for any candidate to join a ticket with him at the top. Added into this fact of history is the prospect of the damage that being associated with a candidate like Donald Trump could potentially do to a politicians future. As we've noted before, Trump's favorability numbers among voters in general rather than merely Republicans is at historic lows, and he does especially badly among women, African-Americans and Latino voters. In addition to risking the traditional fate of a losing Vice-Presidential running mate then, a candidate who agreed to be Donald Trump's running mate would risk being tainted with his incredibly bad reputation with the voting public. It's no surprise that so many Republicans are publicly saying they would not join him on a ticket.
Notwithstanding all of this, Trump will still need to find a running mate if and when he wins the nomination and the odds are that he will end up finding one rather easily. For one thing, some of the candidates who currently seem to be saying "No" may end up saying yes when the question is actually posed and the opportunity presents itself. Among the candidates who I'd put in this category are Ohio John Kasich and Florida Senator Marco Rubio, both of whom seem to be softening their anti-Trump rhetoric of late. Other potential candidates include New Jersey Governor Chris Christie, Florida Governor Rick Scott, and Oklahoma Governor Mary Fallin. Another name I'd keep an eye on would be Alabama Senator Jeff Sessions, who apparently served as an informal Trump adviser on immigration for months before becoming the first sitting Senator to endorse him earlier this year. It's also possible, I suppose, that Trump could pick someone from outside the GOP, but that seems unlikely. Trump is already the ultimate outsider and it's likely he's being advised that his running mate selection should be someone closer to traditional Washington politics if only to provide some balance and experience to the ticket.
Of course, Trump has spent this entire campaign succeeding by doing the unexpected so maybe those jokes about him picking a former Celebrity Apprentice contestant like Gary Busey or Meatloaf isn't far off off the mark.
Nah, even Donald Trump wouldn't be that crazy. Right? Right?