Don't Count the Tea Party Out of 2012
New rules for the 2012 primary open the door for a Tea Party candidate to take the GOP nomination.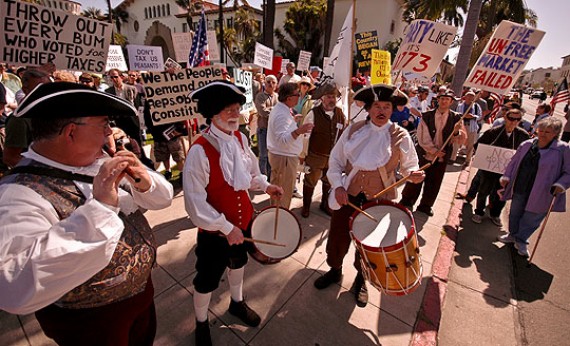 I have to disagree with James on his contention that some of the more popular conservative favorites won't be able to take the Republican nomination.
A small number of highly motivated people can have outsized influence in small turnout contests. That's one reason why the Iowa Caucuses are such an idiotic first stage in the presidential cycle, since it's often about organizing rather than real appeal. But, overall, a presidential nominating contest rewards those who start of with strong name recognition, have enormous message discipline, a strong organization, and the ability to raise lots of money.

There's zero chance Trump, Palin, Gingrich, or Santorum is the nominee. They're just too superficial, polarizing, or both to make much traction once people start focusing.
I agree that there's zero chance of Palin or Gingrich becoming the nominee, and I highly doubt that Palin will even run. But I wouldn't count Trump or Santorum out at all. And here's why: the GOP primary rules have changed.
In 2008, the Republican primaries were "winner-take-all": whoever got the most votes in the state (majority or no), got all the delegates. That's why Romney bowed out. Despite his strong showings in several primaries, second place in the GOP primaries got you the same number of delegates as last place. Early on in the race, there was no way he could win.
So if 2012 were run by 2008 rules, I'd agree that Romney was a lock — with his name recognition and organization, I've no doubt that he'd win enough states to prevent any other candidates from becoming competitive.
But 2012 won't be run by 2008 rules. The GOP has changed the March primaries to a proportional system — that is, candidates get the percentage of delegates of a state equal to their percentage of the vote among the voters. This is the system the Democrats use, and it's what made the Democratic primary of 2008 so nail biting – the delegate counts were close for a long while.
But how did the outsider candidate Obama take out the establishment candidate Clinton? By winning small states by big margins, and either winning some big states outright, or coming in a close enough second place to keep the delegate count close.
Now, the Republicans do have a little twist that the Democrats don't — GOP primaries that take place after March can operate under the winner-take-all system. Which means that there's an incentive for states to push their primaries later in order to enhance their clout.
This combination of proportional representation and a longer campaign opens the door for a more conservative candidate to knock Romney out. This is especially true of conservative activists and Tea Partiers are able to coalesce around one candidate very early on. And while I don't see Sarah Palin making a Presidential run, I wouldn't be surprised to see her give an early endorsement — which would provide a big push to that candidate. (Right now, my money on that endorsement is Trump, but let's see how the next few months shake out.)
A well-organized Tea Party consensus candidate would have a good chance of dominating smaller conservative states, adding enough to their delegate count to offset second place showings in larger states. The longer campaign driven by states pushing their primaries back also gives a chance for conservative activists, who are already not enamored by Romney, more opportunities to raise funds and awareness for their preferred candidate.
The bottom line is this: if Santorum or Trump or similar candidate that excites conservative activists takes the Iowa Caucuses and gets an early Palin endorsement, I wouldn't count them out of the nomination.