Don't Let him Read any Jefferson Biographies
Erick Erickson questions Jon Huntsman's loyalty to America.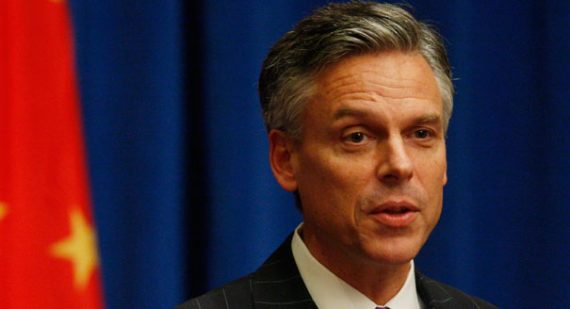 Erick Erickson of Red State is not too keen on Ambassador Jon Huntsman:  Why I Will Not Support Jon Huntsman. Ever.
The reason I will never, ever support Jon Huntman is simple: While serving as the United States Ambassador to China, our greatest strategic adversary, Jon Huntsman began plotting to run against the President of the United States. This calls into question his loyalty not just to the President of the United States, but also his loyalty to his country over his own naked ambition.
First, I am not sure that this is a big deal.  Had Huntsman plotted a coup, I will be all up with the hate.  However, I am not sure that we should expect members of a given administration to forgo any electoral ambitions because they serve a particular president.
Second, if I recall correctly, it was known at the time that Obama appointed Huntsman that Huntsman might have presidential ambitions.
Third, I couldn't help but think of Thomas Jefferson in this context, given that he secretly funded anti-Washington writings when he was in Washington's cabinet and did the same against John Adams when he was Adams' vice president (not to mention the whole running against Adams in 1800).  Yes, different times and different electoral rules (i.e., the 2nd place finished in the electoral college became VP), but still.
Of course, ultimately, I can't see that Erickson is going to have to test his convictions, given that Huntsman is unlikely to become a major contender, let alone the nominee.