Don't Support the Troops?
Virginia Tech English prof Steven Salaita implores us to "Stop saying 'support the troops.'"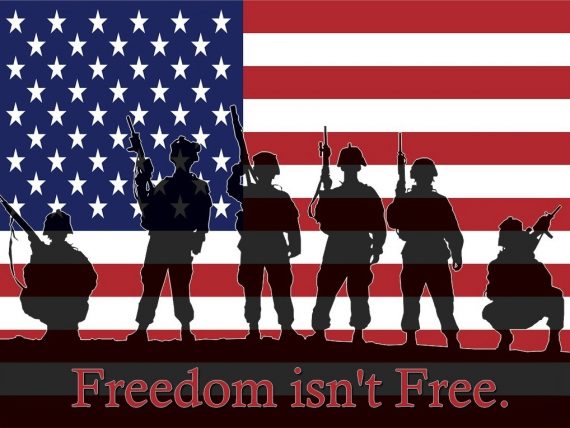 Virginia Tech English prof Steven Salaita implores us to "Stop saying 'support the troops.'"
"That'll be $1.82," the lady at the counter cheerily informed me. After I handed her two ones, she asked, "Would you like to donate your change to the troops?" I noticed a jar with "support our troops" taped to it in handwritten ink.

"No, thank you," I answered firmly.

"Well … OK, then, sir," she responded in subtle reproach, her smile not quite so ascendant anymore. "You have a good day now."

She had good reason to be disappointed. The vast majority of customers, I imagine, spare a few dimes and pennies for so important a cause. Her response evinced more shock than anger. She wasn't expecting a refusal of 18 cents, even from a guy who looks very much like those responsible for the danger to our troops.

Besides, nobody likes to have their altruism invalidated by a recalcitrant or ungrateful audience.

I could have asked how the donations would be used, but no matter the answer I would have kept my 18 cents. I don't consider patriotism a beneficent force, for it asks us to exhibit loyalty to nation-states that never fully accommodate their entire populations. In recent years I've grown fatigued of appeals on behalf of the troops, which intensify in proportion to the belligerence or potential unpopularity of the imperial adventure du jour.
Two initial thoughts here.
First, I never, ever give money in these situations. Indeed, I resent being asked. If I'm at your place of business to trade with you, I shouldn't be put in the awkward position of refusing to donate to your charity so that you can get the publicity and tax write-off.  I don't care if it's homeless pets, natural disaster victims, or the troops. If you want me to donate to your cause, send me a solicitation by mail and I'll evaluate it.
Second, my experience vis-a-vis enthusiasm for "the troops" is the opposite of Salaita's. The surges I've seen have all been during periods of national unity—the early-to-mid 1980s, Desert Storm, and 9/11—which then fade away as enthusiasm for the cause dies down. While the reverence for "the troops" and their sacrifices "for our freedom" remain with us, at levels that I've long maintained are unhealthy, the fervor isn't what it was a decade ago.
In addition to donating change to the troops, we are repeatedly impelled to "support our troops" or to "thank our troops." God constantly blesses them. Politicians exalt them. We are warned, "If you can't stand behind our troops, feel free to stand in front of them." One wonders if our troops are the ass-kicking force of P.R. lore or an agglomeration of oversensitive duds and beggars.
Salaita has me until the last sentence there. While there are no doubt some obnoxious soldiers and veterans who demand tribute for their sacrifices, most of the impetus is coming from those who haven't served. Many civilians feel an understandable if completely misplaced sense of discomfort with others putting life and limb on the line defending them when they themselves have not borne that weight. Politicians have many incentives to seek the deflected glory that comes with aligning themselves with "the troops" and to make it seem that disagreeing with their policy preferences somehow constitutes disloyalty to those fighting for the country.
Salaita continues:
A nation that continuously publicizes appeals to "support our troops" is explicitly asking its citizens not to think. It is the ideal slogan for suppressing the practice of democracy, presented to us in the guise of democratic preservation.
There, we largely agree. As the late George Carlin observed, "Symbols are for the symbol-minded." I'm generally annoyed by and uncomfortable with out-of-content appeals to patriotism. I don't have "Support the Troops" ribbons on my car or wear a flag on my lapel and, unless it's the 4th of July, find it odd to have the "Star Spangled Banner" and "God Bless America" performed at sporting events.
But "support our troops" can mean many things. While often used to demand reflexive support for our war effort, it can simply be a call to honor their sacrifices  regardless of one's views of the war we've sent them to fight. For that matter, it can mean that we owe a great deal to those who have been gravely wounded, physically or psychologically, fighting those wars. In those contexts, I support "support our troops."
The troops are now everywhere. They occupy bases and war zones throughout the Arab world and Central Asia and have permanent presence in dozens of countries. They also occupy every tract of discursive territory in the United States. The troops are our omnipresent, if amorphous, symbols of moral and intellectual austerity.
Here, we depart company. Salaita seems to blame our armed forces for the wars they're sent to fight by our elected leaders. They don't get to chose which wars to fight, only whether to sign up to take the risk of being sent to war.
Corporate entities are the worst offenders. On flights, troops are offered early boarding and then treated to rounds of applause during the otherwise forgettable safety announcements. Anheuser-Busch recently won the Secretary of Defense Public Service Award and in 2011 "Budweiser paid tribute to America's heroes with a patriotic float in the Rose Parade®." The Army's website has a page dedicated to "Army Friendly Companies"; it is filled with an all-star lineup of the Forbes 500 as well as dozens of regional businesses.

I do not begrudge the troops for availing themselves of any benefits companies choose to offer, nor do I begrudge the companies for offering those benefits. Of greater interest is what the phenomenon of corporate charity for the troops tells us about commercial conduct in an era of compulsory patriotism.

It tells us, first of all, that corporations care far less about the individuals who happen to have served in the military than they do about "the troops" as an exploitable consumer category. Unthinking patriotism, exemplified by support of the troops (however insincere or self-serving), is an asset to the modern business model, not simply for good P.R., but also for the profit it generates.
As a veteran myself, I'm actually more than a little uncomfortable with strapping young soldiers in uniform availing themselves of early boarding along with old ladies in wheelchairs and parents with young children. It's unseemly and reverses the very notion of selfless service to the nation.
Beyond that, though, I think Salaita is too cynical about corporate motives here (and coming from me, that's saying something). I have no reason to doubt that the desire to honor the sacrifices of our troops during a period of extended war is genuine. But, yes, there's also a benefit to wrapping oneself in the flag.
This is just downright obnoxious:
Multinational corporations have a profound interest in cheerleading for war and in the deification of those sent to execute it. For many of these corporations, the U.S. military is essentially a private army dispatched around the world as needed to protect their investments and to open new markets. Their customers may "support our troops" based on sincere feelings of sympathy or camaraderie, but for the elite the task of an ideal citizenry isn't to analyze or to investigate, but to consume. In order for the citizenry to consume an abundance of products most people don't actually need, it is necessary to interject the spoils of international larceny into the marketplace.
Aside from the defense industry itself, what possible corporate interest is served by the war in Afghanistan or the various largely untalked about mini wars in places like Yemen and Somalia? And, what, precisely, are Americans consuming more of in response to any of these conflicts?
The next section mixes good points with the most outrageous slanders:
Clichés aren't usually meant to be analyzed, but this one illuminates imperialism so succinctly that to think seriously about it is to necessarily assess jingoism, foreign policy, and national identity. The sheer vacuity and inexplicability of the phrase, despite its ubiquity, indicates just how incoherent patriotism is these days.

Who, for instance, are "the troops"? Do they include those safely on bases in Hawaii and Germany? Those guarding and torturing prisoners at Bagram and Guantánamo? The ones who murder people by remote control? The legions of mercenaries in Iraq? The ones I've seen many times in the Arab world acting like an Adam Sandler character? "The troops" traverse vast sociological, geographical, economic and ideological categories. It does neither military personnel nor their fans any good to romanticize them as a singular organism.

And what, exactly, constitutes "support"? Is it financial giving? Affixing a declarative sticker to a car bumper? Posting banalities to Facebook? Clapping when the flight attendant requests applause?
Yes, "support the troops" is vague. Yes, it includes those serving in the rear as well as those in hostile fire zones, since they're all part of the same team and eligible to face danger. And, yes, the level and meaningfulness of the "support" being asked for differs.
But, no, the troops serving in Iraq aren't mercenaries. And our defense contractors, whether mercenaries or not,  aren't troops.
Those guarding prisoners are troops and deserve our support, whether or not you like the fact that those prisons exist. It ain't their policy, it's President Obama's and, before that, President Bush's. Those incredibly few troops involved in torture are guilty of crimes and, no, they shouldn't be supported in their crimes.
I have serious misgivings about our drone policy, in particular the "signature strikes" issue. But it's either a vicious slander or stupidity of the highest order to call killing suspected enemy combatants during a war "murder."
The column actually deteriorates from there, so I'll truncate the analysis of it there.
The banality of "support the troops" is sufficient that I'd just assume see it go away as a slogan. Rather than free access to airport lounges, I'd prefer to see more reluctance to engage in unnecessary wars, more limited and achievable aims to those wars we do fight, provision of better equipment and medical care, and more appropriate compensation for those who suffer real harm from their service.
But let's not replace an empty sentiment with its opposite–disdain for those who serve in the military because we dislike the policies of our elected leaders. "The troops" don't set policy, they carry it out. And that's a very good thing.