Driverless Cars A Threat To Personal Privacy?
Will drivers really be okay with Google tracking everywhere they go in their self-driving car?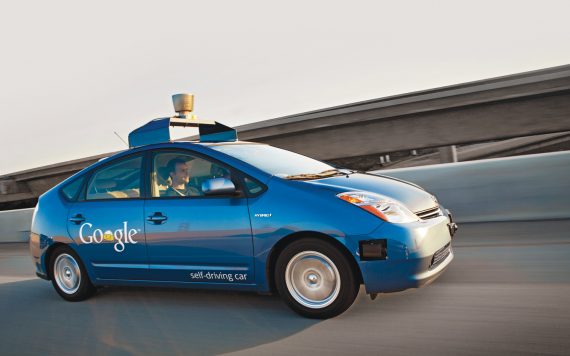 Writing in the June issue of Reason, Greg Beato argues that the driverless car future envisioned by Google's ongoing project, and which James Joyner wrote about last month, are a threat to personal privacy:
[W]hen Google presents its vision of a future where traffic jams have gone the way of pay phones and road rage consists of exchanging angry tweets with strangers about last night's episode of Celebrity Apprentice, an unspoken presumption underlies the narrative: Everyone is just as jazzed about driverless cars as Google is. In this vision there are no congested lanes caused by Luddites putt-putting down the highway at 80 miles an hour in their 2013 Porsche Boxsters. There are no daredevil pranksters gunning their old-school Camaros through standing red lights and laughing uproariously as all the robo-cars slam on their brakes in precise, automatic deference. Everyone has gotten with the program, thus enabling the attainment of maximum safety, efficiency, and energy conservation.

But is everyone really so eager to see the automobile, which stands as one of history's great amplifiers of personal autonomy and liberty, evolve into a giant tracking device controlled by a $250 billion corporation that makes its money through an increasingly intimate and obtrusive knowledge of its customers?

Granted, we already use our phones and tablets to tell a growing scrum of data snoops where we go and what we do when we're not in front of our computers. At this point, however, we can still temper our disclosures fairly easily. We can disable the GPS. We can turn devices off completely or even leave them at home on occasion.

Boot up a Google car, however, and it's not so easy to cut the connection with the online mothership. If you use it as intended—i.e., in driverless mode—you immediately start sending great quantities of revealing information to a company that's already hoarding every emoticon you've ever IMed. Even if it were possible to operate the car in some kind of "manual" mode, you would likely still be sending information back to headquarters.

In time, Google will know when you arrive at work each morning, how many times a week you go to Taco Bell, how long you spend at the gym. As illuminating as our searches and other online behavior might be, there's still some room for ambiguity. Maybe you're doing all those searches on "brain tumor" because a relative is sick, or you're doing some sort of report, or you're simply curious. Combine that info with the fact that you start visiting the hospital every week, however, and Google knows you've got cancer.

The driverless car, in short, is a data detective's dream, a device that can discern when you get a new job, how many one-night stands you have, how often you go to the dentist. As demarcation lines between the real world and the virtual world continue to blur, autonomous cars will function not so much as browsers but links, the way we get from one appointment or transaction opportunity to the next. In theory, Google will determine the route to your desired destination based on distance, available infrastructure, and current traffic conditions. But what if Google, which already filters cyberspace for you, begins choosing routes as a way of putting you in proximity to "relevant content"?
Of course, the cars we are driving today are already collecting a lot of data about us, most of it without our knowledge. If your car has a GPS system, you are constantly in contact with the network of global positioning satellites circling the earth. Many cars now come equipped with rudimentary versions of an airplanes data recorder that can often be accessed to gain information about how the vehicle was being operated immediately prior to a collision. And, of course, many of us travel with smartphones that are loaded with applications that are sharing a data all the time. In the commercial world, many companies equip their vehicles with systems that allow them to track their location, both for safety purposes and to keep an eye on employees who might be slacking on the job or misusing company equipment. The Google driverless car, though, would be a massive step forward in the surveillance state. Granted, the data in question would be gathered by Google rather than by the government, but how long would it be before law enforcement would find a need to access that data, or figure out a way to do it on their own? I don't know about you, but there's something slightly disconcerting about the idea that I'd be tracked in this manner as I go about my day. It's one thing when Google is tracking my web searches in order to serve ads to me, it's quite another when they're following my car around and, with just a little work, able to find out intimate details about my life.
This is one reason why I'm skeptical about the idea that the era of the driverless car is going to mean an end to automobiles as we know them today. It's true that there's a lot about this technology that people are going to like, and it's likely to make things like ride-sharing far more convenient than it is today, thus cutting down on traffic in major cities. At the same time, though, there has always been a part of car ownership that has been about an enhanced sense of personal freedom. Being able to get in your car and drive anywhere at anytime without anyone knowing where you're going or when you'll be back can be liberating at times, and you're not really going to be able to do that if Google gets its way because you'll constantly be attached to the data stream from Google's omnipresent servers. There's just something missing there that I'm betting a lot of Americans aren't going to want to give up. Besides, being able to drive your own car can be fun, it's something that every teenager looks forward to once they hit 15 or 16 years or age. Simply being a a passenger in a computer-driven car just doesn't capture that same vibe and just doesn't seem compatible with the culture that has grown up around the American automobile. It's going to take a lot more than fancy technology and the promise that you'll be able to play Angry Birds while driving  being driven to work to convince Americans to give that, and their personal privacy up I think.