DT and the Cat5's
So weird.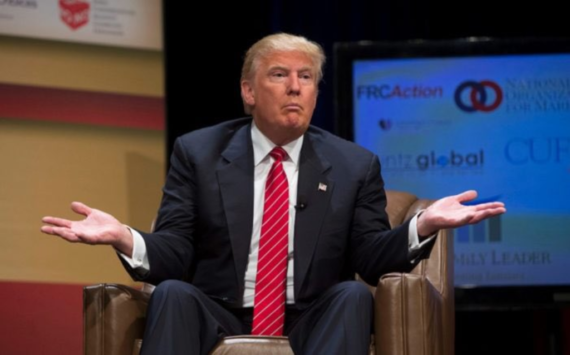 This is just plain weird: Trump doesn't think he's 'ever even heard of a Category 5' hurricane. Four such storms have threatened the US since he took office.
"We don't even know what's coming at us. All we know is it's possibly the biggest. I have — I'm not sure that I've ever even heard of a Category 5. I knew it existed. And I've seen some Category 4's — you don't even see them that much," Trump said at a briefing with officials at FEMA's headquarters in Washington, DC.

"But a Category 5 is something that — I don't know that I've ever even heard the term other than I know it's there. That's the ultimate, and that's what we have unfortunately," he added, in reference to Hurricane Dorian.
This is such a strange thing to say that one is taken aback. Is this just his carnival barker/hype-man style coming to fore? Does he really not remember the previous ones during his administration, not to mention those in recent history, such as Katrina? Is this mental decline?
In regards to the last two years:
In September 2017, nearly eight months into Trump's presidency, Hurricane Irma, one of the strongest Atlantic basin hurricane ever recorded outside the Gulf of Mexico and the Caribbean Sea, affected at least nine US states. That same month, Hurricane Maria devastated the US territory of Puerto Rico, leaving behind an island that is still struggling to recover.

Last October, Hurricane Michael, which was originally designated as a Category 4, barreled into the Florida Panhandle as the third Category 5 hurricane to blast the US since Trump.
But, you know, who ever talked about Maria and Puerto Rico? It was barely in the news, dontcha know.
And, weirdly:
Trump has previously indicated several other times that Category 5 hurricanes are unprecedented weather events that either he or others had never heard of or witnessed.

In the days between the landfalls of Hurricane Irma and Maria, he said he "never even knew" they existed and said days later that "people (in Puerto Rico) had never seen anything like" the storm.

In October 2017, Trump claimed "nobody has ever heard of a (Category) 5 hitting land," and earlier this year, he again said he had never heard of a hurricane of that intensity.
Here's a video montage: President Donald Trump, On Category 5 Hurricanes.
I do think part of it is his weird hype-man style, but it also shows a strange disengagement. If he can't be bothered to keep the knowledge of category 5 hurricanes in his head, no wonder he thinks that trade wars are good and easy to win, among other things.