Dump Trash at Boehner's Place
Why in the hell are Federal taxpayers footing the bill for residential trash collection in DC?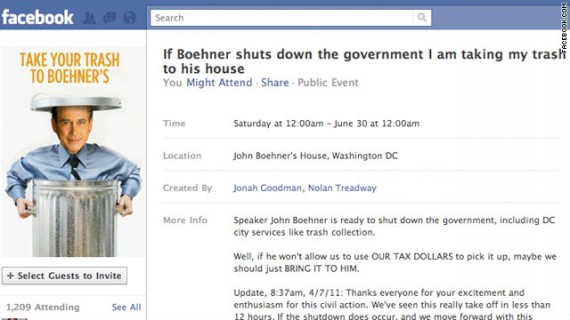 I saw this on Twitter yesterday but it's apparently gaining steam.
CNN's Ed Hornick ("Facebook event: Let's dump trash at Boehner's pad")
If the federal government shuts down come Friday, House Speaker John Boehner may be in for quite a mess at his Washington, D.C. residence if some Facebook users have their way.

A Facebook event, entitled "If Boehner shuts down the government I am taking my trash to his house," has popped up and is gaining steam as the shutdown showdown ramps up on Capitol Hill. If the federal government shuts down, one of the District's services that will stop is trash pickup.

"Speaker John Boehner is ready to shut down the government, including District of Columbia city services like trash collection," it says on the page. "Well, if he won't allow us to use OUR TAX DOLLARS to pick it up, maybe we should just BRING IT TO HIM."

As of 2:30 p.m. EST there are 1,476 attending; 126 are listed as maybe; 156 aren't showing up; and 4,652 are still making up their minds (much like Congress, apparently).
The trash-a-thon is scheduled for Saturday and apparently will last through June 30.

Organizers of the event – Jonah Goodman and Nolan Treadway – write on the page that even if the government shutdown doesn't occur, they will "move forward with this event, we'll provide details on location(s) and we'll make sure it's done in a sanitary and respectful way. Please don't list any personal addresses for members of Congress on this page."
Aside from the obvious criminality of carrying out this stunt and questions as to whether Boehner is solely or mostly to blame if the government shuts down, my main reaction to this is: Why in the hell are Federal taxpayers footing the bill for residential trash collection in DC?
You know who pays to pick up trash at the Joyner household? He's got two thumbs and is writing this post.
I understand that DC hosts the seat of the national government and am fully on board with defraying the additional burden that poses on the District. Extra police protection, infrastructure costs (roads, subways, etc. for commuters), and so forth should obviously be paid for by all of us.  Ditto, for that matter, trash pickup at the National Mall, Smithsonian Museums, and so forth. But, surely, the people who live in DC should pay for the ordinary costs of maintaining a city?
UPDATE:  A commenter says the real issue is DC's lack of budget autonomy. Essentially, "the federal government does not allow the District government to spend local tax dollars without Congressional and Presidential approval."
I was aware that Congress maintained significant control over DC despite home rule having gone into effect in 1973. And I have no philosophical objection to that: As the seat of government, DC is unique among American cities. But autonomy over such completely local matters as trash collection would seem obvious.