Earnings Plummet Over Last 30 Years
A picture is more misleading than a thousand words.
Catherine Rampell of the NYT has some fun with charts, attempting to answer the question "who had it tougher, father or son (or, mother or daughter)?"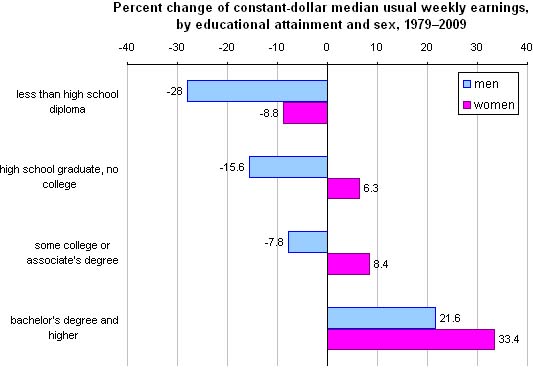 The chart above, adapted from a recent Bureau of Labor Statistics report, shows the difference in weekly pay between people with a given education level today and their counterparts from a generation ago.

As you can see, most men today earn less than equally educated men in 1979, with the exception of the most highly educated.  The opposite is true for women: Most women today earn more than their equally educated counterparts from 1979, with the exception of the least educated.
But, as she admits in the closing paragraphs, this doesn't mean what it would seem to mean:
There are a few forces behind these trends. One is that generally speaking, it's harder to make it in today's job market than it was a few decades ago if you don't have at least a high school degree, since the expectations for what educational credentials workers should possess have risen. This is in part because the economy is less dependent on lower-skilled, manual-labor-intensive industries like manufacturing, and more reliant on industries that require formally credentialed education and training, like health care. Thus, in general, the earnings potential for the most educated has risen, and that for the least educated has fallen.

Another consideration is that the gap between men's and women's pay has narrowed over the years. One effect of this is that women's wages, at most levels of education, have grown.
Of course, we knew that!
In 1979, most married women stayed at home with the kids or simply tended house; that almost immediately changed.   And, while being a high-school dropout wasn't exactly a road to riches even then, there were still entry level jobs that would take you and allow you to work yourself up if you were good enough.  Why, "self-service" was still a necessary descriptors for gas stations that didn't have attendants to pump it for you.   The personal computer was a novelty item and the Internet as we know it was nearly 15 years into the future.
Good thing that our levels of education have changed to keep up with the trend:
Americans are more educated than ever before, with a greater percentage graduating from high school and college than a decade ago, U.S. Census data released Tuesday show. Eighty percent of Americans are graduates of high school or higher, compared with 75.2% in 1990, the 2000 figures show. That change came about in part because of a decline in the rate of students dropping out before ninth grade: 7.5% in 2000, compared with 10.4% in 1990.
That report, based on the 2000 Census, came out in 2002.  It's almost surely even more stark now, at least for native-born Americans.
That's not to say that these trends are sustainable.  We can't keep increasing our level of meaningful education.   Everyone isn't college material or capable of doing intellectual work.   But the nature of modernity is that more skills are necessary to do median level jobs.