Eating Well On $1 A Day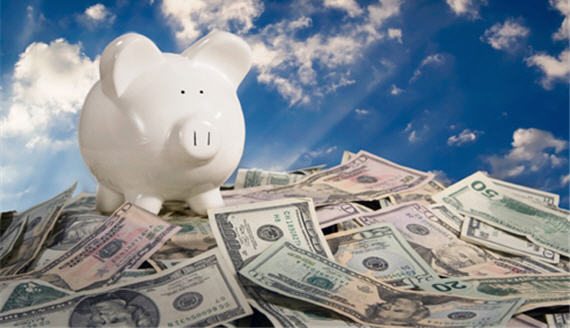 Jeffery, the owner of the blog Grocery Coupon Guide made a bet with his sister that he could, through judicious use of sales and coupons, eat healthily on $1 a day for a month.
And he did. With $2.92 to spare. The retail value of his purchases? $597.96.
Here's his grocery list for the month:
1 package of raisins
3 Power Bars
10 Deli Selections lunch packages
3 ears of corn
1 package of chicken breast deli style (1 lb)
5 packages hardwood smoked turkey franks
1 package of veggie spiral pasta
1 salt and pepper shaker combo
1 bag of salad
1 package of macaroni and cheese
3 sample packs of Maxwell House Vanilla Carmel Latte
4 sample packages of Wheat Thins Sundried Tomato & Basil
3 packages (small) Fig Newtons
1 jar Miracle Whip
1 potato
1 mystery purchase
1 lb ground beef
6 tomatoes
3 broccoli crowns
2 loaves of bread
2 jars of Classico pasta sauce
2 Safeway brand pasta (spaghetti and rotini)
1 celery stalk
2 bags tortilla chips
5 cans tuna
1 bottle Welch's grape & peach 100% juice
1 bottle V8 Fusion fruit / vegetable drink
1 bottle V8 spicy vegetable drink
2 boxes of Caprisun fruit drinks (10 packs)
1 jar of salsa
1 bag of black beans
3 half gallons of milk
36 boxes of cereal
3 dozen eggs
2 avocados
20 bananas
2 boxes of Quaker Instant oatmeal
55 packs of Philadelphia Cream Cheese Minis
1 package of Knudsen Light sour cream
20 apples
2 lbs of carrots
8 boxes (small) of Wheat Thins
2 jars of Skippy All Natural peanut butter
2 cans of pork and beans
1 bag of long grain brown rice
2 packages of Mission 100% whole wheat tortillas (10 count each)
Color me very, very impressed. His list of the 10 things he learned from the challenge is useful for anyone trying to trim their grocery budget.