Editors, Fact Checkers, and a Culture of Integrity
A culture of fact-checking, of honesty, is as important as the actual fact-checking.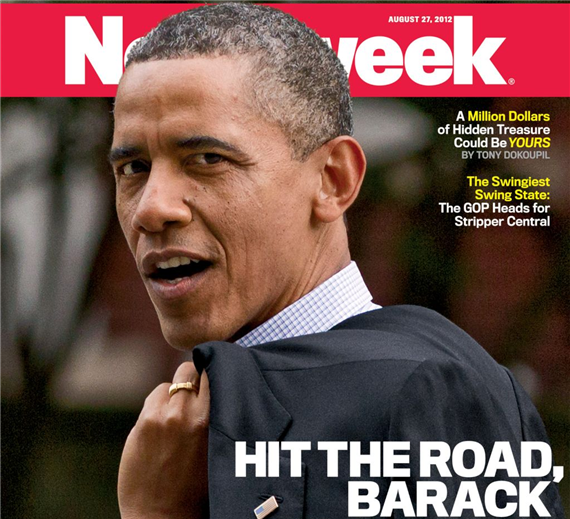 Newsweek is fighting for its survival, so they brought in Tina Brown to generate interest. She has responded, as anyone who's followed her career would have anticipated, by putting out one sensationalistic cover story after another. This week's was a particular embarrassment, an argument for why President Obama shouldn't be re-elected based on a series of fabrications, half-truths, and plain weak-ass nonsense.
Contacted to explain how such sloppy work made it through their editorial process, Newsweek told POLITICO that, well, they don't have an editorial process.
Ta-Nehisi Coates attributes this decline to the economic woes besetting both Newsweek and journalism, generally, but notes that he's been fortunate to work at places that maintain inordinately high standards.
When I arrived at The Atlantic in 2008, I was subjected to arguably the most thorough fact-checking procedure in all of popular publishing. That meant submitting an annotated version of the story with all sources cited, turning over all my notes, transcripts or audio, and the names and numbers of each of my sources, all of whom were called to confirm the veracity of my quotes. When I freelanced for The New Yorker, it was pretty much the same deal and the same level of scrutiny. (I think The New Yorker actually pioneered this particular version of fact-check.)

Being fact-checked is not very fun. Good fact-checkers have a preternatural inclination toward pedantry, and sometimes will address you in a prosecutorial tone. That is their job and the adversarial tone is even more important than the actual facts they correct. In my experience, seeing your name on the cover of a magazine will take you far in the journey toward believing your own bullshit. It is human to do so, and fact-checkers serve as a valuable check to prevent writers from lapsing into the kind of arrogant laziness which breeds hand, plagiarism, and wholesale manufacture. The fact-checker (and the copy-editor too actually) is a dam against you embarrassing yourself, or worse, being so arrogant that don't even realize you've embarrassed yourself. Put differently, a culture of fact-checking, of honesty, is as important as the actual fact-checking.
Quite right. Alas, all of the pressures of modern publishing are in the opposite direction. Not only is proper fact-checking (and even copy-editing) expensive but it slows down the publication process in an era where rushing to be the first one to tweet news that everyone will soon have, anyway, is the norm. Further, truth is generally the enemy of the sensational and, well, sensational sells.
To be sure, enough of these embarrassments will permanently tarnish Newsweek's once-proud name among the types of people who obsessively follow Twitter or even read Ta-Nehesi Coates. Alas, they're not Tina Brown's target audience.