Egyptian Government Massacres More Peaceful Protestors
The US backed Egyptian government is massacring supporters of the ousted democratically elected government.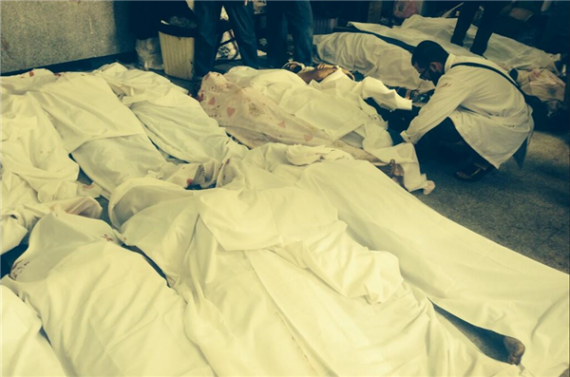 The US backed Egyptian government is massacring supporters of the ousted democratically elected government.
New York Times ("Scores of Demonstrators Killed in Egypt"):
The police and armed civilians opened fire Saturday with live ammunition on protesters against Egypt's new military government, witnesses said, killing scores of people as hopes faded that the Egyptian military would reach any political accommodation with the Muslim Brotherhood and its ousted president, Mohamed Morsi.

Clashes between the police and Mr. Morsi's supporters erupted about 11:30 p.m. Friday. Witnesses said the police were trying to disperse protesters as they approached a central Cairo bridge, using tear gas at first, but then the officers, joined by armed civilians, fired birdshots and ultimately live ammunition to drive the protesters back.

By later Saturday morning the bodies of at least 29 protesters were seen laid out on concrete floors in a makeshift morgue, while there were 20 more dead at a nearby hospital. The Muslim Brotherhood put the death count at 70 people overall.

"They are not shooting to wound, they are shooting to kill," said Gehad El-Haddad, a spokesman for the Brotherhood.

The burst of violence came after a vast state-orchestrated display of military power Friday, with army helicopters hovering low over a huge throng of flag-waving, pro-military demonstrators in Tahrir Square and soldiers deploying in armored personnel carriers across the capital.

The crowds had turned out in Cairo and other Egyptian cities in response to a call by the defense minister, Gen. Abdul-Fattah el-Sisi, for mass demonstrations he said would give him a "mandate" to fight terrorism, a phrase widely understood to mean crackdowns on the Brotherhood.

The mass gathering was another blow to the Arab world's most prominent Islamist group, which until recently was the major political force in government, having repeatedly won elections after the country's uprising two years ago.
Reuters ("Egyptian security forces shoot dead dozens of pro-Mursi supporters"):
 Egyptian security forces shot dead at least 70 supporters of ousted President Mohamed Mursi on Saturday, his Muslim Brotherhood said, days after the army chief called for a popular mandate to tackle "violence and terrorism".

Brotherhood spokesman Gehad El-Haddad said the shooting started shortly before pre-dawn morning prayers on the fringes of a round-the-clock sit-in being staged by backers of Mursi, who was toppled by the army more than three weeks ago.

"They are not shooting to wound, they are shooting to kill," Haddad said. The death toll might be much higher, he said.

Activists rushed blood-spattered casualties into a makeshift hospital, some were carried in on planks or blankets. One ashen teenager was laid out on the floor, a bullet hole in his head.

Al Jazeera's Egypt television station reported that 120 had been killed and some 4,500 injured in the early morning violence. A Reuters reporter at the scene counted 36 bodies at an improvised morgue.

There was no immediate comment from state authorities on what had happened. If the death toll is confirmed it would be the deadliest incident since Mursi was deposed, who is under investigation for a raft of crimes, including murder.

Weeks of violence have followed his ousting, leaving more than 200 dead and laying bare divisions that have polarised the Arab world's most populous state.
The Obama administration's options here, as in most of the region, range from bad to worse. But we must condemn this violence and suspend any and all aid transfers while this outrage is ongoing. We simply can't finance these thugs in the murder of peaceful protestors.