Elmore Leonard Dead at 87
Author Elmore Leonard has died at the age of 87.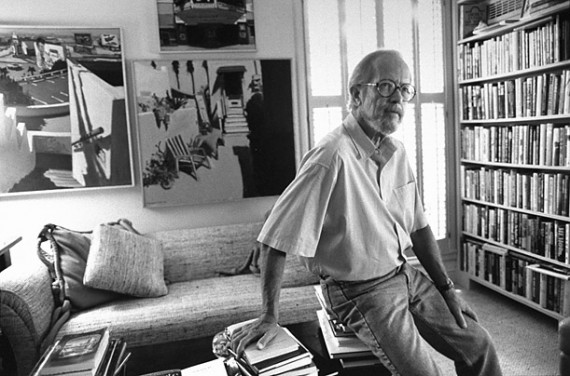 Author Elmore Leonard has died at the age of 87.
USA Today ("Author Elmore Leonard dies at 87"):
Elmore Leonard, best known for gritty crime novels including Get Shorty and shoot-em up westerns including the short story 3:10 to Yuma, died Tuesday morning from compications from a stroke. He was 87.

Most recently, Leonard was in the news for his connection to the FX series Justified which stars Timothy Oliphant. It's about disgraced U.S. Marshal Raylan Givens, a character created by Leonard. He was also an executive producer.

Leonard was born in 1925 in New Orleans. His family moved frequently, finally settling in the Detroit area when he was 11. Hs father worked for General Motors.

He said that his interest in literature began in the fifth grade when he read a serialization of All Quiet on the Western Front in a Detroit newspaper. In interviews through the years he said he was most influenced by writers including Ernest Hemingway, John Steinbeck and Raymond Carver.

Leonard's first novel, The Bounty Hunters, a western set in Southern Arizona, was published in 1953. He wrote more than 40 novels. Others include Mr. Paradise(2004), The Hot Kid (2005) and Up in Honey's Room (2007). His 2009 novel, Road Dogs, was about ex-con/career bank robber Jack Foley (a character from his 1996 novel Out of Sight who was portrayed by George Clooney in the 1998 film). His last novel Djibouti, about Somali pirates, was published in 2010.

He was also a screenwriter for some of his books turned to films including 1974's Mr. Majestyk starring Charles Bronson and 1972's Joe Kidd which starred Clint Eastwood.

Quentin Tarantino's acclaimed 1997 film Jackie Brown starring Pam Grier was based on Leonard's novel Rum Punch although he did not write the screen adaptation.

Leonard won many writing awards in his lifetime including the Grand Master Award of the Mystery Writers of America.
CNN ("Elmore Leonard, writer of sharp, colorful crime stories, dead at 87"):
He recently won a lifetime achievement award from the National Book Foundation.

"For a half-century, Elmore Leonard has produced vibrant literary work with an inimitable writing style," said the foundation's executive director, Harold Augenbraum.

In his stories, characters move from scene to scene, cracking wise while they do stupid, violent things.

He is the master of quirky, well-drawn characters, snappy dialogue, clever plot twists and a narrative style so spare it reads like haiku. Its simple beauty can put a bullet through your heart.

He thinks most crooks are dumb, and that dumb is funny. He likes a good caper and the violence seems to be almost incidental, more like an occupational hazard.
BBC ("Elmore Leonard, crime novelist, dies aged 87"):
Renowned for his terse, no-nonsense style and sparse use of dialogue, his works inspired numerous screen adaptations.

Hombre, 3.10 to Yuma, Get Shorty and Rum Punch were among those filmed, the latter by Quentin Tarantino under the title Jackie Brown.

One of his more heroic characters, US Marshal Raylan Givens, inspired the TV series Justified, while his 1978 novel The Switch was filmed this year as Life of Crime.

Yet Leonard was not always impressed by how his books were adapted, being particularly dismayed by the two films made of his 1969 novel The Big Bounce.

"I wanted to see my books made into good movies, but for some reason they'd just be lame," he once said.

"At first that sort of thing frustrated me, but I've since learnt to live with it."
NYT ("Elmore Leonard, Who Refined the Crime Thriller, Dies at 87"):
To his admiring peers, Mr. Leonard did not merely validate the popular crime thriller; he stripped the form of its worn-out affectations, reinventing it for a new generation and elevating it to a higher literary shelf.

Reviewing "Riding the Rap" for The New York Times Book Review in 1995, Martin Amis cited Mr. Leonard's "gifts — of ear and eye, of timing and phrasing — that even the most indolent and snobbish masters of the mainstream must vigorously covet." As the American chapter of PEN noted, when honoring Mr. Leonard with its Lifetime Achievement award in 2009, his books "are not only classics of the crime genre, but some of the best writing of the last half-century."

Mr. Leonard's first story was published in Argosy magazine in 1951, and 60 years later he was still turning out a book a year because, he said, "It's fun."

It was in that spirit that Mr. Leonard, at 84, took more than a casual interest in the development of one of his short stories, "Fire in the Hole," for television. "Justified," as the FX series was called, won a Peabody Award in 2011 in its second season and sent new fans to "Pronto" (1993) and "Riding the Rap" (1995), two novels that feature the series's hero, Raylan Givens (played by Timothy Olyphant), a federal marshal from Harlan Country, Ky., who presents himself as a good ol' country boy but is "not as dumb as you'd like to believe."

Approving of the way the show was working out, Mr. Leonard wrote his 45th novel, "Raylan," with the television series in mind. Published in 2012, it featured three strong female villains and gave its cowboy hero license to shoot one of them.

Acknowledging his approval of "Justified" was a major concession for Mr. Leonard, who was candidly and comically disdainful of the treatment his books generally received from Hollywood, even commercially successful films like "Get Shorty," "Be Cool" and "Out of Sight." His first novel, "The Big Bounce," was filmed twice, in 1969 and 2004. After seeing the first version, he declared it to be "at least the second-worst movie ever made." In a much-told anecdote, he said that once he saw the remake, he knew what the worst one was.

In an interview with Doug Stanton for the National Writers Series in Traverse City, Mich., in 2011, Mr. Leonard succinctly explained why "Get Shorty," the 1995 movie starring John Travolta was a faithful treatment of his novel of the same name, and why its sequel, "Be Cool," was not. The directive he had given the producers about his clever crooks — "These guys aren't being funny, so don't let the other characters laugh at their lines" — was, he said, heeded in the first case and ignored in the second.
Also of interest: Elmore Leonard's  10 Rules for Writers:
 Never open a book with weather.
 Avoid prologues.
 Never use a verb other than "said" to carry dialogue.
 Never use an adverb to modify the verb "said"…he admonished gravely.
 Keep your exclamation points under control. You are allowed no more than two or three per 100,000 words of prose.
 Never use the words "suddenly" or "all hell broke loose."
 Use regional dialect, patois, sparingly.
 Avoid detailed descriptions of characters.
 Don't go into great detail describing places and things.
 Try to leave out the part that readers tend to skip.

My most important rule is one that sums up the 10.

If it sounds like writing, I rewrite it.
Some authors successfully get away with detailed character description but otherwise the rules are apt.
I've been watching Justified via Amazon streaming the past few weeks and am enjoying it immensely.