Ending the Afghan Slog
My latest for The National Interest, "Ending the Afghan Slog," has posted.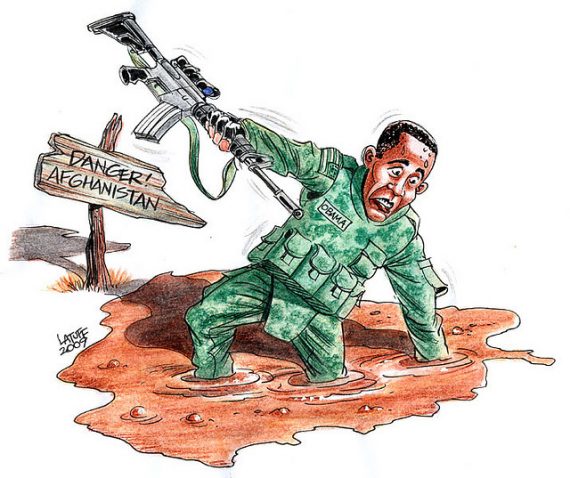 My latest for The National Interest, Ending the Afghan Slog, has posted. It pushes back on President Obama's recent declaration that he was dealt a bad hand in Afghanistan and that we should therefore be patient, noting that it was he who declared "our security is at stake in Afghanistan and Pakistan" and doubled down on the fight.
As a consequence, we've lost more than twice the number of Americans in Obama's three years than we did during the eight years of the war effort under Bush.

Yet we've failed to get appreciably closer to any of [Obama's announced] objectives.

[…]

Recent events have only exacerbated a gloomy situation. A stupidly orchestrated burning of Korans and other religious documents by American troops, combined with inflammatory rhetoric by Karzai and other Afghan leaders, helped ignite a spree of murder and mayhem. This was closely followed by a massacre of Afghan women and children by an American staff sergeant, apparently intoxicated and brain damaged. And the murder of American soldiers and marines by the very Afghan forces they've worked so hard to train has now become almost commonplace.

These incidents have poisoned opinion on both sides, perhaps permanently. Afghans who view Americans as occupiers and infidels with no respect for their society and culture feel vindicated-as do Americans who view Afghans as barbaric holdovers from bygone centuries.

Throughout it all, Karzai has proven craven and duplicitous, hedging his bets rather than leading to tamp down tensions. Most recently, he has demanded that NATO forces leave Afghanistan's rural areas and that the handover of security responsibility to Afghan forces, scheduled for 2014, be moved up to 2013. No matter that they're demonstrably unready.

The bottom line is that we are no closer to "getting Afghanistan right" than we were when Obama took office, and there's little appetite among the American public, American military or American allies to stick it out.
More at the link.