Endless War Causing Trouble At The Top ?
Are new war strategies putting too much strain on commanders in the field ?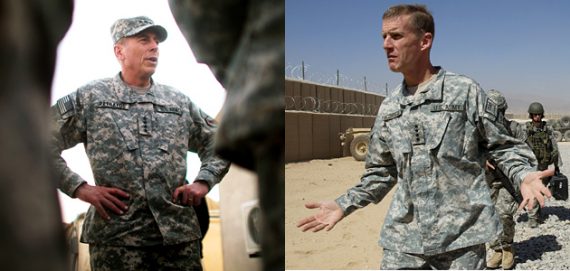 In addition to the troops, and the American public, America's nine-year long War on Terror seems to be having an impact on America's military leadership:
Since 2001, a dozen commanders have cycled through the top jobs in Iraq, Afghanistan and the U.S. Central Command, which oversees both wars. Three of those commanders — including the recently dismissed Gen. Stanley A. McChrystal — have been fired or resigned under pressure.

History has judged many others harshly, and only two, Gen. David H. Petraeus and Gen. Ray Odierno, are widely praised as having mastered the complex mixture of skills that running America's wars demands.

For the military, this record of mediocrity raises a vexing question: What is wrong with the system that produces top generals?

Much of what top commanders do in such places as Afghanistan and Iraq bears little relation to the military skills that helped them rise through the ranks, military officials said. Today's wars demand that top commanders act like modern viceroys, overseeing military operations and major economic development efforts. They play dominant roles in the internal politics of the countries where their troops fight.

When support for these long wars inevitably flags back home, the White House often depends on its generals to sell the administration's approach to lawmakers and a skeptical American public. To the military's extreme discomfort, its generals often act like shadow cabinet secretaries.

"What we ask of these generals is a very unusual skill set," said Stephen Biddle, a senior fellow at the Council on Foreign Relations, who has advised both Petraeus and McChrystal. "It is a hard thing for anyone to do, much less than someone who comes to it so late in life."
And the fact that, to some extent, the mission we're asking these Generals to fulfill isn't exactly the one that they've been spending their lives training for. In addition to being successful on the battlefield, we're also asking them to be diplomats, cultural ambassadors, negotiators with local tribesman, and, of course, spokesmen to the international media. None of these are skills that the military spends much time teaching it's officers and, it's clear that some of America's greatest Generals through history (i.e., Sherman, Patton, MacArthur, Bradley) would not be well-suited to the task of being, so to say, a modern Major-General. So, finding the right General for the task may not be as easy as it seems.
That doesn't mean that the military isn't looking, though:
The struggle to produce successful senior commanders has spurred a search in the Pentagon for the magic formula that will produce more warrior-diplomats. One school of thought holds that, given the breadth of skills required for today's high-command jobs, officers should be selected and groomed at an early stage of their careers, with tours in Washington, battlefield commands and time in civilian graduate schools.

Petraeus spent extensive time working for three top generals; two of his tours were in the Pentagon, where he worked directly for the both the Army chief of staff and the chairman of the Joint Chiefs of Staff in the late 1990s. His unusual career path generated grumbling among peers who thought that real officers should be in the field. Others complained that he seemed to be trying too hard to make top rank. But the experience is now seen as having given him the political savvy he has needed to be successful in the latter part of his career.

Currently, all of the armed services are hatching plans to send more of their high-performing young officers to graduate school. Air Force Gen. Norton A. Schwartz, for example, has posited that more pilots with PhDs will increase his service's "intellectual throw-weight." But the military remains deeply uncomfortable with idea of targeting a subset of officers for an elite education, with the aim of installing them in senior command slots decades later.

(…)

There is also widespread skepticism that the military's slow-moving bureaucracy can come up with a system for routinely producing innovative officers with the political, bureaucratic and battlefield skills needed to lead at the highest levels.

"A lot of the service's efforts feel like groping in the dark," said Biddle, of the Council on Foreign Relations.
One could say that about much of our current war strategy, actually.