Engaging North Korea
Our current approach isn't working.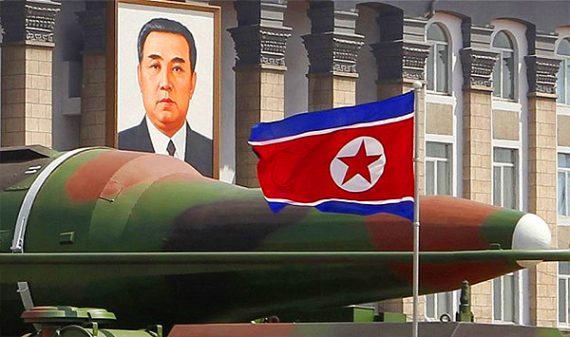 John Wickham has an op-ed in the Arizona Daily Star urging that the "US must engage North Korea in talks with an eye toward a peace treaty."
Who is this Wickham character and why am I highlighting something written in a Tuscon newspaper? Well, Wickham was chief of staff of the Army from 1983 to 1987. Prior to that, he commanded UN Command and 8th Army, putting him in charge of all forces, American and otherwise, in South Korea. And he helped avert disaster back in 1979 after President Park Chung-hee was assassinated, later writing about it in Korea on the Brink. Which is to say: he's been paying close attention to the peninsula for more than three decades and isn't  some hippy peacenik with no clue about the security situation.
So, what's his argument?
Our policy for decades has been to impose severe sanctions and to isolate the country in hope that suffering will force leaders to abandon hostility and abide fully with the United Nations Nuclear Nonproliferation Treaty they signed years ago. We persist with this tough policy and conservative voices argue we must not reward bad behavior by easing sanctions or negotiating bi-laterally.

However, I believe our policy now must be revised.

[…]

The country of Myanmar may offer an example of beneficial change from openness. The former harsh military leadership of Myanmar realized that opening up to the outside world would provide economic aid and opportunity for growth and so their tyrannical policies and leadership have changed.

Given the close relationship between North Korea and Myanmar, this profound change and its attendant benefits could be motivational for North Korean leaders.

Accordingly, I believe we should pursue talks with North Korean leaders and include South Koreans. These talks could focus on working out a peace treaty for the Korean War, something the North Koreans seek and would ease their paranoia about security. The talks also could explore options for removing economic sanctions, perhaps in a phased manner, so that trade and development could begin.

The military sanctions should remain for now. The quid pro quo for a peace treaty and opening up economic opportunities could be North Korean agreement to abide by requirements of the Nuclear Nonproliferation Treaty, to join the Missile Technology Control Regime, which would stop missile proliferation, and to halt further military provocations, including cyberattacks.
Whether such a deal is possible is outside the scope of my expertise. I just don't have enough of a read of Kim's motivations or the degree to which he or his military is calling the shots.
But Wickham is surely right that the current, bipartisan, approach isn't working. Most notably, we weren't able to prevent the DPRK from obtaining nuclear weapons, dissuade them from testing said weapons, and are not going to keep them from perfecting long range missiles to effectively deploy said weapons. Nor, incidentally, would even an effective peace treaty likely achieve those goals; the regime simply gains too much from being a minor nuclear power.
Given that, the goal should be to lower tensions. Treating  North Korea as a pariah state does the opposite. And the combination of high tensions; an unstable, untested, leader; a population and military that sees the United States and South Korea as mortal enemies; and nuclear missiles is not a good one.