England Facing Coldest Winter in More Than 300 Years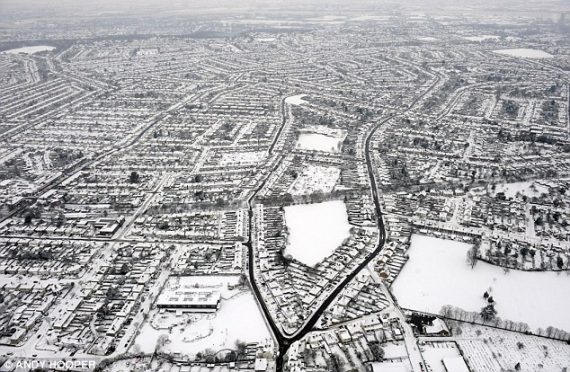 Forecasters in the United Kingdom are saying that upcoming winter could be the most severe the nation has experienced since Charles II was King:
If you thought last week was as cold as you could bear it, brace yourself. Forecasters say the worst is yet to come, and this winter could be the harshest since the Thames froze over more than three centuries ago.

Temperatures for December are the coldest on record, with the average reading close to minus 1c – almost six degrees below normal.

And with forecasters warning that this winter's 'mini ice age' might last until mid-March, this winter could be the worst since 1683-84 when a fair was held on the Thames.

Met Office figures show that the average temperature from December 1, the first day of winter, to December 28 was a bitter minus 0.8c (30.5f).

This equals the record December low  of 1890.

But, with the mercury traditionally at its lowest in January and February, and more bracing weather on the way, this winter could bring the biggest freeze in 327 years.

Forecaster Brian Gaze of The Weather Outlook said: 'It's very unusual to have a sub-zero month – the last one at any time of year was February 1986.

'Dense cold air is just north of Britain and will never be far away. Once it is in place, it can stay for months.'

'January and February are expected to be significantly colder than average, with further snow for most of the country, and it will be no surprise at all if this persists until mid-March.'

Forecaster Ian Michael Waite said: 'We expect January to be colder than average – there's no way we're moving out of this mini ice age any time soon.'

During 1683-84, the coldest winter on record, average temperatures of minus 1.17c (31.7f) between December and February saw the frozen Thames turn into a winter wonderland of puppet shows, food stalls, horse races and ice bowling.
This follows a winter last year that was the coldest in over 30 years. It also brings to mind what climatologists now refer to as the Little Ice Age, a period that lasted from roughly AD 1250 until the early 20th Century and included cold temperatures in England and Scandinavia, rough winters in what would eventually become the northern United States, and which has been attributed to a combination of decreased solar activity, volcanic activity, and changes in ocean currents. This period had been preceded by another era now known as the Medieval Warm Period, and which lasted from AD 950 to AD 1250. These events remind us of a simple fact — the Earth's climate is in a constant state of change and it is influenced by a wide variety of factors. The idea that whatever period we are currently in is solely attributable to human behavior, or that there is anything that we can do to control a process that has been ongoing for billions of years is really the height of hubris.