Entire Nation Of Sierra Leone On Lockdown Due To Ebola Epidemic
The entire nation of Sierra Leone is essentially on lockdown due to the ongoing Ebola epidemic:
FREETOWN, Sierra Leone — The most ambitious and aggressive government campaign against the Ebola epidemic gripping parts of West Africa began on Friday when Sierra Leone ordered everyone in the country to remain indoors for three days, suspending commerce, emptying the streets and halting this beleaguered nation in its tracks in an attempt stop the disease from spreading.

Calling the struggle against Ebola a matter of life or death, the government mustered police officers, soldiers and nearly 30,000 volunteers to go house to house, hoping to educate the country about the dangers of Ebola and identify people who might pass the disease to those around them.

"Some of the things we are asking you to do are difficult, but life is better than these difficulties," President Ernest Bai Koroma said in an extraordinary radio address on Thursday night explaining the national lockdown.

There is no large-scale treatment center for Ebola patients in the capital, Freetown, so many patients have to be placed in a holding center until they can be transported to a facility hours away — that is, if an ambulance can be found to pick them up and if those packed facilities have room.

The countrywide lockdown showed the desperation among West African governments — particularly in the three hardest-hit countries, Guinea, Liberia and Sierra Leone — as they grapple with an epidemic that has already killed more than 2,600 people and shows no signs of slowing down.

While governments in the region have already cordoned off large swaths of territory in hopes of containing the outbreak, none have attempted anything on the scale of what is being tried here. The government says it wants to visit every residence in this country of about 6 million, with the aim of instructing people in how to stop the disease from being transmitted and to find out who is harboring sick people, with potentially deadly consequences.

"We have been sending lifesaving messages through radio, TV and print, but it's not enough," said Roeland Monasch, a representative for Unicef, which supported the government effort, providing money, advice and information materials. "We need to take information to where people are."
It's an extraordinary measure, of course, and it's unclear just how well authorities will be able to enforce this order if people disobey. Given the fact that the disease is spread by contact with bodily fluids, it does kind of make sense to impose this kind of quarantine but it's obviously not something that can stay in place for an extended period of time. Meanwhile, the current Ebola epidemic which appears to have begun sometime earlier this year, just seems to be expanding in western Africa, and according to this NPR report (audio at link) just seems likely to get worse, as this chart demonstrates: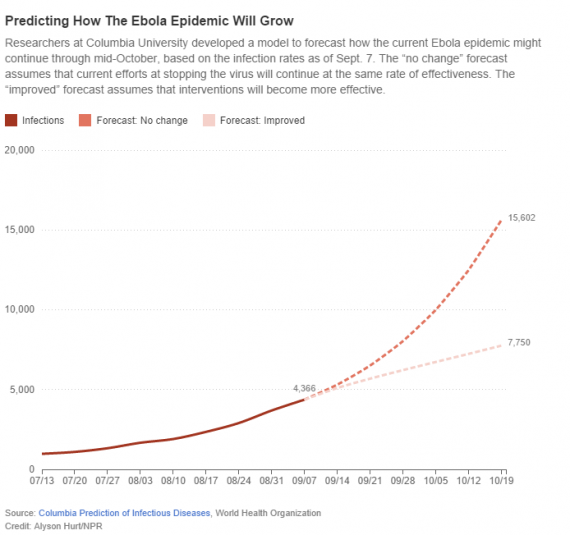 Things seem like they're going to get worse before they get better.