Eric Cantor, House Republican Leader, Loses in Republican Primary
An unknown Tea Party candidate unexpectedly beat the House Leader in today's GOP primary.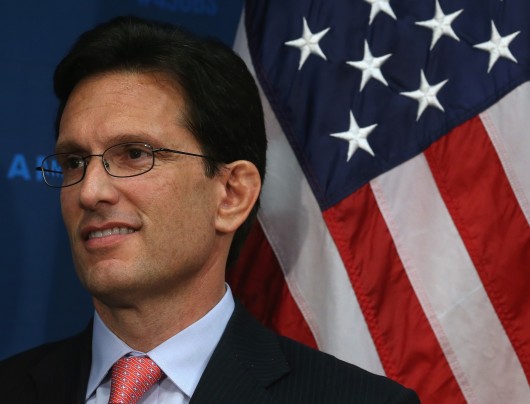 Breaking news: A Tea Party candidate has defeated Eric Cantor in a primary contest for his House seat.
AP:
In a stunning upset propelled by tea party activists, House Majority Leader Eric Cantor (R-Va.) was defeated in Tuesday's congressional primary, with insurgent David Brat delivering an unpredicted and devastating loss to the second most powerful Republican in the House who has widely been touted as a future speaker.

The race called shortly after 8 p.m. Eastern by the Associated Press.
WaPo reported this as of early this afternoon:
A conservative challenger is expected to fall far short of defeating House Majority Leader Eric Cantor (R-Va.) in Tuesday's congressional primary. Disorganization and poor funding have stymied the campaign of tea party activist David Brat, even as he tapped into conservative resentment toward a party leader who has been courting the Republican right for years.

Brat, an economics professor, simply failed to show up to D.C. meetings with powerful conservative agitators last month, citing upcoming finals. He only had $40,000 in the bank at the end of March, according to first quarter filings. Cantor had $2 million.

Despite those shortcomings, Brat has exposed discontent with Cantor in the solidly Republican, suburban Richmond 7th Congressional District by attacking the lawmaker on his votes to raise the debt ceiling and end the government shutdown, as well as his support for some immigration reforms. At a May meeting of Republican activists in the district, Cantor was booed, and an ally he campaigned for was ousted as the local party chairman in favor of a tea party favorite.

A similar revolt in the state Republican committee last year determined that the party would hold a two-day convention rather than an open primary to elect candidates in 2013. That decision helped gubernatorial contender Ken Cuccinelli II, a conservative hero who lost to Democrat Terry McAuliffe. Many establishment Republicans in the state believe Cuccinelli's nomination cost them the governorship. The 7th District fight is a sign that the factions in the party have yet to unite.

Since his days in the Virginia legislature, Cantor has been on the side of the pro-business, establishment. But he began to forge ties with the tea party in 2010, positioning himself as a conservative counterweight to House Speaker John A. Boehner (R-Ohio) after the movement helped sweep Republicans into power. Yet tea party activists in his own district have never embraced him.

Cantor has taken the primary threat seriously, attacking Brat in television ads and boasting in mailers that he blocked "amnesty" for illegal immigrants on Capitol Hill.
This came out of the blue.  As a Virginia resident (albeit not one in Cantor's district) I was only vaguely aware that there was an election today. Given torrential downpours, at least in these parts, much of the day, I'm sure that the horrendously low turnout one sees in primaries in an off-year election was lowered considerably.  Holding so many small elections—even worse in the Commonwealth, where major state elections are in the off-off years—virtually guarantees that only the most motivated partisans will vote. It's a really bizarre way to conduct a democracy.
I haven't the foggiest what this portends for November. Presumably, Brat will be a less effective general election candidate than the long-time incumbent. But it's a solidly Republican district and the Democrats barely fielded a candidate.
UPDATE:  POLITICO naturally sees this as more than a fluke of low turnout:
House Majority Leader Eric Cantor was toppled on Tuesday night in the most shocking primary defeat since Republicans took the House in 2010.

Dave Brat, a local economics professor who had tea party support, became the second challenger to defeat a House incumbent this primary season. Texas Republican Ralph Hall lost to a tea party insurgent at the end of May.

Brat also halted one of the most meteoric rises in national politics, and his win illustrates the strong anti-incumbent fever that has taken over Cantor's Richmond-area district.

Cantor's defeat not only reorders Virginia politics, where Cantor was the highest-ranking Republican, but it completely throws the House Republican leadership into flux. Cantor, 51, was long seen as the next speaker of the House after John Boehner retires.
Absent some larger trend, I'm still inclined to chalk this up to the absurdity of the process rather than some major portent for the future.
UPDATE 2:  CNN focuses on the surprise factor.
In the biggest upset of the year, the No. 2 Republican in the House, Eric Cantor, has lost to his tea party opponent in his primary in Virginia, CNN projects.

With 89 percent of precincts reporting on Tuesday, Cantor trailed his opponent Dave Brat 55% to 44%, according to the Virginia Secretary of State's website.

"This came out of nowhere," said Mark Preston, CNN's executive political editor, who said a defeat for Cantor would have national implications since he has been viewed as a potential speaker.

Brat is an economics professor at Randolph-Macon College outside Richmond.

Most Republicans view Cantor, 51, as the most conservative member in the House leadership lineup. He was President Barack Obama's chief foil in budget negotiations in 2011, a role he proudly points out during this campaign season.

In a phone interview with CNN on Monday, Brat argued that Cantor is more attentive to donors in New York and California and big business groups than he is to enacting an agenda based on Republican ideals.

"While he's got an eye on the speaker job, he's turned his back on his constituents," Brat said.
Again: What was the turnout? Unless it was unusually high for a primary, it's doubtful that message was the key factor here.