Eric Cantor, Jon Kyl Drop Out Of Biden Deficit Talks
Talks about a deal to raise the debt ceiling seem pretty close to collapse now that there are no Republicans involved.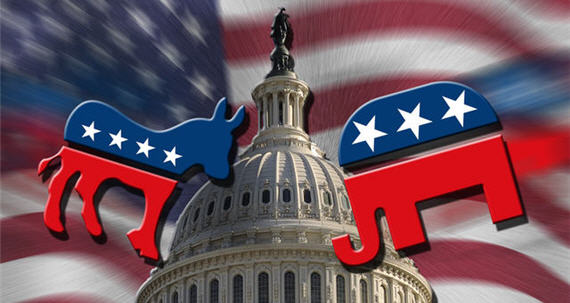 Earlier today, House Majority Leader Eric Cantor announced that he had dropped out of the deficit talks being led by Vice-President Biden over a dispute involving taxes:
Republicans launched a concerted campaign Thursday to draw President Barack Obama more directly into deficit-reduction talks, with House Majority Leader Eric Cantor saying that he will no longer participate in White House talks until the president has personally resolved the divisive issue of taxes.

Cantor's decision came as Senate Minority Leader Mitch McConnell (R-Ky.) delivered a broadside on the floor, also keyed to the tax issue and titled "Where's the President?"

"For weeks lawmakers have worked around the clock to hammer out a plan that would help us to avert a crisis we all know is coming," McConnell said. "So it's worth asking: Where in the world has President Obama been for the last month."

"What does he propose? What is he willing to do to reduce the debt and avoid the crisis that is building on his watch."

Cantor had sent mixed signals earlier this week, first saying that he wanted greater involvement by the president and then confirming that he remained committed to the talks led by Vice President Joe Biden. His decision now, first reported by the Wall Street Journal, caught even some in the GOP leadership by surprise. And it comes just as Cantor himself has been on the defensive in the talks over Democratic demands for greater cuts from defense spending.

Asked if he supported Cantor's decision to pull out of the talks, Speaker John Boehner (R-Ohio) said "I understand his frustration. I understand why he did what he did. But I think those talks could continue if they're willing to take the tax hikes off the table."
Shortly after Cantor made his announcement, Arizona Senator Jon Kyl announced that he too was dropping out of the talks:
Senate Minority Whip Jon Kyl, R-Ariz., will also drop out of the debt talks, a source within his office confirms today. The Arizona Republican's office will issue a formal statement shortly.

After House Majority Leader Eric Cantor (R-VA) dropped out of the talks this morning, Senator Kyl was the lone Republican in the group left. And with his withdrawal late this morning, the group does not have a Republican negotiator left in the room.

The group was set to meet for the 11th time this afternoon with Vice President Biden, their third meeting of the week.
On the surface this seems like bad news for the prospects of reaching a budget deal, especially given Boehner's comments that seem to support Cantor's position and the general idea that the GOP will not agree to any deal that results in higher taxes. Ezra Klein, however, suggests that Cantor's move has much more to do with political calculations inside the House GOP Caucus than the budget deal itself:
Earlier this month, Major Garrett, the congressional correspondent for the National Journal, profiled John Boehner. "It is not by accident that Boehner put Cantor in the room with Vice President Joe Biden to negotiate a debt-ceiling increase and the budget cuts and process reforms necessary to win House passage," he reported. "Boehner gave up some of his power to protect it. The debt deal must have Cantor's fingerprints on it."

But nor is it an accident that Cantor is fleeing the room now that the spending cuts have been chosen and the taxes have to be agreed to. For all the reasons that Boehner needs Cantor's fingerprints on the deal, Cantor can't put them there.

Cantor has the credibility with the Tea Party that Boehner lacks. But that's why Cantor won't cut the deal. The Tea Party-types support him because he's the guy who won't cut the deal. He can't sign off on tax increases without losing his power base. But if he's able to throw it back to Boehner, and Boehner cuts the deal, that's all good for Cantor: Boehner becomes weaker and he becomes stronger. Which is why Boehner will also have trouble making this deal. It'll mean he made the concessions that Cantor, the true conservative, didn't. That's not how he holds onto the gavel in this Republican Party.
The problem with this theory is that, at least for the moment, the twin withdrawal of Cantor and Kyl means that the Biden talks are effectively dead. There are no Republicans involved in the talks at this point and Speaker Boehner and Minority Leader McConnell are both saying they are 100% behind the "no new taxes, no tax increases" meme that the GOP has now adopted. In order for either one of them to return to the table, they'd have to go against that pledge, a move which would raise ire among the Tea Party and, most likely, the House GOP caucus. Without someone like Cantor, Kyl, or DeMint at the table to make the deal, it seems unlikely to me that a deal could be made that would pass Congress. Which means, this scenario becomes even more likely:
The pessimistic analysis is that if you had to write a plausible scenario for how America defaults on its debt, or at least seriously spooks the market, this is how it would start. After insisting on using the debt limit as leverage for a budget deal, the Republican leadership finds they can't actually strike a deficit-reduction deal, but nor can they go back on their promise to vote against any increase in the debt limit that isn't accompanied by a deficit-reduction deal. What follows is a lot of jockeying and fingerpointing, a short-term increase or two, and eventually, a market panic.

Cantor is putting personal power before country here, and in a very dangerous way. If Boehner actually does manage to cut a decent deal despite Cantor's effort to throw him under the bus, he may not hold on as leader of his party, but unlike Cantor, he'll deserve to. For better or worse, this is when we learn whether anyone on the Republican Party's leadership team is actually prepared to lead.
This brings to mind what Boehner said back in November about the debt ceiling issue:
On Thursday, Minority Leader John Boehner (R., Ohio) said he's been talking to the newly elected GOP lawmakers about the need to raise the federal debt ceiling when it comes up early next year.

"I've made it pretty clear to them that as we get into next year, it's pretty clear that Congress is going to have to deal with this," Mr. Boehner, who is slated to become House speaker in January, told reporters.

"We're going to have to deal with it as adults," he said, in what apparently are his most explicit comments to date. "Whether we like it or not, the federal government has obligations and we have obligations on our part."
I'm pretty sure Boehner wants to make a deal, but he's been backed into a corner by the Tea Party, the idiotic Grover Norquist tax pledge, and now his own No. 2 man. If he cuts a deal he'll pay a political price but, as I said back in November, it's a deal that has to be made:
Raising the debt ceiling is a crappy vote for any legislator to take. It demonstrates as plain as day the fiscal irresponsibility of the Federal Government, and the act of voting to push the debt limit even further into the fiscal stratosphere is one that looks bad on any representative's resume. However, it's also not a vote to be playing games with, as Boehner correctly points out. Unless Republicans intend to use the debt ceiling vote as a catalyst to force a national debate on making the kinds of spending cuts and tax changes that will be needed to seriously deal with the debt (and I would love it if they did), they need to just swallow their pride and cast the vote.
Reports have indicated recently that the Biden talks have been talking about budget cuts that would total as much as $ 1 or 2 trillion over ten years. That's not a lot, but it's something. Political intransigence over the idea that any increase in tax revenues — which can come about without even touching tax rates, of course — is off the table is simply absurd. At this point, I don't know what happens. Either Boehner makes a deal, and possibly seals his fate, or we head off into the uncharted territory of a debt default. There's one option that makes sense, and another that is totally nuts. Guess which is which.
And, one final thought, are there any adults left in Congress?