Eric Holder: Yes, We Can Kill American Citizens Without Trial
Attorney General Eric Holder offered a somewhat alarming defense of the Administration's policy on targeted killings.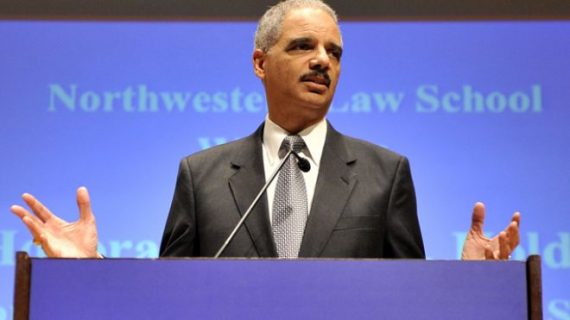 In the wake of the death of Anwar al-Awlaki in a drone strike in Yemen last year, there's been a growing debate over the propriety, and legality, of the power asserted by the Obama Administration in connection with the mission that the President could designate an American citizen for targeting without any due process. Yesterday, in a speech in Chicago, Attorney General Eric Holder justified the new doctrine:
WASHINGTON — Attorney General Eric H. Holder Jr. asserted on Monday that it is lawful for the government to kill American citizens if officials deem them to be operational leaders of Al Qaeda who are planning attacks on the United States and if capturing them alive is not feasible.

"Given the nature of how terrorists act and where they tend to hide, it may not always be feasible to capture a United States citizen terrorist who presents an imminent threat of violent attack," Mr. Holder said in a speech at Northwestern University's law school. "In that case, our government has the clear authority to defend the United States with lethal force."

While Mr. Holder is not the first administration official to address the targeted killing of citizens — the Pentagon's general counsel, Jeh Johnson, did so last month at Yale Law School, for example — it was notable for the nation's top law enforcement official to declare that it is constitutional for the government to kill citizens without any judicial review under certain circumstances. Mr. Holder's remarks about the targeted killing of United States citizens were a centerpiece of a speech describing legal principles behind the Obama administration's counterterrorism policies.

"Some have argued that the president is required to get permission from a federal court before taking action against a United States citizen who is a senior operational leader of Al Qaeda or associated forces," Mr. Holder said. "This is simply not accurate. 'Due process' and 'judicial process' are not one and the same, particularly when it comes to national security. The Constitution guarantees due process, not judicial process."
This is both accurate and utterly incompletely. Yes, it's true that the Constitution — specifically in this case the 5th Amendment — does not specifically require judicial hearings in all cases. However, throughout the history of the United States and, indeed the Common Law tradition in England from which our law largely originates, the idea of due process and a hearing before an impartial tribunal have gone hand in hand. That's where things like the Writ of Habeus Corpus, known in English Law as the Great Writ, comes from. Once the courts in England had the authority to demand that anyone being held by brought before them and the Crown explain why they were being held, the ability of the King to hold people indefinitely, or to try them in secret came to an end. Now, here we are some 900 years after the Magna Carta, and the chief law enforcement officer of the United States is essentially suggesting that an American President can sentence an American citizen to death via nothing more than a committee meeting in some windowless room in the White House. Is that really due process? It certainly doesn't seem like it to me.
Here's how Holder explained this "review process"  in the speech:
Let me be clear: an operation using lethal force in a foreign country, targeted against a U.S. citizen who is a senior operational leader of al Qaeda or associated forces, and who is actively engaged in planning to kill Americans, would be lawful at least in the following circumstances: First, the U.S. government has determined, after a thorough and careful review, that the individual poses an imminent threat of violent attack against the United States; second, capture is not feasible; and third, the operation would be conducted in a manner consistent with applicable law of war principles.
Bernard Finel reminds us all of the Star Chamber, and then asks:
How is our current scheme for targeted killings any different? State murder of political enemies on the basis of secret memos. That is the very essence of the Star Chamber, and the precise reason why that practice became a symbol of tyranny.

Look, I get that there are bad guys out there. And indeed, we may need to kill them on occasion. But why not have a public process? Why not require indictments and trials in absentia. Why not have judicial review?

Yes, the Star Chamber model is quicker. But since when is that the determinative principle on issues that confront fundamental questions of democratic governance and civil liberties?
This is a question I have been asking ever since the Obama Administration announced that the President had in fact placed al-Awlaki on a target list. When relatives of his in the United States, along with the American Civil Liberties Union, attempted to get a Court to intervene in the matter, they were unsurprisingly rebuffed and, after the murder took place (and yes, it was a murder) the Administration refused to release even a redacted copy of the legal memo that was supposedly prepared by Justice Department lawyers to justify this action. To this day, they still refuse to release that document. The American people, it seems, are to be denied the right to know how their government justifies granting the President of the United States once claimed by the Kings we overthrew when we became a nation. No, I take that back,. Even George III didn't have the kind of authority that the Administration is asserting here, or at least he lived in an era where standards of propriety prevented it from ever even being considered.
Glenn Greenwald, in a must-read piece, nails it:
The most important point to note for this entire debate is how perverse and warped it is that we're even having this "debate" at all. It should be self-negating — self-marginalizing — to assert that the President, acting with no checks or transparency, can order American citizens executed far from any battlefield and without any opportunity even to know about, let alone rebut, the accusations. That this policy is being implemented and defended by the very same political party that spent the last decade so vocally and opportunistically objecting to far less extreme powers makes it all the more repellent. That fact also makes it all the more dangerous, because — as one can see — the fact that it is a Democratic President doing it, and Democratic Party officials justifying it, means that it's much easier to normalize: very few of the Party's followers, especially in an election year, are willing to make much of a fuss about it at all.

And thus will presidential assassination powers be entrenched as bipartisan consensus for at least a generation. That will undoubtedly be one of the most significant aspects of the Obama legacy. Let no Democrat who is now supportive or even silent be heard to object when the next Republican President exercises this power in ways that they dislike.
That's really the most important point of all. If there's one thing that history has taught us about these assumptions of power by the Presidency it's that, once assumed they are never retracted. For all of the Democratic Party's criticism of manner in which the Bush Administration asserted powers for itself while conducting the War On Terror and the Iraq War, the Obama Administration has not foresworn any of those assertions of power. Indeed, on more than one occasion, the Obama White House has relied upon legal arguments developed during the Bush Administration, including the so-called "state secrets" doctrine, which it has used to block more than a few efforts to bring judicial review to Presidential decision making in this area. Do not doubt that whoever succeeds Barack Obama, whether that occurs in January 2013 or January 2017, will continue to assert that they too have the authority to target people for killing based on secret proceedings using secret evidence and conducted wholly outside public view? Once again, we've let a President open Pandora's Box and nobody knows what might come out.