Erin Brockovich Town: Cancer Rates Normal
Hinckley, California -- the town that Erin Brockovich made famous -- has slightly less cancer than we'd expect.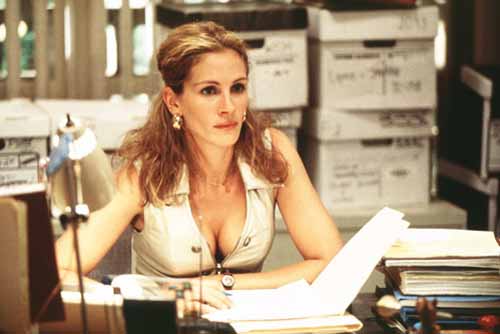 Hinckley, California — the town that Erin Brockovich made famous — has slightly less cancer than we'd expect.
Tim Cavanaugh for Reason:
Hinkley, California, the town made famous in the Oscar-winning Julia Roberts movie Erin Brockovich, does not show any evidence of an increased rate of cancers.

Pacific Gas and Electric, which released a toxic plume of hexavalent chromium 6 from a Hinkley-based natural gas pipeline station, paid a record $333 million to settle a class-action suit in 1996. But the California Cancer Registry has now completed three studies that show cancer rates remained normal in from 1988 to 2008.
Lousi Sahagun for LAT:
A state survey has not found a disproportionately high number of cancers in Hinkley, a high-desert community that has become the symbol of public fears about exposure to groundwater tainted with carcinogenic chromium 6.

From 1996 to 2008, 196 cancers were identified among residents of the census tract that includes Hinkley — a slightly lower number than the 224 cancers that would have been expected given its demographic characteristics, said epidemiologist John Morgan, who conducted the California Cancer Registry survey.
But let's not let science get in the way:
The survey did not attempt to explain why any individual in Hinkley contracted cancer, nor did it diminish the importance of Pacific Gas & Electric Co. cleaning up a plume of groundwater with elevated levels of chromium 6, Morgan said.

"In this preliminary assessment we only looked at cancer outcomes, not specific types of cancer," Morgan said. "However, we did look at a dozen cancer types in earlier surveys of the same census tract for the years between 1988 and 1998. Overall, the results of those surveys were almost identical to the new findings, and none of the cancers represented a statistical excess."

[…]

With that in mind, residents of this ranching community about five miles west of Barstow remained skeptical of the survey. Their water supply comes from local wells, and their fear of cancer persists.

"We just want to get the hell out of Hinkley," said Greg Kearney, 64, who shares a 3,000-square-foot ranch house with his wife, Elaine, 63, who has had seven strokes, their 41-year-old daughter, Keri, who has advanced lung cancer, and a younger daughter who has had five miscarriages and gave birth to a son with severe cognitive problems.

Then there is Pinky, an 8-year-old white boxer with thousands of tumors in its mouth and on its head, back, legs and paws.
Because all health problems in the proximity of PG&E are obviously attributable to PG&E.   Or, like the man said, When the legend becomes fact, print the legend.