ESPN, Jock Culture, and Jon Gruden
Is the Worldwide Leader responsible oblivious to bigotry?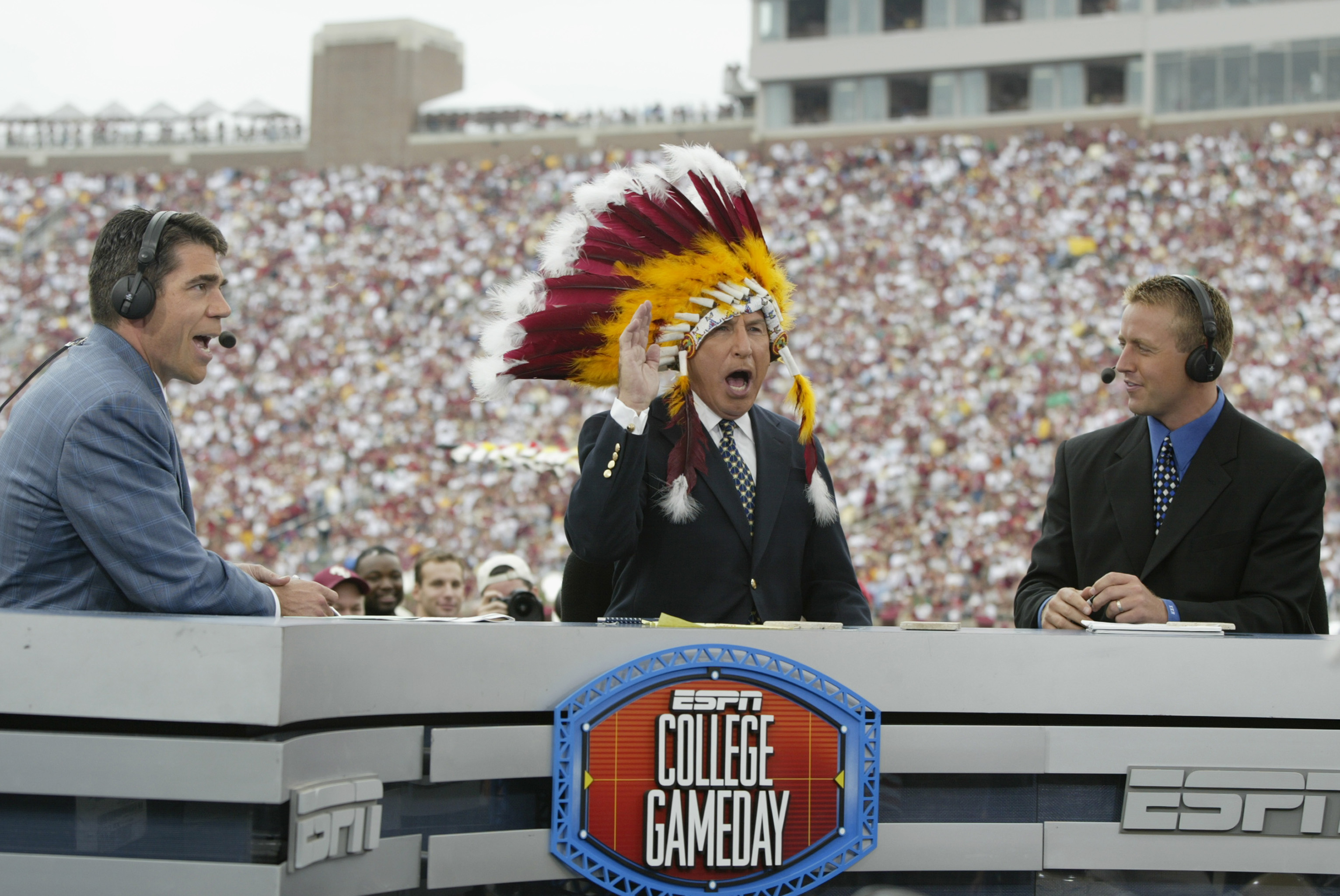 San Francisco Gate columnist Drew Magary makes a bold claim: "ESPN didn't care and doesn't care about now-former Raiders coach Jon Gruden's bigotry." While his style is sometimes sophomoric, McGary is usually rather insightful so I read on.
Gruden was the color guy for "Monday Night Football" when he sent all of those emails. He sent many of them FROM his ESPN work address. He was ESPN's highest paid on-air talent. His boothmate at ESPN, Mike Tirico, was himself no stranger to wanton lechery and mounted a hollow "well I never saw him be racist" defense of Gruden on Sunday night that looks even more hollow right now. And what has been ESPN's reaction to this news? See for yourself.

"The comments are clearly repugnant under any circumstance."

That's it. That weakass statement represents the entirety of ESPN's due diligence on Gruden, without a second thought, reducing DeMaurice Smith to a racial caricature, accusing Roger Goodell of forcing the Rams to draft "queers" like Michael Sam, calling Joe Biden a "pussy," dumping on female refs and trading topless photos of WFT cheerleaders with the dude who ran that team.
That's . . . rather underwhelming as a start.
Yes, Gruden wrote said emails while at ESPN and sent many from his espn.com email. So? While we all understand that our employers have every right to monitor our work accounts, most of us would be outraged if they were going through our emails absent some specific reason to do so. Did Gruden give the network reason to think he was a bigot while he was there?
So here's another series of taut, sturdy lines to draw. Let's draw one from Gruden to ESPN suspending Jemele Hill for suggesting a boycott of Jerry Jones' businesses after his hug-the-flag routine. Let's draw one from Gruden to Rachel Nichols, who got caught on tape disparaging her colleague Maria Taylor and openly griping about both #MeToo and Black Lives Matter to one of LeBron James' advisers. ESPN "punished" Nichols by letting Taylor walk to NBC and pulling Nichols off the air while still letting her cash a fat paycheck.

More lines. Let's draw one from Gruden to Sage Steele, who just this month openly mused that Barack Obama isn't Black, along with making other deranged statements to Jay Cutler (??), and hasn't been formally, publicly sanctioned for it. Let's draw one from Gruden to Stephen A. Smith, who took Gruden's place as the highest paid on-air talent at the four-letter despite having an appalling history of his own when it comes to issuing takes on both gay people and women.
This, again, is some rather thin gruel.
That ESPN has a conflict of interest because it simultaneously covers sports from a journalistic standpoint and yet is in business with various sports leagues is undeniable. But, first and foremost, it's a business enterprise.
So, yes, it routinely suspends on-air talent for comments that might offend their business partners and/or alienate their viewers. That Hill, who is Black and commenting on racial justice issues, was among them is true. But the likes of Tony Kornheiser, Dan LeBatard, Bill Simmons, and other stars have also been suspended.
Steele, who is also Black, made some really weird comments recently about Barack Obama, who was President two Presidents ago, and railed against vaccine mandates. She was suspended. But what does that have to do with Gruden? And, even if the comparison is with Hill, it's largely unfair in that the environment has simply changed in the aftermath of the George Floyd murder and subsequent protests. ESPN and other outlets have begrudgingly realized that "stick to sports," while perhaps ideal from an audience standpoint, is simply untenable. There's simply no way to comment on sports in America without a discussion of race; they're inextricably linked.
The linked comments from Smith, who is also Black, don't strike me as particularly outrageous. They're certainly far short of what Gruden put in writing in multiple emails.
And Magary's summary of the Nichols situation is just grossly unfair. The network essentially replaced her on a program that was part of her contract and on which she was performing well with a much younger Black woman. She complained, in what she had every reason to believe was a private conversation, "If you need to give her more things to do because you are feeling pressure about your crappy longtime record on diversity — which, by the way, I know personally from the female side of it — like, go for it. Just find it somewhere else. You are not going to find it from me or taking my thing away."
Once the tape leaked, she was rendered persona non grata at the network, her show was canceled, and she won't appear on their air again. But, not having committed a firable offense, the network is paying out her contract. Taylor, for her part, seemingly wanted the network to do more about it. In the end, Taylor jumped ship for a multimillion-dollar deal elsewhere and Nichols will likely never work in sports media again. What that has to do with Gruden is beyond me.
And finally, let's draw one from Gruden to Adam Schefter, ESPN's top NFL hobnobber and someone who can NEVER, under any circumstances, say anything like a normal person would.

Schefter could have broken this story before the New York Times did. He knew all of the principles. He almost certainly had access to Gruden's emails, if not thousands of others that Snyder got the NFL to seal in a vault beneath the ocean floor. But he didn't. In fact, Schefter's connections to the league are entirely dependent on what he chooses to suppress, not what he chooses to report. He didn't even break news of Gruden's resignation (the NFL's own Tom Pelissero did), which would have been well within his deliberately limited purview. He half-assed this story from beginning to end out of strategic negligence, and ESPN was more than happy to let him do so.
So, I honestly don't know whether Schefter had the goods to break the story ahead of the NYT. But it's plausible, indeed, that he chose not to report on leaked emails in order to maintain access. And, here is where McGary has a point—if a point that I've already made.
This has been a pattern at ESPN for a good long time now. Nothing all that bad happens to a lot of their worst talent, because the people who employ that on-air talent enjoy similar, shall we say, ethical vices. Current network president Jimmy Pitaro is a man who's gutted the production side of the operation while also infamously enforcing an internal policy prohibiting ESPN stars from venturing too far afield when commenting on issues outside of sports. But really, Pitaro's ascent is symptomatic of the network's perpetual coziness with the leagues they cover, the NFL in particular.

I tend to think of that coziness manifesting itself in corporate ways. But the Gruden scandal proves the coziness is so much more personal than that. The network hires ex-NFL guys all the time (they hired Gruden for "MNF" to be, in essence, the next John Madden; he failed at that, too), so it makes sense that those NFL guys would bring the same jocular bigotry with them to the network. As a former football player, I know that jocular bigotry all too well, and I know the kind of perverse allure it has for people who want into the club. It makes sense that network execs would not only tolerate this kind of bro culture but ingratiate themselves with it. It makes sense that the rank and file at ESPN would have little choice but to accept the existence of this old boy network power structure as the cost of working there. And it makes sense that Gruden would have no hesitation whatsoever using an anti-gay slur to describe Roger Goodell to a then-active president of an NFL team, all via company email.

All of it makes sense. And the worst part is that it will CONTINUE to make sense, because this is how ESPN — and by association, Disney — thinks its business is best run. Instead of doggedly investigating and criticizing the worst aspects of football culture, they simply adopted them instead. They don't cover the NFL. They ARE the NFL. That's how they like it.

This sucks, because I know ESPN has resources on hand to do a proper job with Gruden and the rest of his brethren. They have Mina Kimes. They have Bomani Jones. They have Seth Wickersham. They have Pablo Torre. They have a reporting budget. They could be a vital check on the NFL instead of its most reliable henchman. Oh, but what fun would that be for Pitaro and his ilk? Wouldn't it be a great time, not to mention easier, to let their most prominent stars and their most prominent partners indulge their worst instincts, and then go "oh dear, I guess that's bad" whenever people take notice? Wouldn't doing anything more spoil the party for everyone else? Those are the questions that ESPN likes to ask itself. God forbid they ask anything more.
This, again, is the aforementioned conflict of interest at work. Whereas the New York Times is in the business of breaking news and doing investigative reporting, ESPN is in multiple businesses surrounding the business of sports.
ESPN is, first and foremost, a broadcast partner of various sports leagues. In football alone, they have the rights to show key NFL games, including the premier Sunday Night Ticket package and alternating Super Bowls, as well as the premium packages for most of the college games. Not only that, but they partner with the leagues and teams for such things as the SEC Network, Big Ten Network, and Longhorn Network. It's the most lucrative package in all of sports and they don't want to jeopardize it.
At the same time, they do news both on-air and on ESPN.com. (They used to produce a weekly magazine called, appropriately enough, ESPN The Magazine, but it went out of business a few years back). It's mostly commentary by the likes of Smith, Torre, Jones, and others. But there's also plenty of actual news reporting.
Is this incestuous? Yes.
Does it mean that they don't care about racism, sexism, and homophobia? I don't think so.
Do they hire a bunch of ex-jocks? Yeah. Does that bring jock culture to their air? Yeah. Is that what the fans want? Apparently.
Do their superstars have more margin for error? Well, sure.